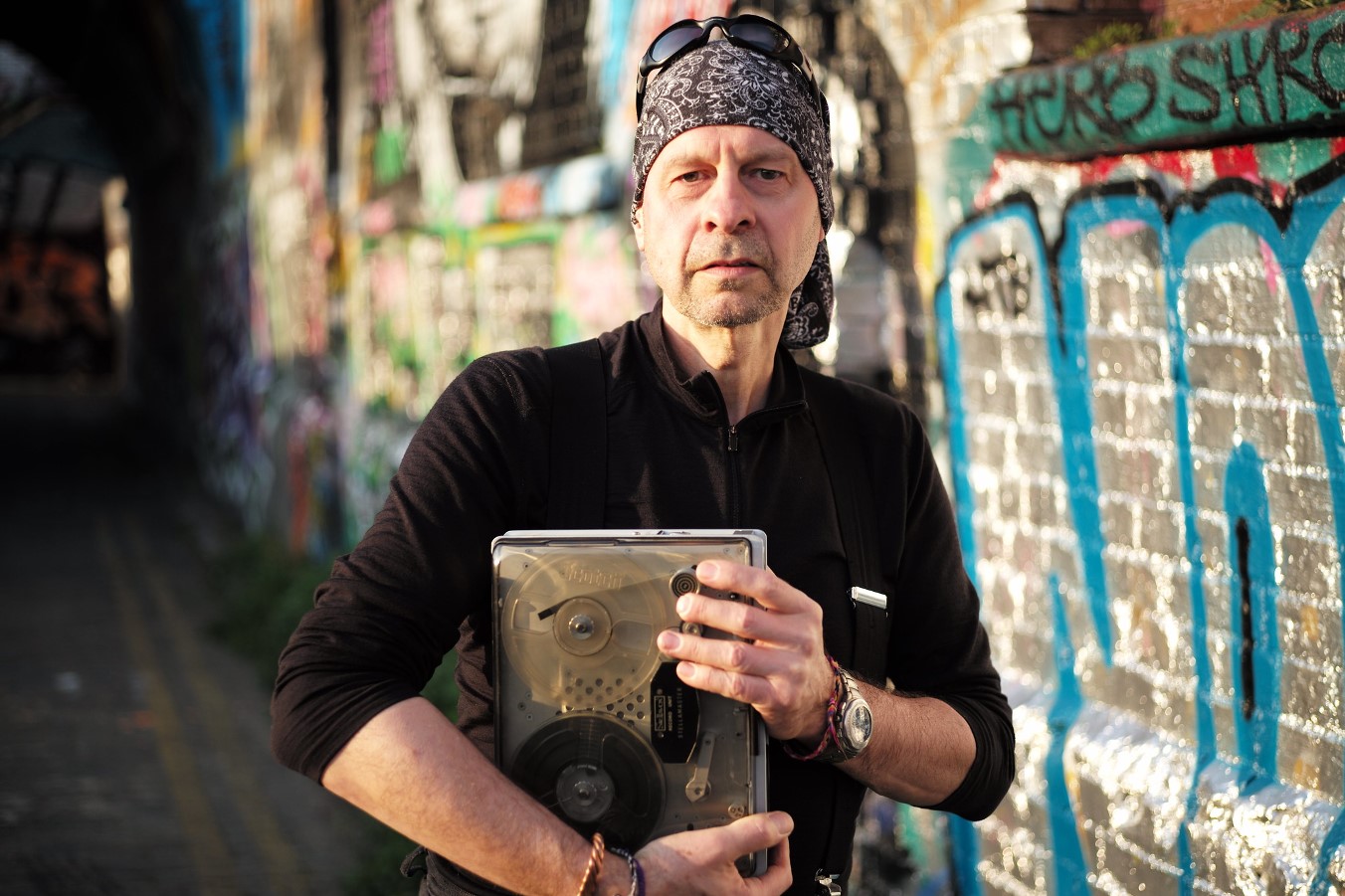 The first solo album from Gareth Jones is set for release in September.
He is perhaps best known as the producer of DEPECHE MODE's first albums with Alan Wilder – 'Construction Time Again', 'Some Great Reward', and 'Black Celebration'. Jones first made his name as an electronic music pioneer on John Foxx's groundbreaking album 'Metamatic'.
It was John Foxx who recommended Jones to Mute's Daniel Miller, starting a creative relationship that shaped many of the towering recordings from FAD GADGET, WIRE, ERASURE and DIAMANDA GALÁS. Other acts who have benefited from Jones' deft studio work include EINSTÜRZENDE NEUBAUTEN, GUS GUS, TUXEDOMOON, GRIZZLY BEAR, INTERPOL, MESH, APPARAT and THE HOUSE OF LOVE.
For many years, Jones has worked to inspire young artists and studio techs through the Red Bull Academy and online videos. He has also chosen projects with the aim to help new artists get a foothold, in preference to more commercially advantageous work.
What has been less visible is the humble Jones' own music. As one half of SUNROOF, he has created covers and remixes of Krautrock classics together with Miller. With Nick Hook, he has created three SPIRITUAL FRIENDSHIP albums and has another in the pipeline. He has also discreetly issued a number of experimental works over the years, ranging from spoken word pieces to ambient electronics.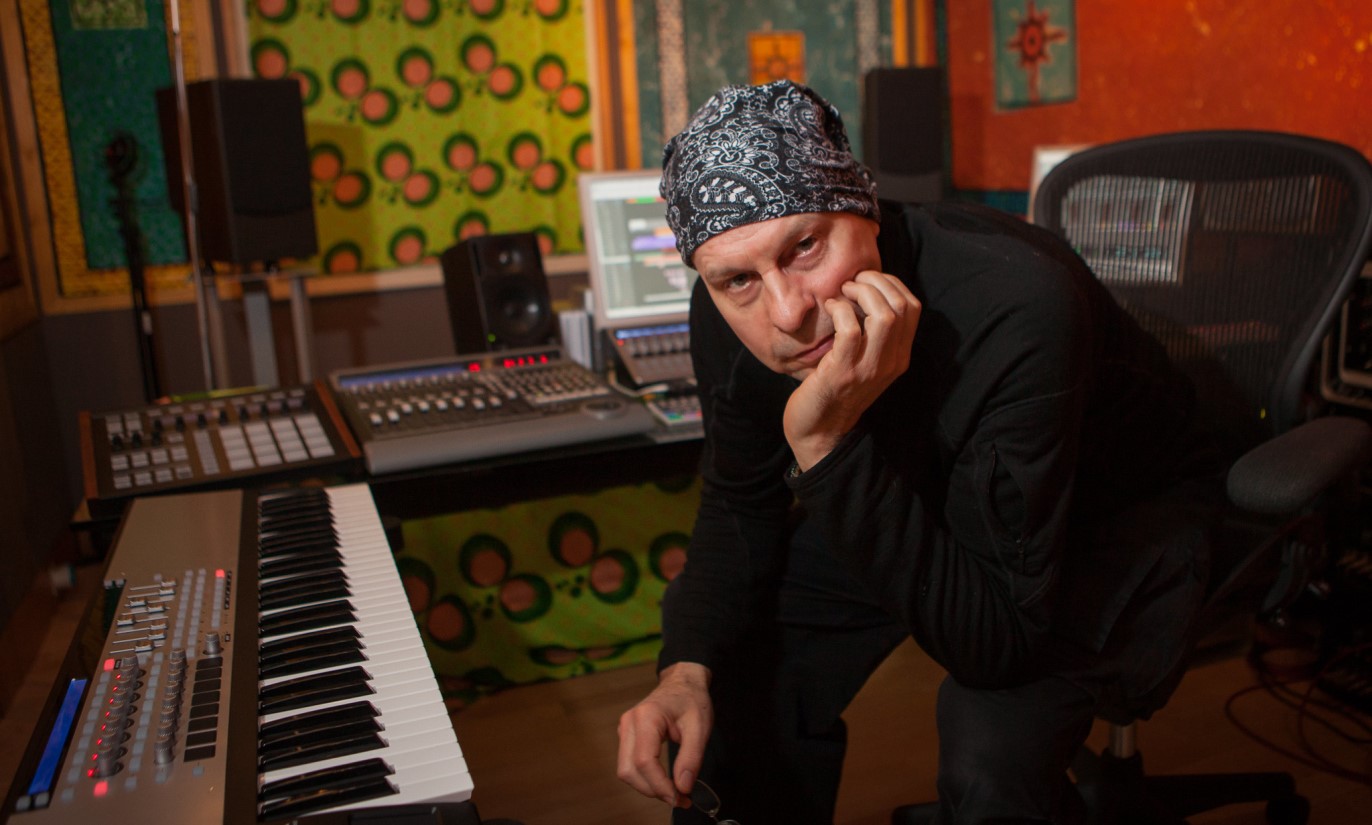 'ELECTROGENETIC', Jones' first album under his own name, comes after his milestone 65th birthday, and it is a highly personal set of compositions.
Built on modular patches, it is also an accomplished melding of humanity and electronics; an organic interface between Mensch and Maschine. The cover features Jones' father's wedding ring and an Ankh; symbols of connectedness and life.
The notes prepared by Jones on his microsite for the album explain the spiritual inspirations for certain tracks, which include the passing of his mother-in-law and his own mother. In them, he describes the album as a form of requiem and credo. He seems to have taken to heart the line from Revelations 13:14: "And I heard a voice from heaven saying unto me, Write…"
The music speaks for itself, however. Infused with modular sequences that are almost danceable, it is not pop. There are traces of THROBBING GRISTLE and hints of TEST DEPARTMENT, but it is not industrial. There are fusions of found sound and electronics that are reminiscent of The Orb, but it is not ambient house. Best listened to as a piece with different movements, 'ELECTROGENETIC'
has the internal coherence to make up for its defiance of genres.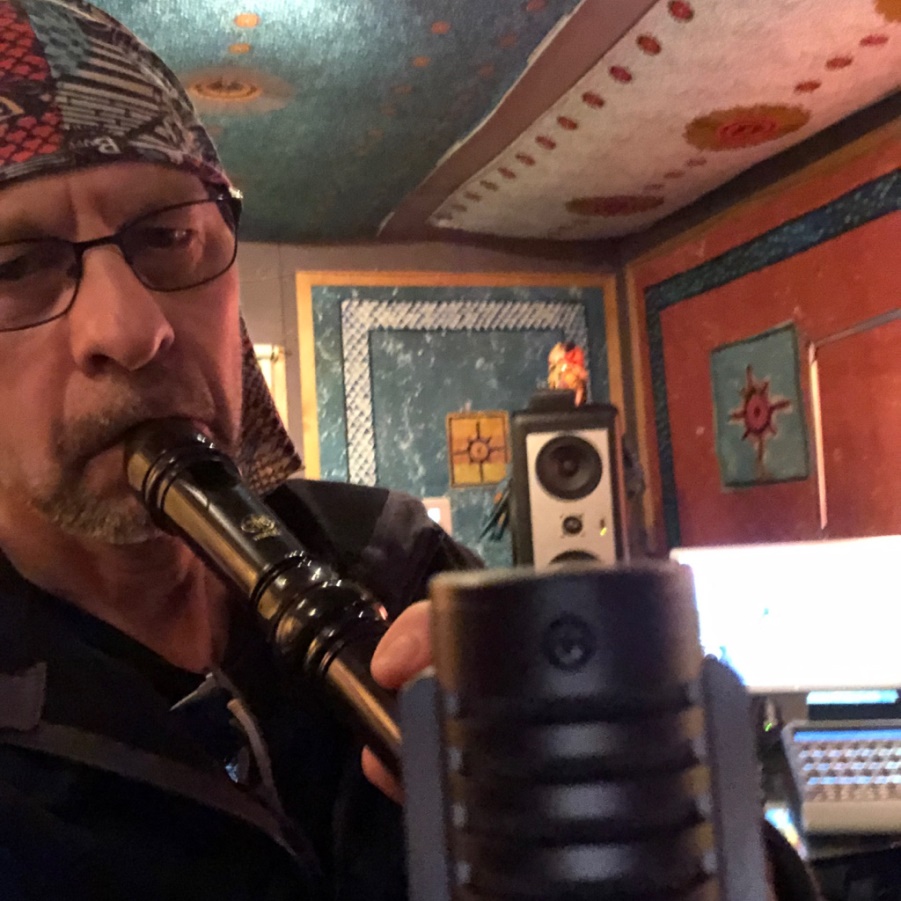 The album opens at 'The Beginning' with a reading from the book of Genesis. Initially sketched on an iPad, Jones developed the track in visits to a Methodist chapel near his studio.
'Trinity', which follows, borrows found sound from a choral practice in a Cambridge chapel. It also incorporates instruments from Jones' childhood – an approach that develops in 'Mercury' with the addition of ocarina, recorder and tin whistle, supplemented by piano and a Roland JX-3P. The piano is actually a virtual instrument, played in Kontakt, using Joan-na, a sample bank that Jones made from his childhood piano and named after his late mother.
'Michigan' is built on a drone and incorporates vocal samples from WOVOKA GENTLE's Immie Mason making a reference to his wife's home state. It was in Detroit that Jones also developed 'Safe Travels', another of the stand-out tracks on the album.
The microsite created by Jones to accompany the album offers a set of virtual Post-It notes, leading to handwritten sleeve notes for each track and a link to sample packs. Visitors can download selected samples and import them into their own projects – the DNA of 'ELECTROGENETIC' can live on beyond the album itself.
Gareth Jones spoke virtually from his studio, theArtLab, in the heart of London's Strongroom complex.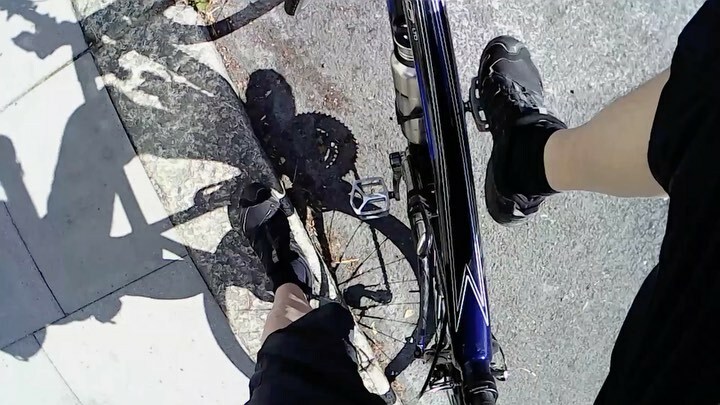 How have you been coping with Covid-19?
I'm an urban cyclist, so I'm pretty comfortable travelling about, you know. I don't like the Tube too much.
I've been very creative, though. In our home, I set up a Studio B in my back bedroom with a laptop, headphones, and a few little synths and things.
But I did loads of amazing work—it was quite astonishing to me that it turned out to be so productive. I'm lucky, in that I had food delivered every day—and I count my blessings, brother, for sure—but it was, strangely, musically a very productive time.
The album marks the passing of people close to you and touches on a number of deep themes – family, spirituality, connectedness. What led you in these directions?
At this stage of my life, I guess these are like major, major events that happened in my life. If there's a theme, I guess that's just my voice, my personality, my approach to electronics, and my approach to making music.
I'm not choosing a theme consciously; I'm just walking my path. This is what's happening. I made a small commitment to myself, in 2019, that I would like to finish a solo project, inspired by all the collaborative work that I've done, which I very much enjoyed – you know, with Nick Hook in SPIRITUAL FRIENDSHIP and Chris Bono in NOUS ALPHA – and with all the remix work I've done. I just felt it was time for me to dig deep and do a solo project, and that was my personal contract with myself in 2019.
It came off the back of two very dear mothers dying in 2018: my mother-in-law and my own mother. Somehow, it all started to resonate with me, and the emotional impact of that emerged through the work over the year. It didn't start as a project to commemorate the mothers, and I hope it's more than that. It's not just commemorating the mothers, but that was a certainly a big part of several of the songs – 'Safe Travels' being one of them, of course, and 'Farewell' another. The writing of those was in my mother-in-law's house.
I gave up smoking when I was 50; and, perhaps it was a coincidence, but it seemed like a symbolic number. With the double loss—and all the parents are gone now—I felt this need or responsibility to myself to make this solo work. And, so, that's my humble offering—what you hear is what stands before you.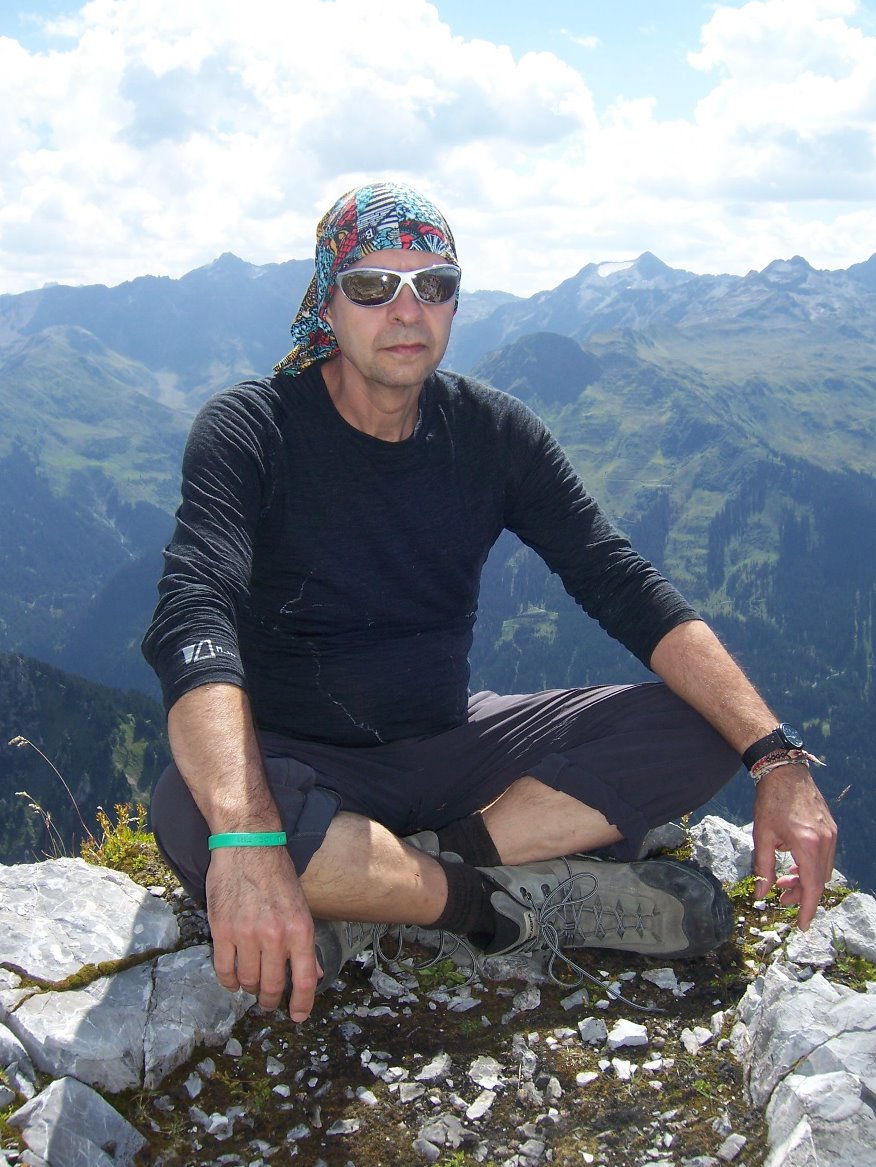 Was your mother close to your work?
No, my mother thought that music was not a proper job. It took a while before my parents came around to the idea that, actually, I might be able to support myself working in music. Both my parents were big lovers of music, as consumers of music, if you like—listeners. They were huge lovers of music: classical music, very much so; not so much jazz and whatever; popular culture music they didn't really get. A great musical inspiration came from my dad—a love of music from an early time.
My in-laws were much more lovers of popular culture–the Frank Sinatra period. Not just Frank Sinatra, but Tony Bennett, Howard Keel and the 40s, 50s and 60s—they were big lovers of music from that time.
So, there was a lot of music around, of course, but they were not professional musicians. My mother played a little bit of piano, I think, when she was a kid, but I didn't grow up with parents playing music.
There are many references to spirituality in the material and in your notes on the micro-site for the album. The cover features the Ankh and a wedding ring: one an ancient symbol for life and the other representing connection and togetherness…
It has deep symbolism, the ring, doesn't it? It is also symbolic of power and continuity – and, you know, eternity. As I get older, I hope my inward life develops deeper and deeper, and part of that is considering the larger questions. We can't avoid them: birth and death. You know, this is life, brother.
On your site, you refer to 'The Prophet' by Kahlil Gibran. Was that book a big influence on you?
When I was when I was adolescent, for sure. I haven't read it for a long time. The idea of the trees came back to me when I was working on 'Alone Together'. That was a very influential book on me as a teenager. It seems like a beautiful discourse on the nature of love and life.
You were previously releasing material with Nick Hook as SPIRITUAL FRIENDSHIP. Is that still happening?
Yes, it is very much ongoing. Nick's a great inspiration, and the record's coming out on his label. He's got a label in Brooklyn called Calm + Collect. It felt like the right place for the record. He always said that he would help me bring my solo record to the world when I completed it, so we both stuck to our commitment. We are men of our word. We're working currently on the fourth SPIRITUAL FRIENDSHIP album, which we're very excited about. It's got a bit more of a harmonic content than the last record, which was all drums.
We had plans to get together during the lockdown period to complete the record; but those plans were—like many people's plans—disrupted, so we are attempting to finish it remotely. We've made quite a lot of progress, but all the work we've done so far has been the two of us in the room, and that's very vibrant and very creative; and very fast, very enjoyable. It's been a bit more difficult focusing energies remotely. That's weird, but we will get there. The record is close to being finished.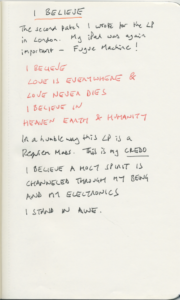 The modern marketplace for music is becoming narrower, and major labels don't seem to want to invest anything in artists who aren't going to produce mainstream hits. Shopping something like this must be challenging, because there a limited number of labels that you could go to…
I didn't try to shop it. Nick and I had this talk about it. We had a commitment. We did try to, as you say, shop the first SPIRITUAL FRIENDSHIP album, and we have between us a few influential colleagues in the business—lovely people and friends.
Many people were kind enough to say how much they liked the record, but no one was remotely interested in putting it out. That was a depressing experience for both of us, which lasted about a month. Then, after a month or so, we said, okay, we just have got to put it out ourselves.
We are trying to make Calm + Collect like a small independent gallery where we can hang our stuff on the wall and say, "Look, we made this. If it's of any interest, please explore the label further or hit us up or get in touch."
Of course, it's wonderful to have the support of a label with the PR and the contacts and the guidance, and even some funding. It's a marvelous thing for an artist. But if you can't get it, you can't give up. You don't give up.
You talked about the modern marketplace. The huge benefit of the modern technology is that we can bring our music to the world. On Calm + Collect, we can put music out that you can hear in Australia, the day after it's come out, if you want to. Of course, there is huge, massive noise to try to get yourself noticed, but you have to try and rise above it. How wonderful, though, that we can present our wares to the world and say, "Well, look, here it is. Come and have a listen if you'd like to!"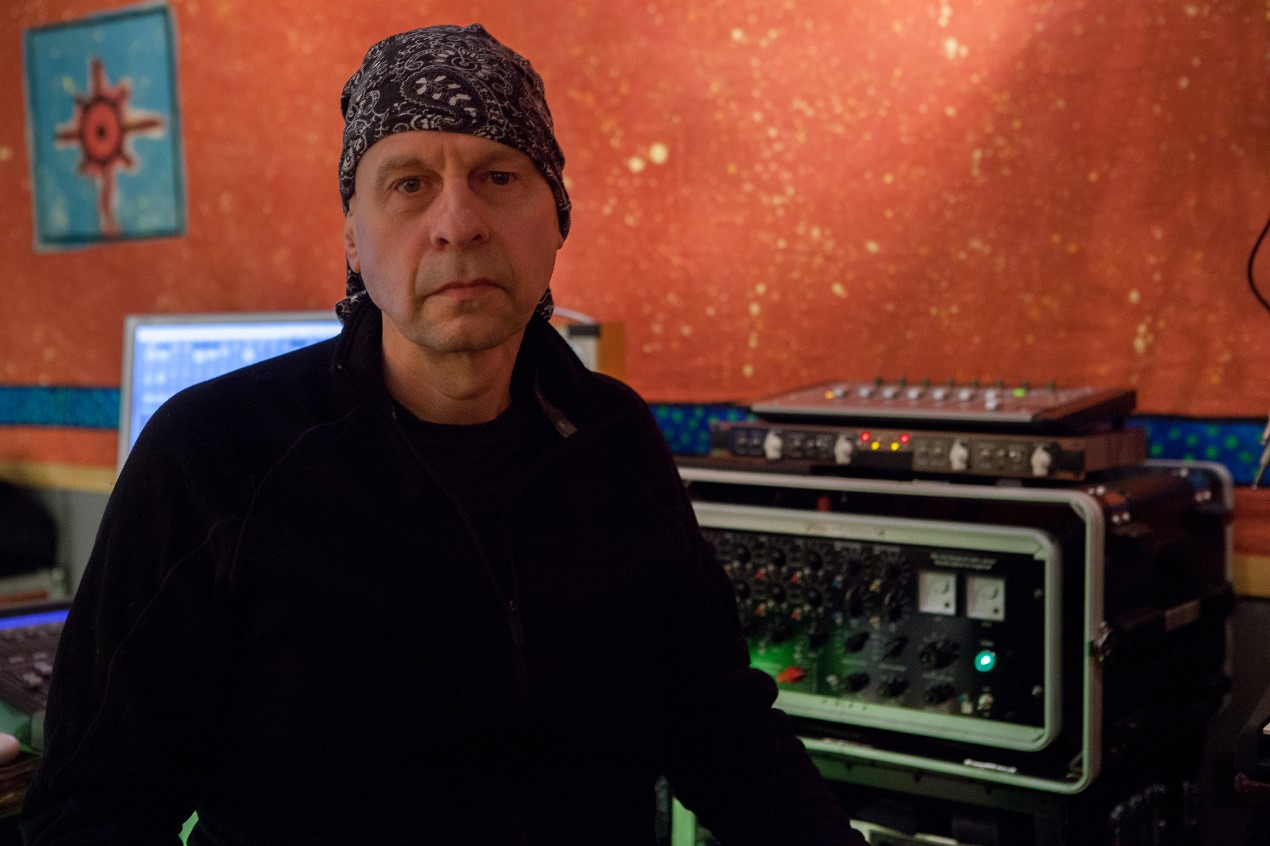 One of the things that was interesting about the Web site that you can get sample packs, so that you can play with your sounds independently. Are you hoping that people will make their own mixes of the songs or just take the samples and use them in their own projects?
It's my record company's idea. All credit to Nick Hook for that. Nick said "Why don't you make a sample pack?"
He suggested that I could sell them on Bandcamp, if I want, but I just decided to put them out as a gift, if people are interested. There are some elements of the songs, but you can't remix a whole song from those because they're not stems of the pieces—they're not complete. They're snippets. I went quickly through the nine pieces and chose what I thought were some interesting snippets. I said, well, there you go. If anyone's interested in having these, then have them and make something with it.
I enjoyed the process. It didn't take me too long. It seemed like a nice addition, and it was Nick's idea. Nick and I try to implement each other's ideas; we try not to shut each other down. So, I thought, okay, I'll do it. I'm pleased I did it, and it's something I'll do in the future, too, I think.
It makes it more like an open source project. With the sample packs, people can look into the source code, and they can pick around and learn from it…
Great. There is a possibility that, down the line, I may well release the multi-tracks, where people can then really dig around if they want to—they can see the whole thing. Everyone who's remotely interested in music now has some kind of Garage Band type thing on their computer, where they can just drag in a bunch of files and there it is—it plays.
I know, for me, it's absolutely wonderful to hear other people's multi-tracks. It's wonderful to hear some of my old multi-tracks from the past, actually. I pull them up and I think, oh look, we made that 35 years ago or something—there is the multi. So, it's a special vision, the multitrack. Obviously, I want people to hear my versions of the tunes first, but down the line I might well just link to the multitrack, so that people can see, hear, and dig around—like it's open source. They can see how it's made.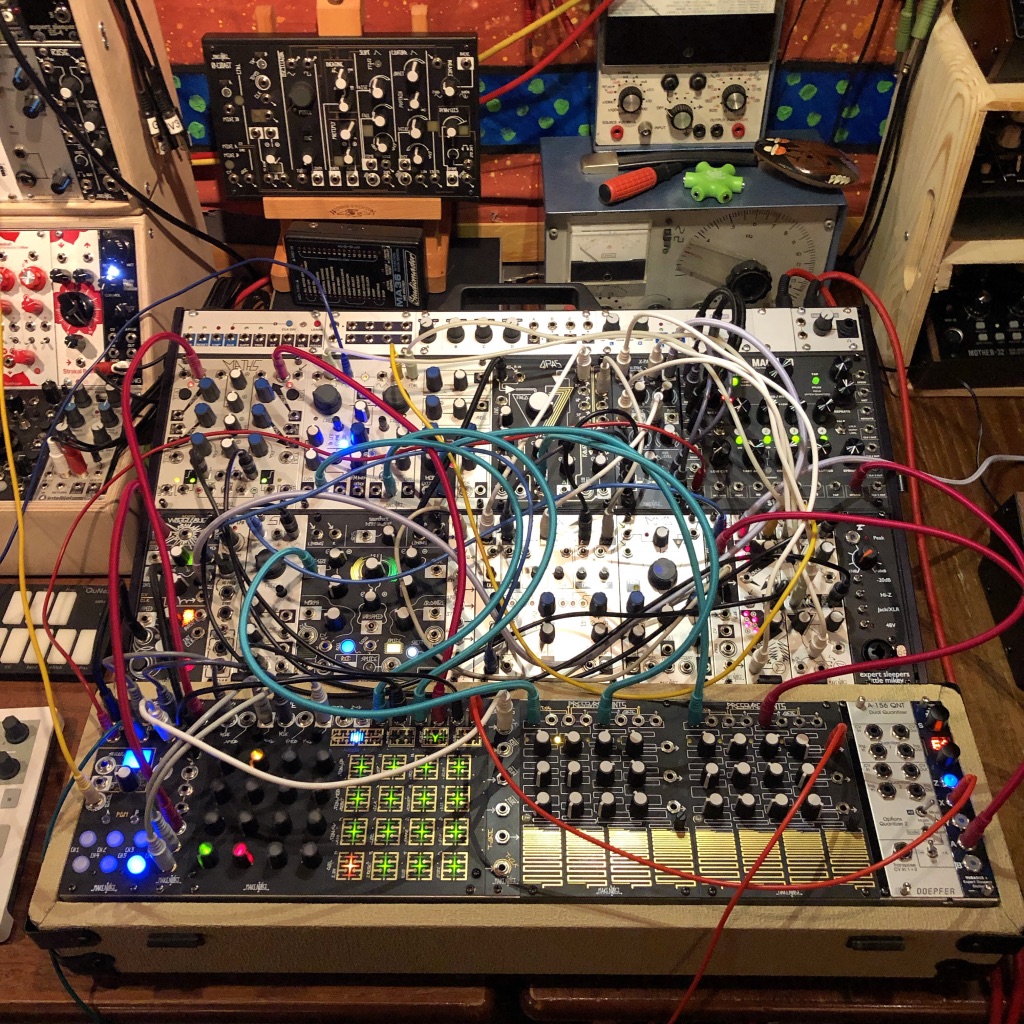 A key feature of the album is that you're using modular kit, which carries an element of chance. One of the nice things about synthesisers is that it is not always predictable what they're going to sound like and where they're going to go. Is modular something of interest to you, which is why it was brought into this project?
Yes, it is deeply important. Thank you for asking about it, because it's reflected in the name—even the name of 'ELECTROGENETIC' is an attempt for me to convey the idea that the birth of the riffs and rhythms and timbres is here in the electronics. It's born through the electronics.
Modern modular gear—Eurorack, I should say—has empowered me hugely as a musician to be able to speak and channel energies. I hesitate to use the word "express" because I'm a bit nervous about expressing myself. I feel more that I'm more of a channel or tool to concretise or realise, spiritual energy. The modulars have certainly allowed me to do that in a way that I've never found really from another instrument, and my personal development as a musician is deeply tied into my involvement with modern modular.
It's not cheap, but it's vaguely affordable, whereas the vintage modular that that is so loved is hugely expensive—and hugely expensive to maintain. That's outside my league, really.
We have had digital gear and sequences for so long, do you think that the modular world brings back the organic quality that was apparent in the albums played by hand, like 'Metamatic' and the first two albums by THE HUMAN LEAGUE?
It's hugely deep and hugely broad, and so it could be, but it can also be extremely rigid. It really is a very broad church, working with modular, and everyone engages with it in their own way. One of the joys for many of us is building a patch that unexpectedly delivers something that we can still interface with; to perform on. We're joyfully surprised by elements that emerge from the patch we build. That is a very creative way for many of us working with modular setups.
We don't get many people that — I know certainly that I don't — go in with a rigid idea and then attempt to construct it in modular, in the sense that I imagine some people might try to write a string quartet, or perhaps how Wendy Carlos made 'Switched On Bach'. It's more about building patches, delving deeper and deeper into what emerges; modifying the patch; touching the patch; turning knobs; recording interesting events that occur. You know, it's not random, by any means, but it's very rich and very deep, once you embrace the chance element of it.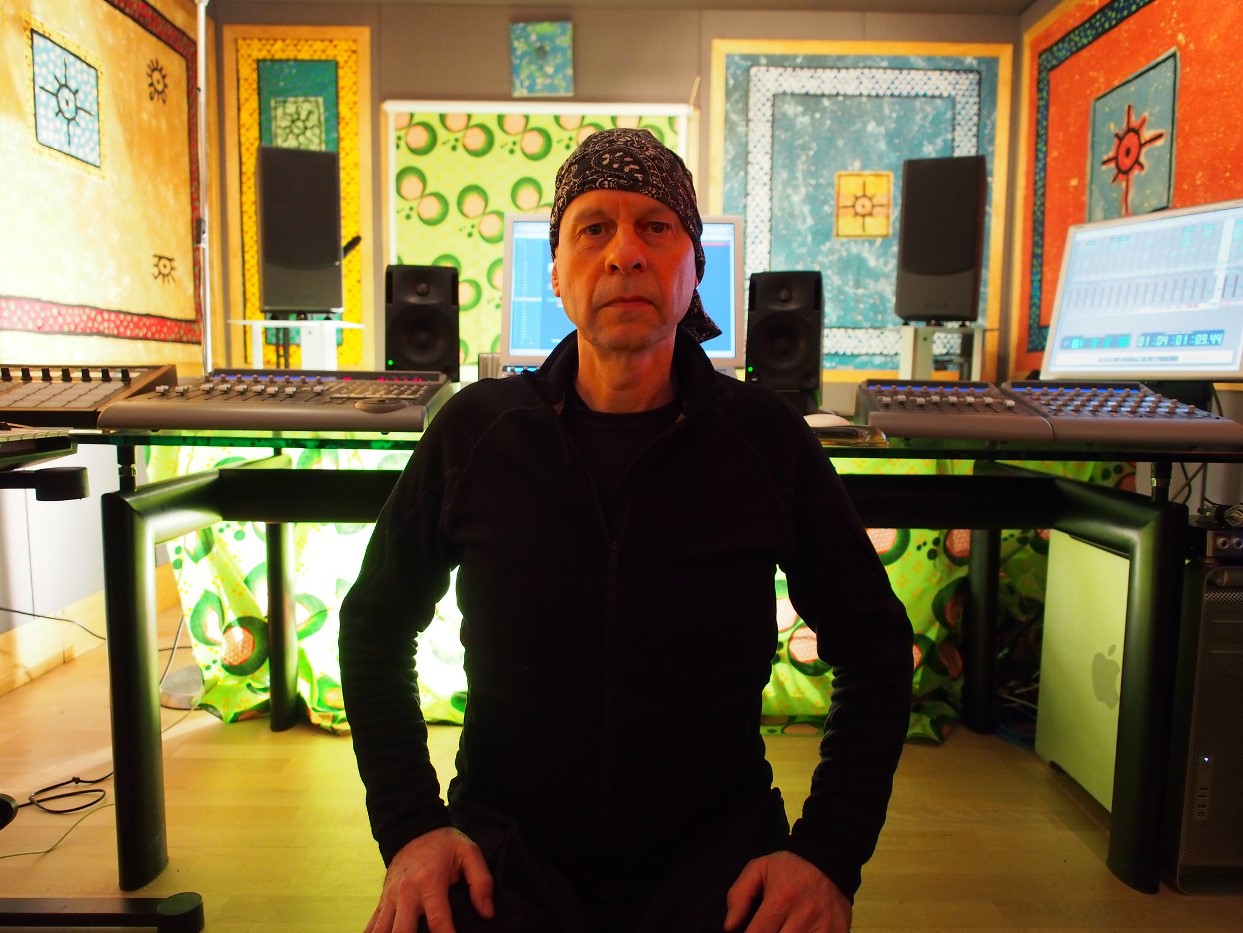 Do sound design and work on the patches themselves suggest the music? Do you get the idea that this new sound is going to give me the right kind of timbre, the right the right kind of voicing, to make this kind of song?
A lot of the patches already have rhythm and timbre, of course. Most of the pieces on the 'ELECTROGENETIC' record started with a modular patch, which might be quite dense.
There were, of course, other modular patches I made in the period that didn't develop further; but most of them started with an improvisation by me on a modular patch that I built, which might have melodies, counter-melodies, rhythms, counter-rhythms, all kinds of layers and textures–it can be quite complex.
That is available for further editing and overdubs. In my case, it certainly inspired some simple melodic extra layers performed with the piano, the voice, or the recorder or whatever. I can't over-emphasise the importance of the improvisations on the modular as groundwork, though; as a very fertile field that this record grew out of. That's highlighted in the microsite. I've even acknowledged my friends at Make Noise. Credit to the synthesiser manufacturer.
---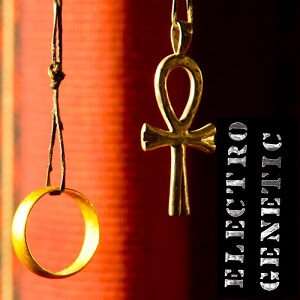 ELECTRICITYCLUB.CO.UK gives its grateful thanks to Gareth Jones
Additional thanks to Mat Smith at Calm + Collect
'ELECTROGENETIC'
is released digitally on 18th September 2020 via Calm + Collect
https://twitter.com/geniusjones
https://www.instagram.com/garethgeniusjones/
---
Text and Interview by Simon Helm
20th August 2020