Bionic Bubblepunk duo HYPERBUBBLE feel "the world needs some love and good vibrations… and free stuff", so have presented 'Love & Bionics'.
Not content with having delivered a cosmic country covers album three years ago inspired by 'Switched On Nashville' called 'Western Ware' that put the "MOO" into Moog, the duo of Jess and Jeff DeCuir have turned their attention to a wider range of standards and obscurities arranged in their own style of Texan electro artpunk.
They succeed in their adventure by their choice of less obvious songs getting the electronic treatment.
After all, does the world really need any more modern synth reinterpretations of DEPECHE MODE, YAZOO and ULTRAVOX? But even when HYPERBUBBLE cover songs readily accepted as being of a more synthpop bent, they give them their own twist. Album opener 'Pop Goes the World' which was originally by MEN WITHOUT HATS gets new lyrics to introduce the duo by way of a musical manifesto. Meanwhile DEAD OR ALIVE's 'You Spin Me Round (Like A Record)' is given a sombre minimal synth and vocoder treatment at half the speed which surprisingly works!
'Theme from Shaft' is an unexpected delight with the tune's familiar wah-wah guitar motif transferred to bleepy sequences while the orchestrated parts are brilliantly reconfigured with synths. Then there's a hilarious robopop take on VAN HALEN's 'Jamie's Cryin' with spoken word segments and yes, synth solos!
'Tiny Alice' by lesser known Michigan singer / songwriter Paul Parrish is given an acapella arrangement which sounds like the beginning of DARTS' cover of 'Boy From New York City' while 'Starship 109' which was originally a single by the obscure Dutch fusion combo MISTRAL acts as a suitably spacey interlude between the two halves of the album.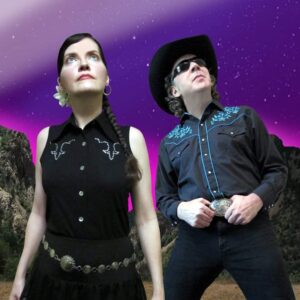 The enjoyment factor of 'You're the One That I Want' will be down to individual taste, but this lively post-modern take sums up the light-hearted irreverent nature of HYPERBUBBLE. But best of all though is a charming instrumental version of 'Sugar Sugar', which in some ways recalls the style of Gil Trythall's 'Switched On Nashville' album.
Covering music from new wave, heavy rock, exotica, soul, folk and film, 'Love & Bionics' is fun and free. Love or loathe, it's a lesson to others as to how to think outside of the box when it comes to doing cover versions using synths.
---
'Love & Bionics' is available now as a free download album direct from https://hyperbubble.bandcamp.com/album/love-and-bionics
https://www.facebook.com/hyperbubble
https://twitter.com/Hyperbubble
https://www.instagram.com/hyperbubbleofficial/
---
Text by Chi Ming Lai
21st August 2020