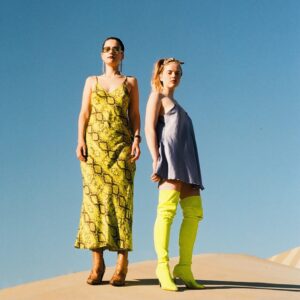 ULTRAFLEX are the lush musical union of Kari Jahnsen and Katrín Helga Andrésdóttir.
Two artists living in Berlin who developed mutual artistic crushes on each other, they set on the road to produce a brand of optimistic electronic pop inspired by Soviet fitness videos and other eclectic interests.
Norwegian Kari Jahnsen usually works under the moniker of FARAO with two albums 'Till It's All Forgotten' and 'Pure-O' to her name while she has also produced 'Ardent Spring', the recently released debut album by the Danish-based German songstress GRETA.
Meanwhile Katrín Helga Andrésdóttir was a member of the all-female Icelandic hip-hop band REYKJAVÍKURDÆTUR and dreampop trio KRIKI before evolving into the art pop alien known as SPECIAL K.
Occasionally self-referencing their name in their music, the duo's debut album is called 'Visions of ULTRAFLEX'. Their opportunity to collaborate came when they were commissioned to perform a live set of newly composed original material for the Scandinavian electronic music festivals 'Insomnia' and 'Extreme Chill' in 2019.
After writing sessions in the remote Westfjords of Iceland, the arctic cultural hub of in Tromsø and their beloved Berlin, Jahnsen and Andrésdóttir conceived a sound and an image, one that was beat laden and funky, sexy and mischievous but above all, light-hearted and fun. ULTRAFLEX chatted about their various visions.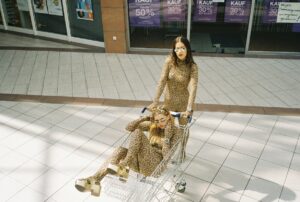 Creatively as a duo, what are your similarities and contrasts, how do they work within ULTRAFLEX?
We are both workaholics who appreciate a good laugh and a lot of sarcasm. Kari is the beatmaker and synth master while Katrin delivers the poetic sass and visual excellence. Together we make the synthiverse and melodic framework. With our common goal being to have as much fun as possible, we've succeeded from day one.
ULTRAFLEX is joyous and optimistic, proof that you can have fun and show it while being artistic. Did you feel the need to do something a bit lighter after your most recent works as SPECIAL-K and FARAO?
Yes, we both felt the need to stop being miserable and do something fun for a change.
Was it important that ULTRAFLEX was conceived to be visual as well as musical?
Branding is everything. We felt like the music wasn't complete without a visual universe surrounding it.
The 'Olympic Sweat' video did look like a Valentina Tereshkova exercise video if she had made one…
Thank you!
While you have mentioned a significant Soviet disco influence on the album, the sound of vintage US electro is very prominent as well, so it really is East Meets West?
Our mood board was quite varied, it stretched from legendary Norwegian teenage stars like STIFFI and FITTS FOR FIGHT, through a lot of US electro like MASTER C&J, INTERNATIONAL MUSIC SYSTEM and Larry Heard-related projects, we had a dip into Italo for example Antonio Arena and UK new age artist Clifford White for a bit of dreamy inspiration, all the way to power ballads by Celine Dion and Cher and much much more.
The first track on the album is called 'Get Fit', is that the message? What are your own favourite sports and exercises?
We like cross country skiing the most, it's a sexy and triumphant sport – and the inspiration behind Olympic Sweat. The message is for you to interpret, is it a critique on the societal pressure to be fit – or a motivational anthem, or perhaps both?
On the 'Never Forget My Baby' video, you are pretty in pink but is it safe to balance your new Moog Grandmother synth on your bed while you are bouncing around? ?
Safety third.
'Work Out Tonight' is more song based with a funky groove, but the video concept was quite suggestive, do you enjoy being mischievous?
Of course, we are in our element when we know something you don't, when we have a secret that we aren't telling you. That way, laughter always bubbles underneath the surface and it keeps things exciting.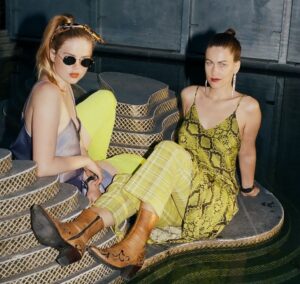 Were you both "hairbrushes as microphones" girls when you were younger? Who did you pretend to be?
Kari liked JANNICKE, FLAVA TO DA BONE, ADDIS BLACK WIDOW, SALT'N'PEPA, TLC, GINA G, you name it, she has been singing it all in front of her mirror.
Katrín used to imagine going on talk shows all the time. Still does actually. Whenever someone greatly influences her, she fantasises about what she would say about them in a thank you speech for an award or something. She's done that as long as she can remember.
You throw in the surprise of a prominent saxophone in amongst the synths on 'Papaya' and 'Man U Sheets', where did the idea to include some jazzier flavours come from?
The question is, why didn't we put MORE saxophone on there?
'Full of Lust' is like a cross between CONFIDENCE MAN and early MADONNA? How did this song come together?
We don't know CONFIDENCE MAN but if it sounds like 'Full of Lust', it's probably good. This song had the longest and most laborious birth. We changed the chorus melody and lyrics numerous times, and the attitude of the vocals went from punk to rap to overly seductive. The idea for this song actually started when we made an electro version of our favourite Norwegian children's song 'Sure Sivert' by Maj Britt Andersen. With her permission, we were allowed to use the melody from the original song as a synth solo that now comes in at the end.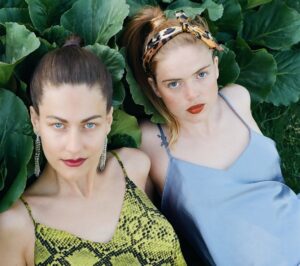 Do you each have a 'Secret Lover'?
Only each other.
ULTRAFLEX began as a live project, so once things have become safe again, will it be your intention to take your vision out on the road again?
We came up with the idea to do synchronised aerobics on stage along with our visuals, to force exercise into our lives. With Covid, we've grown lazy and out of shape, so we can't wait to get back on the road.
What is next for you, will ULTRAFLEX return for a second album?
Oh yes. We are actually making a new commissioned piece for a festival in Norway in February 2021 which will be the foundation for our second album. We are also going to Japan on a City Pop research trip, so expect some new flavours coming soon.
---
ELECTRICITYCLUB.CO.UK gives its sincerest thanks to ULTRAFLEX
Special thanks to Frankie Davison at Stereo Sanctity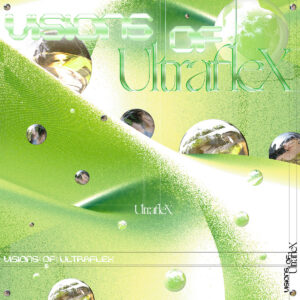 'Visions Of ULTRAFLEX' is released by Street Pulse Records on 30th October 2020 in vinyl LP and digital formats, pre-order available direct from https://ultraflexband.bandcamp.com/album/visions-of-ultraflex
https://www.facebook.com/ultraflexband
https://twitter.com/ultraflexband
https://www.instagram.com/ultraflexband
https://soundcloud.com/ultraflexband
---
Text and Interview by Chi Ming Lai
Photos by Celine Paradis
30th September 2020