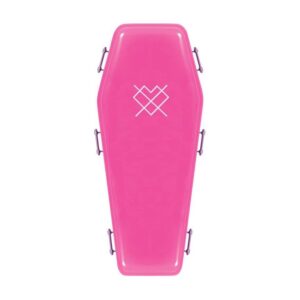 From the 'Scary World' of 2018 to the 'Die Die Lullaby' of 2020, LA based duo NIGHT CLUB have put their enforced confinement in lockdown to good use and channelled their angst to produce a wonderful 35 minutes of existential dread.
Emily Kavanaugh and Mark Brooks opened their account in 2012 with a self-titled EP. The second EP 'Love Casualty'
included their first universally great song in 'Poisonous'. But it was their excellent third EP 'Black Leather Heart'
in 2014 that managed to truly harness the potential of their Britney Spears meets NINE INCH NAILS template across five tracks.
Their debut full-length album 'Requiem For Romance'
turned up their love of heavy rock to 11 but they cleverly achieved it without the use of guitars or live drums, confusion some but delighting others.
'Scary World'
was an extension of that sound but while 'Die Die Lullaby' is undoubtedly a refinement of its predecessors, like with Gary Numan's 'Savage (Songs From A Broken World)', the more metal elements have been turned down and in its place is a more vulnerable demeanour that emotively is no-less weighty in its attacks and observations.
Sonically, the album contains a typically NIGHT CLUB twist. Co-mixing with Brooks is Dave Rave Ogilvie, a former member of SKINNY PUPPY known for his work with NINE INCH NAILS and Marilyn Manson. But crucially, he also mixed Carly Rae Jepsen's 2011 worldwide smash hit 'Call Me Maybe' so for 'Die Die Lullaby'
, NIGHT CLUB have found their perfect co-conspirator .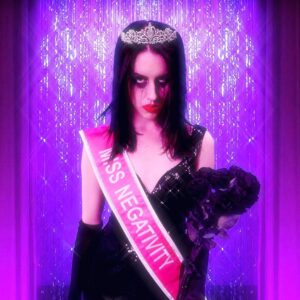 As they begin to 'Go to Sleep', 'Die In The Disco' sets the album off proper with a slice of throbbing HI-NRG disco, donning its hat to Giorgio Moroder and Bobby Orlando with Kavanaugh asking to "take me to a place I can dance" before a haunting request for life termination. And when an unsettling ghostly pitch-shifted voice exclaims that "This is my party and I will die if I want to", that die is cast.
Following on, 'Sad Boy' is classic NIGHT CLUB, up there with their best but more old school Goth than metal with hooks galore. 'My Valentine' though is heavier and here, the Kavanaugh / Brooks / Ogilvie combination achieves a fine balance of edge and pop while throwing in a few exotic flavours too.
Trapped in her own personal hell and under the spectre of IAMX's 'Spit It Out', 'Miss Negativity' sees Kavanaugh capturing the zeitgeist, singing that "No, I don't want to go out cos I won't have any fun, I am sick and infected with pure pessimism…"
On 'Gossip', Kavanaugh tells someone to shut their dirty mouth as a chilling horror movie Theremin announces its presence. 'Misery Go Round' though will surprise some with its sparse but effective verse structure that gets overturned with a chorus pitch shift and vocoder ending while our heroine tells everyone that "I don't feel so good right now".
The haunting music box on 'The Creepshow' will remind some of Numan's 'It Will End Here' and that's not a bad thing, while 'California Killed Me' captures Kavanaugh in a cage of anxiety because "I feel like crying" as "I've nowhere to run". However, mated to all of this intensity is a mighty chorus and synth solo.
Closing with 'Civil War', Kavanaugh channels her existential dread, unhappy that "I've become someone I hate" as she battles her demons because she "can't escape the pain in the war inside my brain".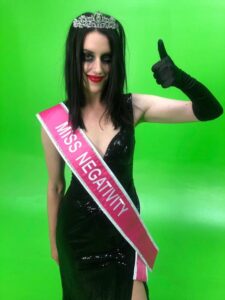 A slice of dark DEPECHE MODE tinged pop that says "it will be over soon", the words are worrying but on point, echoing how many feel in this strange world that was already becoming irrational and self-destructive even before the Covid crisis.
'Die Die Lullaby' sees the NIGHT CLUB motto of "Keep your friends close and your enemies in your songs" being maintained, but pragmatically looks within the psyche too.
Reflecting the times the world is living in, this is uncomfortable but enjoyably cathartic. When commentators and historians look back in a few years for an audio document that captures the introspection and paranoia of 2020, then they will need to look no further than 'Die Die Lullaby'.
---
'Die Die Lullaby'
is released by Gato Blanco on 9th October 2020 as a CD, purple vinyl LP and download, pre-order from http://nightclubband.com/
https://www.facebook.com/nightclubband
https://twitter.com/nightclubband
https://www.instagram.com/nightclubband/
https://soundcloud.com/nightclubband
---
Text by Chi Ming Lai
4th October 2020