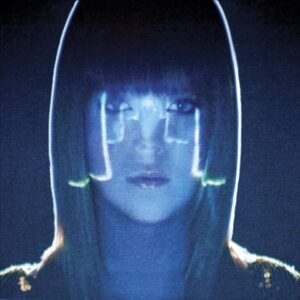 While now established as a modern synthpop force in a similar vein to CHVRCHES, AVEC SANS and DANA JEAN PHOENIX, the story of PARALLELS actually began in 2008 while their debut album 'Visionaries' came out in 2010.
Fronted by Holly Dodson, PARALLELS at the time was a partnership with Cameron Findlay who had toured previously as the drummer for CRYSTAL CASTLES, while Joey Kehoe later joined as a live keyboardist. One of the Visionaries' tracks 'Dry Blood' was used in the soundtrack for the 2012 film 'Curfew directed by Shawn Christensen which won an Oscar for 'Best Live Action Short Film'.
PARALLELS later achieved a wider worldwide breakthrough with their third album 'Metropolis'
in 2016 with support from The Blitz Club legend Rusty Egan; a North American tour with NINA followed in 2018 after a successful premiere of the pairing at Zigfrid Von Underbelly in London.
Since then, there have been a number of notable collaborations, the most recent being on the soundtrack to the film 'Proximity'
with RADIO WOLF aka PARALLELS live bandmate Oliver Blair whose previous credits have included CLIENT and KELLI ALI.
'Visionaries' has been reissued to celebrate its tenth anniversary in a double album edition featuring a remaster of the original and a bonus collection of special remixes from the likes of ANORAAK, MECHA MAIKO, GLITBITER, BETAMAXX, GHOSTHOUSE and many more from the synthwave community.
Despite being a decade old, 'Visionaries' has a lovely innocent charm about it, with Dodson finding her voice amongst a palette of catchy synth hooks, tight electronic sequences and live drums.
Deserving re-evaluation and discovery by those who may have missed it first time round, 'Visionaries' is a must for modern synthpop connoisseurs seeking a bridge to synthwave.
Holly Dodson kindly chatted from her home in Toronto about the start of her journey as PARALLELS and the making of the 'Visionaries'
album.
Having grown up in a music family, was making an album always inevitable for you?
It was definitely encouraged! I was a really shy kid though, so it took me a while to build up the confidence to even say I wanted to learn how to record. Since the mid-70s, my parents were running an indie label and studio out of their basement so I was always in a studio environment growing up… so it would have been difficult to not get the music bug.
But before 'Visionaries', you released a solo album called 'The Carousel' in 2009; how do you look back on that and what made you opt for the more New Wave concept of PARALLELS for your next record?
When my Dad learned that I had been writing songs, he said the first thing I should do is learn how to build a production, learn how to program and arrange… basically learn my way around the studio so that I could be self-sufficient and record my ideas. He's got a really DIY sensibility so he instilled that in me from early on. So making 'The Carousel' record was my first foray into producing my own records. At that time, I was hugely inspired by KATE BUSH, BAT FOR LASHES, DEPECHE MODE and JONI MITCHELL.
'Visionaries' was a collaboration between myself and drummer Cam Findlay and when we were writing that album, we were listening to a lot of NEW ORDER and JOY DIVISION… hugely inspired by New Wave so it inevitably spilled into our songwriting.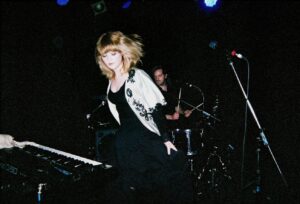 'Visionaries' had a distinct synthpop direction as heralded by the album opener 'Find The Fire', what interested you in synths? 
Yeah, my main instrument was piano so I knew how to navigate around a keyboard. There were a collection of vintage synths in my Dad's studio – Roland D-50, D-70, Yamaha DX-7 so there were always synths to play with growing up.
I love how colourful synths sounds are and how you can really customize these crazy sound waves, turning electricity into a song.
Had there been any particular acts like liked who you referenced to formulate your sound?
PETER GABRIEL, KATE BUSH, DM, NEW ORDER… asking "what would Kate do?" often gets me out of a production rut haha.
PARALLELS is widely accepted as your musical vehicle today, but at the time of 'Visionaries', was there more of a democratic band dynamic in place?
Yeah, like I had mentioned previously, 'Visionaries' was a collaboration so Cam would make up demos and then I'd write topline, and we'd complete them together at my Dad's studio. We tracked drums there as well! That 'Visionaries' era was pretty crazy for us, we were learning the industry – managing ourselves – figuring out who we were as artists etc, and it took a toll on Cam and I's relationship so we ended up parting ways. He started a solo project and I continued on with PARALLELS… obviously 😉
'Dry Blood' has a real chill about it with those great synth strings, haunting choir samples and prominent vocoders, what was on your mind when you made it?
Cam had come to me with that track and I immediately thought it was a cool entity. I think it was one of the first tracks he had written. He didn't really have lyrics for it so for the 'Visionaries' album I wrote some vocals and we put live drums on it which gave a bit more depth to the track. I was super into gothic literature at that time so… to precede your next question, the Goth girl was emerging…
On 'Nightmares' you sang about "the taste of blood in my mouth", has there always been a Goth girl waiting to escape from you?
Yes. There still is ha! I was always into the supernatural and witchy things so discovering the original goths of the Romantic era opened up that world to me… I was reading Percy Bysshe Shelley, Mary Shelley, William & Coleridge – huge nerd over here, still am.
In terms of equipment, were you using hardware or software synths? Did you have any favourites?
We were working with a PolySix, Juno 60, Prophet, Waldorf Blofeld, Roland D-50, D-70 so 'Visionaries' features those.
'Magnetics' brought a pulsating NEW ORDER feel to proceedings? Have you always been a fan?
NEW ORDER was a huge inspiration throughout the whole album – I used to have jam sessions in my basement in high school, and some of my friends who would come to those jams (Cam included) turned me onto their stuff.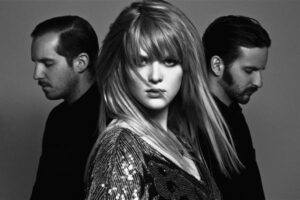 Meanwhile, 'Counterparts' explored the other side of NEW ORDER with a driving bass guitar?
Yeah, and very fast. We tend to play that one at the end of the set when the adrenaline is going haha. I think it was just bringing the whole scope of our inspirations in, and some songs call for different things so the chorus-y bass guitar adds a different colour to it. We were mixing a lot of electronic with live elements through the whole album.
The live drums took a breather and you got a drum machine out for 'Vienna', what was this song inspired by, as apart from 'Dry Blood', it's probably the one that is the most different to the others on 'Visionaries'?
This song was very escapist for me, dreaming of travelling to places I'd never been before and being in big open air, with open arms wandering fields like Julie Andrews haha. We were really into 'Games Without Frontiers' as well, so I think production-wise that played a part.
'Midnight Voices' has this fabulous futuristic disco vibe like Giorgio Moroder which still stands up?
Thank you! Huge fan of Giorgio Moroder – we were also super into Italo Disco as well so this song always reminds me of that influence.
'Shadow Hearts' is cut from not too dissimilar a cloth but one thing that is noticeable on that and 'Ultralight' is that the album manages to capture a lively percussive template in amongst all the synths and sequencers, not always an easy thing to do in a studio environment?
The live drums definitely add an edge to it, and a more human energy. Cam was a drummer so it was sort of a given. The demos were usually made with programmed drums and then we had recorded live drums for the final album versions. We kept certain elements of the programmed drums if it fit the song – like 'Reservoir' has a programmed kick and some hi-hat, and 'Ultralight' a bit of drum machine percussion. But yeah, 'Visionaries' doesn't have a super polished sound which I prefer anyway – it was all about performing as tight as we could.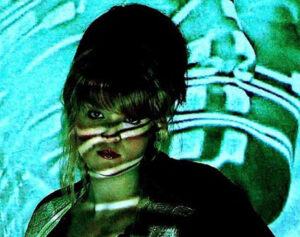 In what way do you think your voice has changed over the years in the way you use it?
I've definitely become more confident and found more fulfilment in singing; I was always insecure about my voice so I used to double track it. But I don't really do that anymore – after years of soul searching and embracing what I have to offer… telling my inner-critic to go away ha. Singing started to become a sanctuary for me when I was recording the 'Metropolis' record.
How do you look back on 'Visionaries', what are your favourite songs and are there any you would do differently in hindsight?
It was such a formative time, and a whirlwind! It was the first time that people really listened to my music, so I'm so grateful for that. It's hard to pick a favourite from the album but I think my favourites are 'Counterparts', 'Reservoir' and 'City Of Stars'. And no I wouldn't do anything differently, everything happened how it was supposed to 🙂
The new remixes you have commissioned to accompany this remaster appear to be from The Synthwave All-Stars, do you feel you have now found "your people" after ten years?
Agreed! I'm so grateful that they were a part of it – I envisioned it to be a compilation of artists who have somehow factored into this musical journey, both old and new friends… from the VALERIE COLLECTIVE to MORGAN WILLIS, who I just recently collaborated with. I finally connected with BETAMAXX in real life last year but it felt like we had known each other forever. And yeah I think it does take time to make friends in this music world because a lot of people come and go and everyone is doing their own thing. But it does feel like there's a greater sense of community these days, it's amazing how small the music world really is.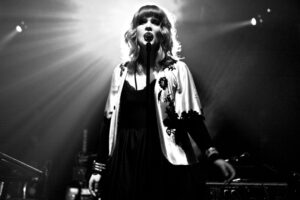 'XII' came after 'Visionaries', what were the most valuable experiences that came from recording your debut that you were able to put into the second PARALLELS album?
Giving yourself room to grow, inviting inspiration find you, staying curious and letting the magic happen. That's ultimately why I felt called to evolve PARALLELS and keep it going.
I think a lot of artists get too precious about the first thing they create and in my opinion, the first record is the easiest in some ways.
It's been nearly four years since the third PARALLELS album 'Metropolis' but you have been collaborating with FUTURECOP! and RADIO WOLF, so how have these experiences been for you in terms of your continued musical development?
It's definitely helped me get some perspective and it feels like coming home now that I'm working on a new PARALLELS record. It felt like the right time to collaborate because I felt like I needed a break from 'myself' haha. Working with other artists helps bring inspiration out of you that you didn't know you had. I also worked with MORGAN WILLIS, DIGITAL SHADES and CHRIS HUGGETT during that time.
Is there anyone you would love to collaborate with?
To be honest, I've done so much collaborating in the past while it feels right to just get in my little world again. But if Kate called…

What are your future plans, obviously depending on the world situation?
Oh right – the world situation! Haha…well we had tour plans for RADIO WOLF and I's 'Proximity' soundtrack that have been put on the back burner, and another tour with MECHA MAIKO and BETAMAXX, some EU/UK dates… but alas. I'm cautiously hopeful we'll be able to make up for it next year. So right now I'm back in my little world knee deep in writing a new record and building a Patreon community to share the progress with and stay connected.
Thanks so much for the chat – love to all at ELECTRICITYCLUB.CO.UK!
---
ELECTRICITYCLUB.CO.UK give its warmest thanks to Holly Dodson
'Visionaries'
is reissued as a new remaster and remix album by NewRetroWave, the limited edition clear dark blue with white marble effect double vinyl LP will despatch around 20th December 2020 while the digital version is available now; both formats can be purchased direct from https://newretrowave.bandcamp.com/album/visionaries-10th-anniversary-edition
http://www.iloveparallels.com/
https://www.facebook.com/Parallels
https://twitter.com/iloveparallels
https://www.instagram.com/iloveparallels/
Sign up to PARALLELS Patreon at https://www.patreon.com/iloveparallels
---
Text and Interview by Chi Ming Lai
4th October 2020