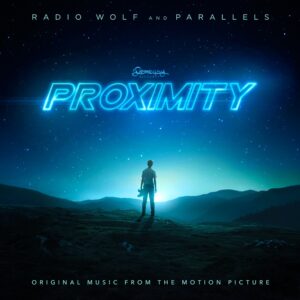 "A young NASA JPL scientist is abducted by extra-terrestrials, but when no one believes his story, he becomes obsessed with finding proof, which leads him on a journey of discovery."
That is the tagline for Sci-Fi thriller 'Proximity', the directorial debut of Emmy Award-winning visual effects artist Eric Demeusy, best known for his work on 'Stranger Things', 'Tron Legacy' and 'Game Of Thrones'.
The film stars Ryan Masson who was in another Sci-Fi thriller 'Involution' and its cast also includes Highdee Kuan, Shaw Jones, Christian Prentice and Don Scribner.
While the main orchestral soundtrack is scored by Jermaine Stegall, the songs have been provided by RADIO WOLF and PARALLELS, respectively the musical vehicles of Canadians Oliver Blair and Holly Dodson.
While Dodson has already released three albums as PARALLELS, Blair's CV has included a stint with British New Wave trio HOTEL MOTEL (Italians Do It better signing Jorja Chalmers was a bandmate), guesting as a guitarist with CLIENT under his KINDLE moniker and playing keyboards with PARALLELS.
The debut RADIO WOLF EP 'Rock N Roll Forever'
came out in 2017 and featured an illustrious cast of vocalists including Sarah Blackwood, Kelli Ali and HOTEL MOTEL singer Marika Gauci as well as Dodson herself. So developing the creative union between them was only natural.
Commissioned by Demeusy to come up with some sinister otherworldly songs counterpointed by a romantic celestial air for 'Proximity'
, Blair looked to Dodson to be their voice. "We fused celestial sounding electronica with the intimacy of the human voice and organic live guitar, having faith that our music would cohere to the film's dual sense of otherworldliness and humanity" said Blair.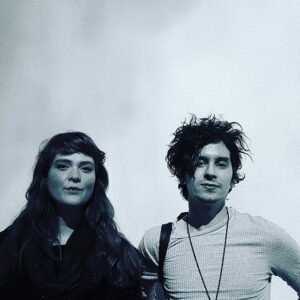 With both musicians heavily influenced by classic synthpop and new wave, it is perhaps not surprising that the resultant seven songs are being released by Lakeshore Records, home to the 'Stranger Things' soundtrack and the recent offering by KID MOXIE for the Greek film 'Not To Be Unpleasant, But We Need To Have A Serious Talk'.
Opener 'Break The Silence' does what it says on the tin and comes over like ELECTRIC YOUTH but with much more bite thanks to its use of Holly Dodson's more power diva capabilities and Oliver Blair's guitar; it all stays on the right side of an AOR electronica hybrid if very close to its border.
Meanwhile 'Pure Lies' adopts the atmospheres of the 'Twin Peaks' theme 'Falling' and makes good use of lush vocal samples for its eerie dream-like state while reimagining it being covered by CHVRCHES. Speaking of the Glaswegian trio, 'Let Me In' could be Lauren Mayberry, Iain Cook and Martin Doherty with a sense of gothic foreboding rather than their usual Taylor Swift gone electro approach.
"Scored to picture", the mini-album's lead single 'Lost Angel' tells of a "Dark vision of Paradise" and lyrically captures the spirit of the 'Proximity' story while accompanied by some beautifully ringing synthetic chimes doubled with bursts of pitch shifted vocals. Hauntingly compelling, 'Contact' is a superbly widescreen ballad and if it wasn't in a Sci-Fi film, it could so easily have been in chosen for a love scene in a Brat Pack movie from back in the day.
'Journeys End' is a rather fine tribute to 'Space Oddity' with Dodson sounding particularly angelic while fabulous synth melodies and complimentary live drumming by Nick Dodson enhance what is probably the mini-album's highlight. Concluding Proximity', 'Homecoming' adds some scratchy funk with a new wave twist to proceedings to provide a sparkly optimistic ending.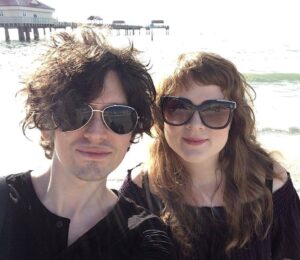 More than happy with these seven songs, Eric Demeusy said: "Oliver and Holly were a joy to work with; totally fresh and collaborative in spirit. Their songcraft talents and sophisticated production values created just the right sonic emotion for various sequences of the movie. I'd work with them again in a minute."
'Proximity' will be embraced by the synthwave fraternity thanks to its association with Lakeshore Records, but its pop sensibilities and accompanying narratives will appeal to a wider audience.
These are heartfelt songs possessing musicality and atmosphere that will certainly appeal to anyone who has enjoyed the previous releases by PARALLELS or RADIO WOLF.
---
'Proximity (Music from the Original Motion Picture)'
is released by Lakeshore Records, available direct from https://radiowolfandparallels.bandcamp.com/
https://www.radiowolfmusic.com/
https://www.facebook.com/radiowolfofficial
https://www.instagram.com/radiowolfmusic/
http://www.iloveparallels.com/
https://www.facebook.com/Parallels/
https://twitter.com/iloveparallels
https://www.instagram.com/iloveparallels/
---
Text by Chi Ming Lai
22nd August 2020