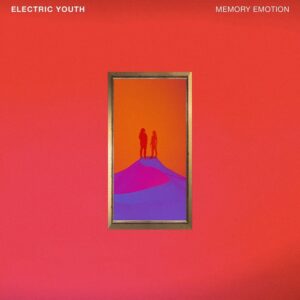 ELECTRIC YOUTH are best known for 'A Real Hero', their 2011 collaboration with COLLEGE which was arguably the defining song on the soundtrack to Nicolas Winding Refn's 'Drive'.
The film helped give synthpop (and at the time a fledgling Synthwave scene) a well needed boost and helped propel it into the wider public eye.
Since then the duo comprising of producer Austin Garrick and vocalist Bronwyn Griffin, have kept active eventually releasing their debut album 'Innerworld' in 2014 featuring additional production from Vince Clarke and PNAU's Peter Mayes.
2019's 'Memory Emotion'
is their third album after the release of 'Breathing' which was originally planned as the soundtrack to a film of the same name before artistic differences saw the original film producer Anthony Scott Burns bailing (and ELECTRIC YOUTH following suit).
Opening track 'The Life' will delight fans of PET SHOP BOYS, initially reminiscent of 'Love Comes Quickly' before a Linn Drum starts driving the piece and Griffin's vocals enter. From a songwriting and musical perspective 'The Life' is easily the standout piece here.
Sonically things keep going in a similar vein with 'ARAWA' with big polysynth chords and more Linn Drum programming. 'Breathless' and 'Real Ones' see Griffin's vocals become a bit too saccharine and floaty to the point where the listener could easily zone out and the songs become background fodder. The latter adds a descending Indie-style guitar part and a hypnotic drum pattern which draws the piece to its conclusion.
'On My Own' lowers the tempo and is driven by a Roland TR808 drum pattern and another textural guitar part; lyrically it comes across as more engaging than some of the other tracks here with Griffin's vocal emotionally reaching out to her lover ("You weren't here last night").
'Higher' injects a welcome upward change of pace with a 4/4 kick drum and a syncopated phased polysynth part straight out of VISAGE's 'The Damned Don't Cry'. Again the vocals are sat back in the mix and the "higher and higher" chorus hook doesn't quite do Garrick's musical backing justice.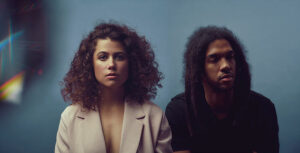 'Thirteen' is a close cousin to 'A Real Hero' with its 8 beat synth bass but melodically doesn't hit the heights of the track it recalls and the following three tracks 'Evergreen 143', 'Now Now' & 'Through the Same Eyes') all have an unfortunate tendency to merge or blur into one without a real standout between them.
The overall sound of 'Memory Emotion' will come as no surprise to listeners familiar with the duo's previous work; there are no rough edges here as Griffin's vocals float ethereally over a soundbed of analogue synths and the occasional guitar part.
In some ways ELECTRIC YOUTH are trapped in a musical straitjacket here; as a genre synthpop / Synthwave can easily become constricting with certain synth sounds being overused to the point where they become musical cliché. There is nothing technically wrong with 'Memory Emotion', it is beautifully mixed and produced but in too many places, it skirts close to aural wallpaper with songwriting which doesn't quite cut the proverbial mustard.
If you favour synthpop that would work as late night listening or to accompany a chilled beach excursion, then 'Memory Emotion' achieves that function perfectly, but those looking for more depth and originality would be far better served seeking out acts such as fellow Canadian's PURITY RING who push the envelope with the genre far further.
---
'Memory Emotion'
is released by Last Gang Records available in clear vinyl LP, CD and digital formats, available from https://electricyouthshop.bigcartel.com/
http://electricyouthmusic.com/
https://www.facebook.com/electricyouthmusic/
https://twitter.com/_electricyouth
https://www.instagram.com/electricyouthofficial/
https://open.spotify.com/album/2mkkAsxvR3XMG9ReQKR3RE
---
Text by Paul Boddy
25th August 2019