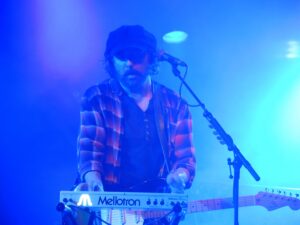 A self-confessed purveyor of rock 'n' roll, Ian McNabb found fame as the leader of THE ICICLE WORKS who hit UK charts in 1984 with 'Love Is A Wonderful Colour', eventually reaching No15.
Emerging from post-punk Liverpool, perhaps unsurprisingly, THE ICICLE WORKS were often compared with THE TEARDROP EXPLODES, sharing psychedelic overtones, frantic rhythms and cosmic string machines.
While it would be fair to say McNabb had a similar vocal timbre to Julian Cope, he was the undoubted master of a belting chorus. Releasing a self-titled debut album in 1984, THE ICICLE WORKS also found success in the US with the magnificent 'Birds Fly (Whisper To A Scream)' becoming a Top 40 hit Stateside. Its recent use in the Episode 7 end credits of 'Stranger Things 2' helped revive interest in the band's back catalogue.
With great songs such as 'Nirvana', 'As The Dragonfly Flies', 'Hollow Horse', 'When It All Comes Down', 'Understanding Jane' and 'Who Do You Want For Your Love?', the original line-up of McNabb, Chris Layhe and Chris Sharrock knocked on the door of the UK Top40 on several occasions during their career but ultimately remained acclaimed cult favourites.
While THE ICICLE WORKS split with Sharrock notably ending up on the drum stool for Robbie Williams, McNabb pursued his love of Americana and went on to work with CRAZY HORSE, releasing the Mercury Prize nominated album 'Head Like a Rock' in 1994.
With the work of THE ICICLE WORKS being celebrated on a 35th Anniversary tour featuring a two and a half hour set including solo material, Ian McNabb kindly chatted about string machines, Micro Mellotrons and more…
When THE ICICLE WORKS started out, you were a tight-knit guitar / bass / drums three piece, so when did keyboards enter the frame?
I played keyboards from the very beginning. Keyboards were in the frame from first day's rehearsal.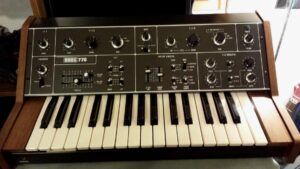 You were using a Korg 770 and Logan string machine back then, what drew you to those?
Korg 770; well I couldn't afford a Moog…
The Logan string machine I bought in 1977; it was state of the art for the times!
Those early songs were quite complex and frantic, as exemplified by your first single 'Nirvana'?
Yes we loved tom toms. We were deliberately complex. We knew we could play better than anyone else around at the time and wanted to prove it. 'Nirvana' set the template. Pretty much everything on that first album has tribal drums. We never really did it again after that. We loved The Bunnymen, Banshees, Adam &The Ants, Bow Wow Wow. We wanted to make three people sound huge.
On the self-titled debut album, 'As The Dragonfly Flies' was one of the highlights and had an air of THE TEARDROP EXPLODES, how did that come together?
Yes it did. We loved THE TEARDROP EXPLODES. We ripped loads of that stuff off. 'A Factory In The Desert' was me trying to rewrite 'Reward'. The original demo of 'In the Cauldron Of Love' is so like ECHO & THE BUNNYMEN, it's funny. We managed to scale it back a little on the record and sound more like us.
You recorded the debut album with Hugh Jones, how was the studio dynamic between band and producer? Any funny stories you can recall?
We got on well although there were arguments. When you've been playing those ten songs for a couple of years and then you try to record them and someone starts changing things, it's traumatic. I wouldn't say it was much fun working with Hugh as he was such a taskmaster. He would make us play things over and over for hours. That's not how I work. If I haven't got it by take two I move on. We took sleeping bags into the studio as Hugh could spend three days mixing one track and he never stopped until it was finished. Hugh came to see us this year playing the first album in full. We had a lovely time. The debut IW album is the only one I can listen to.
'Love Is A Wonderful Colour' was a UK hit in late 1983 and captured a glorious wintery feel which suited its time of release?
It actually got in the Top 20 in January 1984. It was getting a lot of airplay leading up to Christmas but when they stopped playing all the festive sh*te, they really hammered it. It was a long, slow burn. I never thought it was all that good but it sits in people's memories of their youth now and has a special place in their hearts (and mine). It definitely has a brown leaf flavour.
'Birds Fly' is perhaps your best known song and has been exposed to a new audience via its inclusion in 'Stranger Things', how did you feel about the songs longevity?
That song has been very kind to me. It was a sizeable hit in the USA and once you have a smash over there, they never forget it. It didn't sound like anything else and a lot of songs have ripped it off over the years.
Every couple of years I hear another. I'm very proud of that one. I particularly like the way it has a prologue that is in a different tempo and is not repeated. THE BEATLES used to do this a lot in their early years ('If I Fell', 'Do You Want To Know A Secret?', 'Here There & Everywhere'). THE BEACH BOYS did it on 'California Girls.'
'Birds Fly' was a US Top 40 hit but never quite got that recognition in the UK, any thoughts in hindsight as to why it might not have been?
It was No2 in the indie chart for a while, but it never really got any significant airplay whereas 'LIAWC' got loads. We re-released it after' LIAWC' was a hit, but the fans all had it and the unconverted never really got to hear it. I'm sure a TOTP appearance would have made it huge.
By the time of 1984's 'Hollow Horse', the arrangements had become less complex and more direct while hints of Americana like THE BYRDS were starting to make themselves heard, was that a natural move for you?
We'd gone as far as we could with experimenting, yes we definitely became more of a straight ahead pop / rock band after that. I got fed up of shouting over the Burundi Boys and Chris Sharrock would have had a heart attack if he would have kept on doing that every night. The songs became more simple, lyrically also.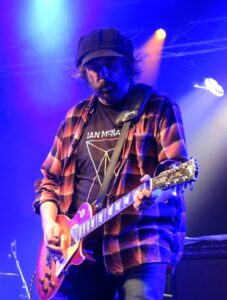 THE ICICLE WORKS will be touring the UK this Autumn, what can people expect who might be thinking about coming along?
Two and a half hours of pop / rock jollity. Plus songs from my solo catalogue. And some good gags.
Are you taking the Logan string machine out with you?
It's in the cellar but I haven't turned it on for 20 years. I'll be using my Micro Mellotron though.
Looking back, which songs from THE ICICLE WORKS catalogue remain your favourites and why?
The ones that are fun to play live; 'When It All Comes Down', 'Hollow Horse', 'Up Here In The North Of England'…I enjoy them all or I wouldn't play them. 'Birds Fly' will always be my favourite.
---
ELECTRICITYCLUB.CO.UK gives its grateful thanks to Ian McNabb
Special thanks to Helen Robinson at Mersey Beast PR
'The Icicle Works'
is still available as a 2CD deluxe set via Beggars Banquet Records
THE ICICLE WORKS National Tour 2019 includes:
Newcastle O2 Academy 2 (27th September), Sheffield Plug (28th September), Clitheroe The Grand (4th October), Farncombe St John's Church (5th October 2019), Cardiff Globe (11th October), Southampton The Engine Rooms Sat (12th October), Cottingham Civic Hall (18th October), Norwich Arts Centre (19th October), Derby Flowerpot (25th October), Douglas Isle Of Man Villa Marina (26th October 2019), Bristol Thekla (1st November), Birmingham O2 Academy 2 (9th November), Leeds Brudenell Social Club (15th November)
https://www.facebook.com/merseybeast/
https://twitter.com/theicicleworks
---
Text and Interview by Chi Ming Lai
27th August 2019