While KID MOXIE might be best known for her exquisite breathy synthpop like 'Lacuna' and 'Dirty Air', her latest musical venture takes her into previously unknown territory.
The vehicle of Greek-born singer / songwriter / musician / actress Elena Charbila, KID MOXIE has composed the soundtrack to a new film 'Not To Be Unpleasant, But We Need To Have A Serious Talk'
directed by Giorgos Georgopoulos.
The plot centres around a womanizer who finds out he is a carrier of a sexually transmitted virus, lethal only to women. But he is also the only hope for a curing vaccine if he can find which one of his ex-girlfriends had the first viral strain!
Released on Lakeshore Records whose digital catalogue includes the prestigious soundtracks for 'Stranger Things', 'The Rise Of The Synths' and 'Drive', while there are numerous ambient and instrumental pieces, 'Unpleasant' also includes two notable cover versions.
One of them is 'Big In Japan'
which was originally recorded by ALPHAVILLE; the new KID MOXIE arrangement sees 'Stranger Things' meet 'The Ipcress File' within its icy aural aesthetic. Meanwhile, there is also a moody reworking of 'The Night', a 1983 Stephen J Lipson produced US hit for THE ANIMALS. Elena Charbila chatted from Los Angeles about her 'Unpleasant' experience…
Is 'Unpleasant' your first soundtrack venture?
This is the first time a full soundtrack I've composed has been released, as opposed to giving tracks to certain shows, films or commercials which I've done in the past.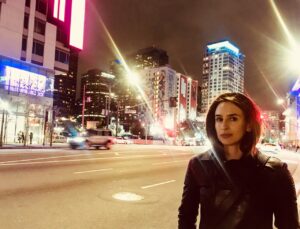 How did it come about?
I was approached by the director who I met in LA and who is also Greek, he had known my stuff and has the same synth sensibilities as me, we gelled on the kind of sonic landscape that we both liked.
When he was ready to shoot the film, he asked me to compose the soundtrack and I also acted in the film as well. It's a small part but it was a pretty fun thing.
What's the character that you play and what's the premise of 'Not To Be Unpleasant, But We Need To Have A Serious Talk'?
The basic story is that we're in Greece in the future, it's a Sci-Fi / dark comedy / drama where there's a disease which is sexually transmitted that kills women but men carry it! The lead character has to go back into his past to figure out who gave it to him so that he can tell them all that they're dying… it's pretty grim but there is definitely some humour injected into it, done in a tasteful way I think. Spoiler alert! I'm the first girl who is going to die in the story.
What was the big difference for you working on 'Unpleasant' compared with doing pop songs?
The magical thing that happens with not doing actual songs was the freedom that is offered by non-verbal compositions. It was very liberating not to write lyrics because I didn't have to write about me and my experiences, but it became about creating a world that these other characters could live in. This meant I wasn't going to "talk" basically, so it was liberating not to be confined to the structure of a pop song, verse/chorus, having to say something and then match it or rhyme it. It was very rewarding in a different way.
So were you doing what Vangelis does, composing to moving pictures, or writing to a brief?
I've done some more soundtrack work since and every film is different. But for this particular one, the director wanted a lot of stuff in advance, even before they shot because he wanted to rehearse with the actors using that music. So the actors and all the elements grew together, so during rehearsals, there was stuff to listen to and play on set. A lot of stuff was also made after the cut, so I was very much involved in the whole process.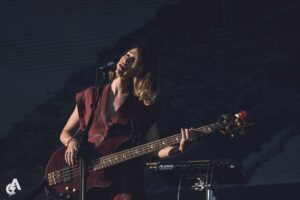 'Bonsai' perhaps doesn't stray too much away from the music people know you for as it has your vocal on and your airy sound?
Yes, that's safe to say but it was such a freeform process. 'Bonsai' was the last track I wrote for the whole soundtrack after I had seen the rough cut of the film.
There's a Japanese character and there's a lot of Japanese dialogue.
And there's this bonsai that keeps growing throughout the film, it's almost like a character in itself. So that was based on the energy which that bonsai was emanating to me.
But the solemn filmic ambience of 'The Distance Grows Again' and 'Interlude' will surprise?
Yes, those tracks are definitely a departure, if the people listened to these next to my pop songs, they will not believe it's the same person. I wanted to be something totally different because this project felt totally different. The images and the feelings I was drawing from were different from other stuff that I free-willingly started writing from scratch. This time, I had a "guide" who was somebody else, a film saying "come to us, come this way" and I followed it.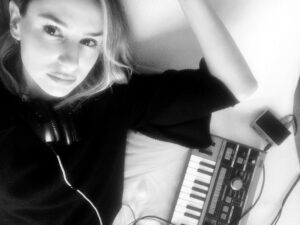 What equipment set-up this you find was the best way of working for you?
I would say half of it is hardware, but I do use a lot of software, I travel a lot so I complete a lot of things that way. It's like a 50/50 process between hardware and software.
I ended up using quite a bit of Arturia Oberheim Sem V, Moog Grandmother, the Moog Minitaur and Moog Mother.
There are some live guitars here and there like on 'Bonsai', I wrote the parts but had a friend play it cause I am sh*t at the guitar! I play bass which feels good for me because it's not so intricate, I've always had a little fear of the guitar and that's not because I'm a synth person, there was never a calling for me to explore it. Whereas the bass felt much more right, it's like the spine of a song, it holds the beat and the melody together, and that felt very intriguing.
But there's no bass on your 'Unpleasant' soundtrack?
It was natural not to involve anything rhythmic elements in the soundtrack (apart from on 'Closer Than Ever') other than the two cover versions. I feel there has to be a good reason to include a rhythmic element, there has to be a really good reason to include drums or bass in movies.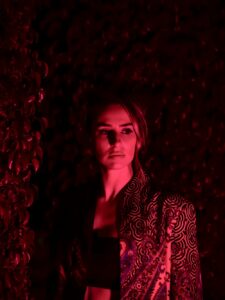 'Closer Than Ever' captures an underlying tension, had any particular composers influenced you?
I was channelling more of the dark wave elements on this one, newer bands like SHE PAST AWAY from Turkey who I like, a little bit of JOY DIVISION and SISTERS OF MERCY, that mix of synths and guitars.
Overall, Vangelis is an influence over anything that I do, John Carpenter too and Clint Mansell who happens to also be a good friend. There's also the German composer Nils Frahm and Cliff Martinez, all of these people, I'm recycling things from all of them.
Was the release of the 'Unpleasant' soundtrack on Lakeshore Records always a given?
No, it wasn't… it was finished when they heard it through Clint Mansell who loved it. He made the connection, Lakeshore loved it and they said "bring it on".
There are two takes on 'Love Poem', one variation being mostly based around solo piano…
At some point I wondered what it would sound like if I replaced the piano sound with a synth. In my head, it made it have a nostalgic, romantic quality that suited a scene in the film that was very melancholy.
The soundtrack is notable for having two songs on it, one being a cover of ALPHAVILLE's 'Big In Japan', so what was your approach?
The director loved 'Big In Japan' so it went into the end credits. Because there was a strong Japanese element in the film, it made sense to use that. It didn't feel right to necessarily use drums because I did want to take a departure from the ALPHAVILLE original. There was already a strong rhythm element with the synth bass and it takes it to a different place by having a woman sing it.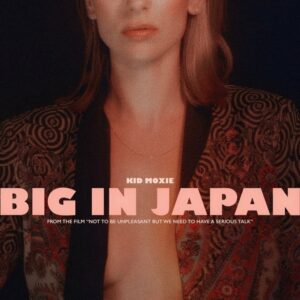 'Big In Japan' comes with a very striking video, what was the narrative behind that?
There's no full story but I don't think everything needs a full story, it just needs a feeling and an atmosphere to be enveloped in.
I guess the video is a bit of a commentary on children being forced to grow up too fast, especially in Hollywood.
I've always perceived the song as being about fame (although I am aware that it's not what the original was about).
The other song is also a cover of 'The Night' by THE ANIMALS which you perform with Phil Diamond?
It plays during the movie and was one of the director's requests to cover this particular track. I thought it would be nice to have it as a duet so I asked a friend of mine to sing it with me. It really departs from the original which was much more of an early 80s pop rock hit, so I made it much more ethereal to match the tone of the film.
'Slow Escape' is a glorious mix of piano and synth pulses…
I was listening to a lot modern classical music so just blending the synthetic arpeggio sounds with natural sounds like the piano creates a very multi-layered experience in my mind. By definition, a synth can be a cold sound which is not human, but then there's piano which is more warm and human, so by blending them, you get an interesting "sonic sandwich"!
How have you found working on 'Unpleasant' as an experience and for your musical development?
Contrary to its title, it's been a very pleasant experience for me because it's opened up a whole new chapter in my music career! I wasn't sure I had it or could do it, I wasn't sure I could take on a whole soundtrack by myself. Now I want more. So I'm working on more soundtracks and I hope to keep doing it.
What's next for you, will you go back to songs?
I have an EP out in Spring 2020 and I've also been working on music for a video game amongst other things.
---
ELECTRICITYCLUB.CO.UK gives its warmest thanks to KID MOXIE
'Big In Japan'
is released by Lakeshore Records as a digital single, available now via the usual platforms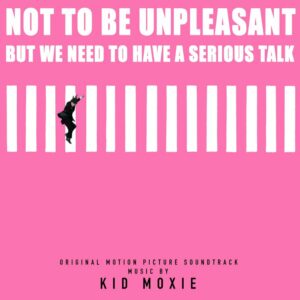 The 'Not To Be Unpleasant, But We Need To Have A Serious Talk'
digital soundtrack album is released on 24th January 2020 and can be pre-ordered now direct from https://kidmoxiesoundtrack.bandcamp.com/album/not-to-be-unpleasant-but-we-need-to-have-a-serious-talk-original-motion-picture-soundtrack
http://www.facebook.com/kidmoxie
https://twitter.com/KIDMOXIEMUSIC
https://www.instagram.com/kid.moxie/
http://www.lakeshorerecords.com/
---
Text and Interview by Chi Ming Lai
18th January 2020