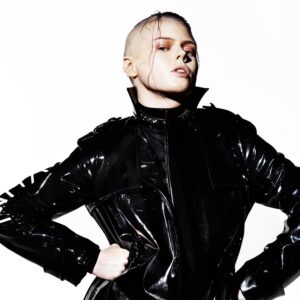 Feisty and ambitious, REIN's debut self-titled EP saw the launch of a new face for 'Rebel Girls' and modern EBM.
The appropriately titled second EP 'Freedoom' dealt with more socio-political concerns with the highly danceable 'Misfit' channelling aggression to a good beat while broadening her electro-punk sound.
Inspired by films such as 'Blade Runner', 'The Matrix' and 'Ghost in The Shell', 'Reincarnated' is a collection of electronic dystopia that at its best, excels with the title summing up the mission statement of this long player.
While REIN prefers to let her music do the talking, she did tell ELECTRICITYCLUB.CO.UK: "It's a psychological, sci-fi, thriller masterpiece that I have been working on for 2-3 years. I have surpassed myself. It's going to be iconic. It's more personal this time, and I have developed myself musically. It is more dynamic, melodic, with more analogue synthesizers then before; but, at the same time, it's darker than before."
The first thing that stands out about 'Reincarnated'
compared with other REIN works is the huge sonic leap thanks to the partnership with co-producer Carli Löf whose credits have included ROBYN and BOYS NOIZE.
Opening with 'Reincarnate', it naturally comes over as a cathartic manifesto while previous single 'Off The Grid' sees REIN believing in her own strength and taking back control which is exactly the sentiment expressed in the equally assertive 'Closer To Reality'.
Additionally, the full-faced punch of 'Bodyhammer' and 'Accelerate' possess the loudness and attitude that will satisfy those of a more industrial bent, although the latter grabs a few hints off the PET SHOP BOYS B-side 'Euroboy'.
But the best songs on 'Reincarnated' such as 'Release Me', 'Reactivity' and 'Limitless' are like an edgy KRAFTWERK meeting DAF and NITZER EBB with snappy synthetic rhythms providing the punch and REIN taking a more prominent deeply sung vocal approach alongside her trademark screams.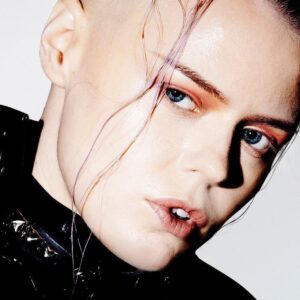 Meanwhile 'Puppetmaster' attacks the powers that be with a great pulsating groove and 'Dystopia' takes down the tempo to capture our heroine in a distinctly Ballardian world.
At 31 minutes, this is not a long debut but less can mean more. 'Reincarnated' is not a cheerful affair but provides hope and inspiration in the spirit of new adventure. It works best when REIN shows more restraint and if she can get the balance right on future releases between singing and shouting with a bias on the former, she could become like the female AESTHETIC PERFECTION in the next phase of industrial pop.
---
'Reincarnated'
is released by REIN Recordings as a transparent acid green vinyl LP and download, available direct from https://reinofficial.bandcamp.com/album/reincarnated
https://www.facebook.com/reinelectronic/
https://www.instagram.com/_reinofficial_/
https://open.spotify.com/album/5xeCTFHhRBh2IhhXT7BChc
---
Text by Chi Ming Lai
24th August 2020