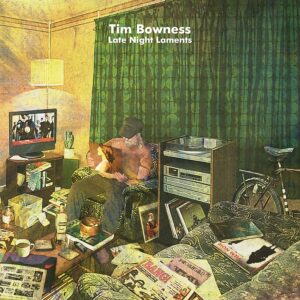 The current global pandemic has highlighted across the board differences between many modern recording artists.
For some this has meant not sticking their head above the parapet and beyond what was already on the release schedule, they haven't done anything to support their fan base through lockdowns and social distancing.
Others have given swathes of material away on platforms like YouTube in the form of remastered concert footage, acoustic lockdown sessions and unexpected collaborations.
This has been the approach of the likes of PINK FLOYD and GENESIS who have also no doubt picked up a few more sales along the way. A third group have used the lockdown to produce. From this, we will have a new CABARET VOLTAIRE release by year end which irrespective of the circumstances is a good thing and, amazing as it may seem, we have more from the non-stop musical mind of Tim Bowness.
With 'Late Night Laments'
, we are presented with what is his second solo album in just over a year. This is in conjunction with the release of the excellent NO-MAN album 'Love You To Bits' at the tail end of last year, running the eclectic Burning Shed AND producing hours and hours of entertaining podcast material with bandmate and fellow music polymath Steven Wilson, who hasn't been sitting at home himself watching re-runs of 'The Professionals' on Netflix during this time.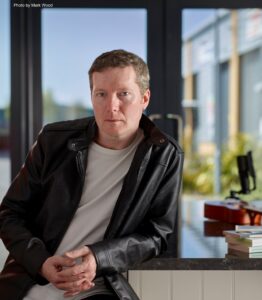 And it's 'The Album Years' podcast that points to the content of '…Laments'. Anyone who has listened will be taken by the variety and depth of both Bowness and Wilson's influences and many of them are on show here.
If you are coming to this solo work from the 'Love You To Bits'
album, be aware this is more like the organic work on NO-MAN releases such as 'Schoolyard Ghosts' than the driving electronica of last year's gem. Not that this should put you off as there is much to love with this album.
Performed and co-produced alongside long-time collaborator Brian Hulse, opener 'Northern Rain' sets out the stall clearly.
This work wears its influences on its sleeve and when those influences are the likes of THE BLUE NILE, that isn't a bad thing. The atmosphere created by the interplay between electronic instrumentation and the more traditional vibraphone and acoustic drums counterpoint the main reason you should give this album "ear time" and that is Bowness's vocals.
Simply put, he is in possession of one of the best voices in the UK at the moment. It foregoes the modern bombast of gymnastics and over production and goes down the more downbeat route favoured by the likes of the late Mark Hollis (TALK TALK are another clear influence here). What this means is we have a set of performances that are dripping with intimacy and allow the frequently dark lyrics to come through. This is a voice you listen to.
The laidback 'I'm Better Now' is as darker as anything you would get from a modern DEPECHE MODE album and musically more rounded too. Next track 'Darkline' is a personal highlight. Again Bowness delivers a staggeringly effective vocal against instrumentation that features a keyboard solo from Richard Barbieri who also provides additional synths on this and later cut 'The Last Gateway'.
What is notable is none of the tracks outstay their welcome, which from someone that is associated with the dreaded Prog word is commendable. There are progressive elements on many of the cuts here, but they are restrained so as not to frighten the horses.
The vocal arrangement on 'The Hitman That Missed' tips the hat to Bowness favourite Donovan. 'Never a Place' is another highlight, building, as many Bowness songs do, on a repeating and falling motif this features more of that most rock and roll instrument, the vibraphone played by Tom Atherton. His work across the album has brought a new and unexpected appreciation of the instrument only previously associated with a certain Mr Hitler and his guest appearance with the BONZO DOG DOO DAH BAND. 'Hidden Life' is infused with the same sadness that made the best ASSOCIATES tracks so memorable and features some of the best playing on the album.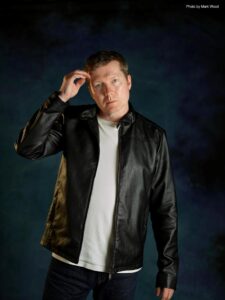 Closer 'One Last Call' is equal to anything Bowness has released either solo or across his collaborative work. The sparse instrumentation allows everything to breathe and highlights the excellence of the production from Bowness and Hulse and the mastering work of Calum Malcolm. It's no surprise that Steven Wilson is involved on mixing duties which he probably fitted in between the forthcoming 'Vienna' remaster and his lunchtime Pot Noodle…
This is an album in the old school sense of the word. It is crafted by musicians and following Bowness' own mantra, doesn't go on longer than is required to get the point across. Though billed as a late night release, this is one that deserves to be heard irrespective of the time of day. It is heartening we still have artists like Tim Bowness, more power to his elbow.
Oh and if you love music do yourself a favour and sub to 'The Album Years'; as a grumpy old man, it's the most fun you can have listening to grumpy old men out with Waldorf and Statler.
---
'Late Night Laments'
is released by InsideOutMusic as a transparent blue vinyl LP edition with signed art print direct from https://burningshed.com/store/timbowness
'The Album Years' podcast series by Steven Wilson and Tim Bowness can be heard at https://anchor.fm/the-album-years
https://www.facebook.com/timbowness/
https://twitter.com/TimBowness
---
Text by Ian Ferguson
Photos by Mark Wood
26th August 2020