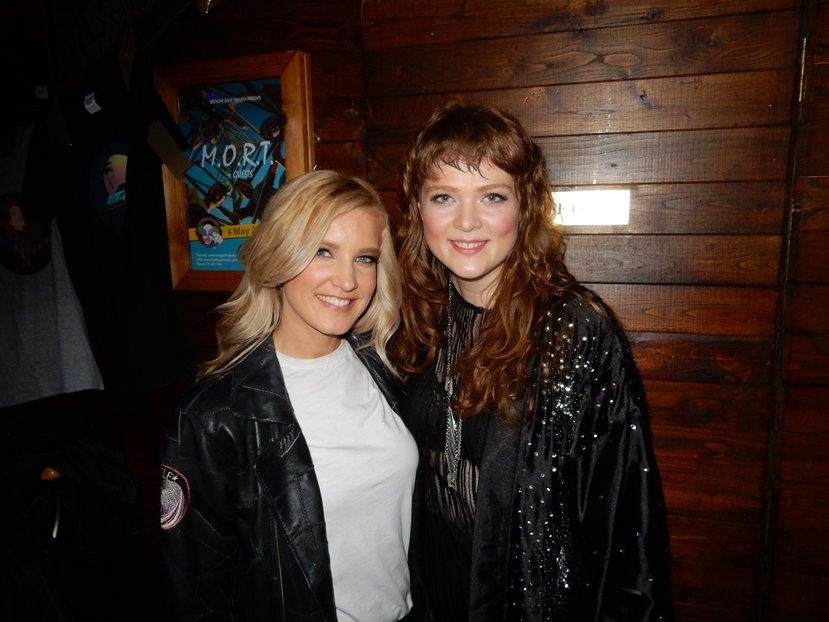 London's Zigfrid Von Underbelly played host to two of the best acts currently bridging synthpop and synthwave, PARALLELS and NINA.
For Toronto trio PARALLELS, this was their first UK gig as part of a short European jaunt also taking in Sweden and France. Meanwhile for NINA, it was her first full live performance since the release of her acclaimed debut album 'Sleepwalking'
.
Accompanied by her ever faithful electronic percussionist and backing vocalist Laura Fares, NINA came on stage alluringly cosplaying  as Charlie Blackwood from 'Top Gun' and opened proceedings on her Roland Gaia with 'Don't You Give Up', her vibrant collaboration with Swedish producer Oscillian who worked his studio magic on the majority of 'Sleepwalking'.
With a good turnout for the evening, the enthusiastic crowd welcomed the marvellous moonlit triumph of 'Beyond Memory' and its sister song, 'My Mistake'. While the latter was picked up by Mercedes-Benz back in 2014, the former showcased the strength of NINA's development since that first burst of praise and recognition.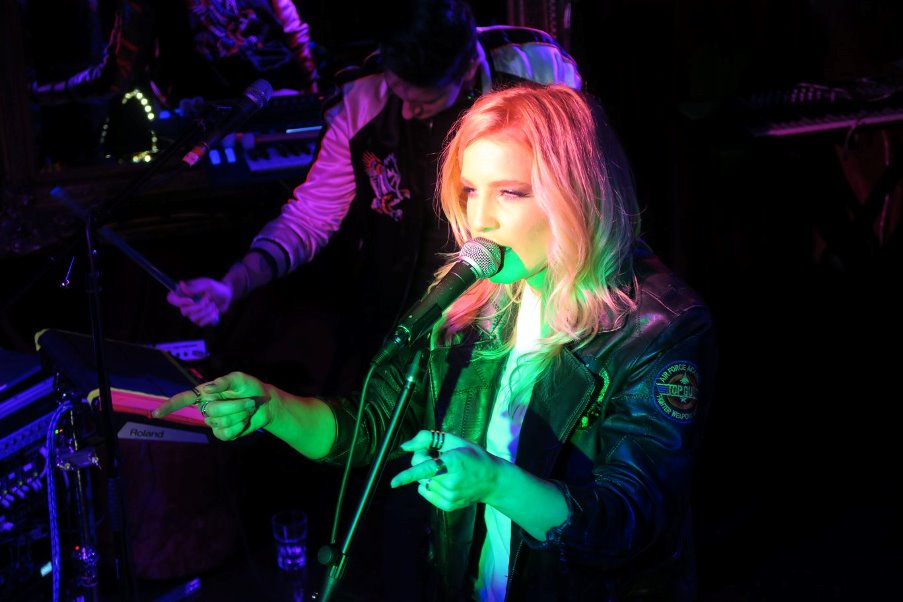 Continuing with the driven pop of 'Empire Of Love', NINA's poignant delivery of her anti-bullying anthem 'One Of Us' captivated all those present. The mighty 'Your Truth' allowed Laura Fares to shine energetically on her Roland percussion pad, adding pertinent dynamics next to NINA's devoted assurance that "I'll be there for you".
But the best was saved to last with the neon-lit thrust of '80s Girl', NINA's touching song dedicated to her mother. Embroiled in passion and positivity like a missing theme tune from 'Mannequin', all Laura could do was crouch down in awe as she observed NINA's neo-acapella conclusion to the song's fading synths.
During the interlude, DJ She-Ra pulled off the impressive feat of playing a set of synthwave and Italo that, while largely unknown to the wider public, was immediate and enjoyable without having to resort to the same old – same old. Other music anchors should follow her example while her inclusion of 'Let Me In', the KLEERUP collaboration with SUSANNE SUNDFØR, showed she also had impeccable taste.
Accompanied by her bother Nick on drums and Oliver Blair on synths, Holly Dodson led PARALLELS through an enticing performance that proved their worth as an engaging live band, a more than welcome sight when a number of noted synthwave acts' live presentation comprises of just one man and his laptop, with some visuals if you are lucky.
With her big auburn hair and wearing a striking sequinned black jacket, Holly had that inherent onstage confidence having grown up in the music business after her father Rich found fame as the singer and guitarist of Canadian AOR combo THE STAMPEDERS with his song 'Sweet City Woman', a domestic No1 in 1973.
Indeed, one could be forgiven for thinking Holly was the lead singer of a band like HEART, rather than an electronic pop group.
Opening with the playful 'Find The Fire' which appeared on 'Kitsuné Maison Compilation 8' back in 2009 alongside CHEW LIPS and DELPHIC, Holly was a natural at connecting with the audience, all while moving around singing and occasionally veering over to play keyboards.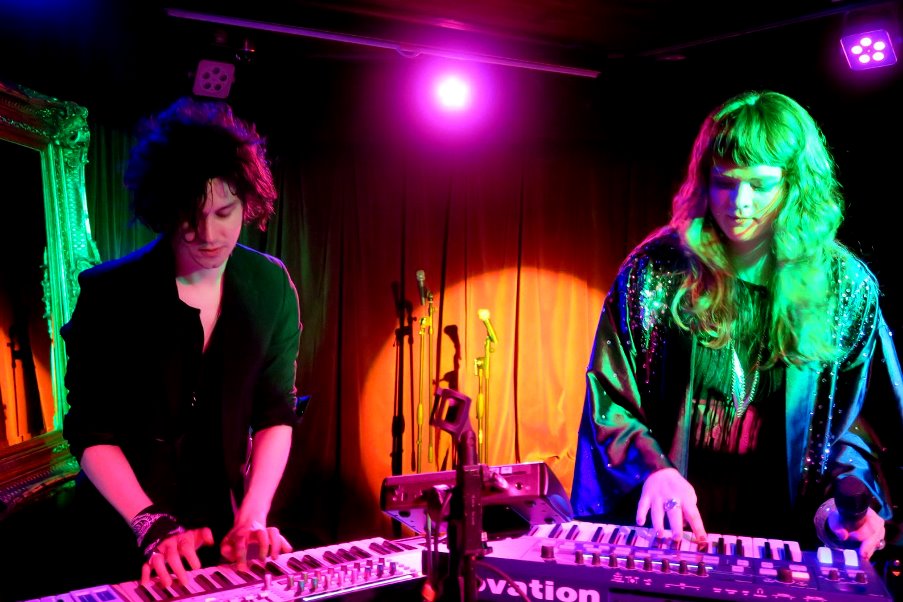 There was a delightful synth-off between Holly and Oliver on 'Dry Blood' before she sweetly dedicated the CHVRCHES influenced 'Metropolis' to everyone at ELECTRICITYCLUB.CO.UK, while the bouncy electropop of 'Tell The World' from the 'Metropolis'
album maintained momentum.
On the gorgeous 'Runaway Girl', a brilliant track written by Oliver Blair for his RADIO WOLF project, she gave a marvellously candied performance that was powerful too.
Breezy with 'Electrimotion', as an introduction to 'IRL' (a commentary on internet dating), Holly encouraged the audience to hug each other, before the percussive 'Ultralight' allowed Nick Dodson to indulge briefly in a drum solo during a middle section respite from the song's pulsing electronics.
PARALLELS' most recent single 'The Last Man' arrived in its more frenetic RADIO WOLF variant with Oliver Blair clearly relishing the opportunity to present his neo-gothic handy work. Closing with the synthy New Wave drama of 'Counterparts', this was an accessible and lively set with no lulls that was enjoyed by the appreciative crowd, no doubt buoyed along by Holly's sparkling personality.
In a live marketplace where there are far too many mismatched billings, PARALLELS and NINA made a perfect pairing, more than complimenting each other in style, mood and sound while both being different in their presentation and approaches. With great tunes, lots of synths and insistent groovy rhythms, this evening was exactly what modern electronic pop music should be all about.
---
Special thanks to Laura Fares at Aztec Records
PARALLELS 'Metropolis'
is released by Marigold Productions and available as a CD or download from https://parallels.bandcamp.com/album/metropolis
They play Toronto Adelaide Hall on Thursday 26th April 2018 and Ottawa House of TARG on Friday 11th May 2018
http://www.iloveparallels.com/
https://www.facebook.com/Parallels/
https://twitter.com/iloveparallels
https://www.instagram.com/iloveparallels/
NINA 'Sleepwalking'
is released by Aztec Records and available on CD, download or pink vinyl LP from http://www.ninasounduk.com/store/
https://www.iloveninamusic.com/
https://www.facebook.com/iloveninamusic
https://twitter.com/iloveninamusic
https://www.instagram.com/ninasounduk/
---
Text by Chi Ming Lai
Photos by Richard Price and Chi Ming Lai
4th April 2018