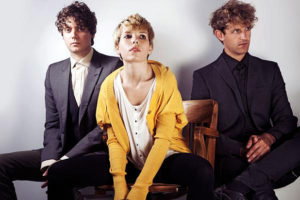 Formed in Spring 2008, CHEW LIPS rode on the wave of synth friendly female fronted acts of the period that included LITTLE BOOTS, LA ROUX, LADY GAGA and LADYHAWKE.
Less overtly poppy than the L-Word foursome, the music press more closely associated CHEW LIPS with THE TING TINGS and YEAH YEAH YEAHS.
The latter were vaguely exploring an electronically enhanced direction, as showcased on the single 'Zero', but despite proclamations by YEAH YEAH YEAHS' singer Karen O that the band had adopted the synth, the resultant album 'It's Blitz' was more like a glitterball new wave record that was still very guitar driven.
Comprising of singer Alicia Huertas (better known to her friends as Tigs) and multi-instrumentalists Will Sanderson (synths and guitars) and James Watkins (bass guitar and synths), CHEW LIPS were actually much closer to the concept of what YEAH YEAH YEAHS would have sounded like if they really had gone all electronic.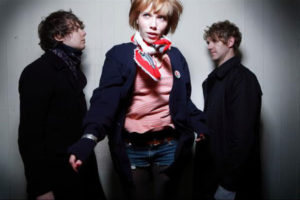 With their "8-bit Casiotone drone-disco", they quickly attracted the attention of hip tastemakers like BBC 6Music's Steve Lamacq who invited them to record a radio session after only a handful of gigs.
In 2009, the trio were signed to the ultra-hip French record label Kitsune who had launched LA ROUX and DELPHIC.
With a melancholic edge amongst all the blips and blops, the impressive 'Salt Air' showcased an accessible promise with pulsing sequencers and drum machines chugging away augmented by some octave shifting bass and occasional guitar like a female fronted NEW ORDER. Meanwhile, the bleepy second single 'Solo' had a charming distorted percussive rattle that came over not unlike THE TING TINGS accompanied by a Boss Doctor Rhythm!
CHEW LIPS' live act was one of their strongest cards with Tigs being a particularly adept front woman. Indeed, her cheeky, flirtatious demeanour recalled Hazel O'Connor. Although Will Sanderson tended to be stuck behind synths, James Watkins generally played bass guitar and his bouncy movements were reminiscent of a certain George Andrew McCluskey. Indeed, CHEW LIPS would at times look like OMD fronted by Debbie Harry! As well as the tunes, the music was enhanced by club friendly sonic bass booms, so CHEW LIPS attracted the sort of audience who found LITTLE BOOTS or LA ROUX too glitzy and preferred their electronic pop with a slightly gloomier edge.
Signing to ATC Management whose founder Brian Message also co-managed RADIOHEAD, CHEW LIPS took the plunge in 2010 with their debut album 'Unicorn'. Released independently on their own Family Records, it was produced by David Kosten who had steered BAT FOR LASHES for her first two albums. In a brave move, the threesome decided not to include the two singles that had gained them their initial acclaim and focussed totally on brand new material for the ten track collection.
The launch single was the short and immediate 'Play Together'. A natural development of FC KAHUNA's 'Machine Says Yes', it connected with the Electroclash movement of a few years before while also acting as a worthy successor to 'Salt Air'. Referencing the post-punk era, 'Karen' was brilliant electronically assisted indie pop with hints of guitar-driven NEW ORDER. It wasn't all uptempo as 'Too Much Talking' and 'Eight' proved CHEW LIPS could do dark ballads, while 'Slick' gradually built itself to a climax around some initially minimal backing. Indeed, the band displayed a knack for songs that were short and sharp with no progressive doodling.
'Toro' played with new wave funk of GOSSIP while one of the album's highlights 'Two Hands' captured the drama of classic DEPECHE MODE. There were other Synth Britannia elements too with some Mellotron choir providing an 'Architecture & Morality' grandeur on the album's closer 'Gold Key' while offset by an unexpected FM rock guitar solo. But with its haunting piano motif, Kling Klang rhythm section and sparkling OMD styled synth runs, the best song from the 'Unicorn' sessions was the beautiful iTunes only bonus track 'Rising Tide'. The wonderfully spirited, soulful lead vocal from Tigs made it one of the most accomplished tunes from the 2008 school of female fronted electro.
All–in-all, 'Unicorn' was an intriguing, enjoyable debut that pointed to a promising future. But the album was not without its faults. Clocking in at just over 30 minutes, the tracklisting lacked immediacy and the exclusion of 'Rising Tide' from the main feature was a real oversight. A trick was possibly missed by not including the two Kitsune singles as well.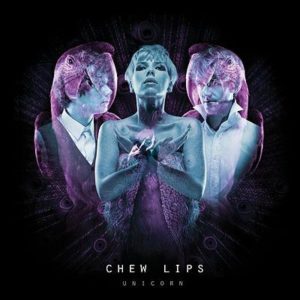 Whereas the intent was probably to give fans value for money and make the album more of an artistic statement, to not have two of the strongest and 'best known' songs on the debut long player might well have put off curious but casual newcomers. These listeners could have grown into some of the less immediate material had they initially bought the album for 'So' or 'Salt Air'.
Sometimes, there is only one chance to make a good impression. But although the band did not hit the commercial heights of say LA ROUX, the strategy worked and in 2012, CHEW LIPS were signed by Sony Music.
The first single as a duo 'Do You Chew?' showcased a more R 'n' B focussed direction influenced by RIHANNA, while the vibrant, punchy pop of 'Hurricane' was issued in September 2012. In interviews at the time, Tigs and Watkins declared they had more commercial ambitions compared with when they were recording their debut.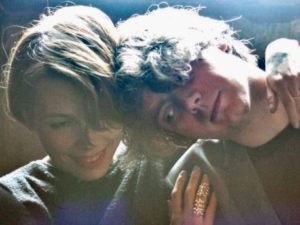 However, the long awaited second album has yet to appear. In April 2013, the URL of CHEW LIPS website appeared to have expired and turned into a mysterious travel blog. Their most recent Facebook page update was in Summer 2014, although the last music related message was November 2013.
But in April 2015, Tigs returned to the public spotlight to run in the London Marathon in her role as a Cancer Research ambassador.
She had been diagnosed with cervical cancer several years previously, but continued to work after having undergone treatment. She was given the all clear in November 2010 and had since run a number of races in aid of the charity.
With Tigs' tireless fund raising work, music has understandably taken a back seat. But in a domestic electronic pop market today that is perhaps lacking feistiness and sparkle, CHEW LIPS are greatly missed. Whether a second album will ever see the light of day remains to be seen…
---
CHEW LIPS debut album 'Unicorn'
was released by Family Records
https://www.facebook.com/CHEWLiPS
---
Text by Chi Ming Lai
4th August 2015