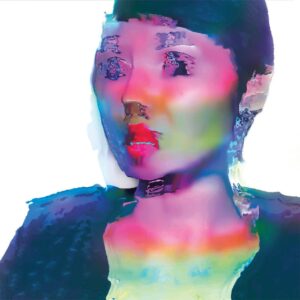 'Regarding The Auguries' is the fourth album by ALKA, the electronic music vehicle of Philadelphian Bryan Michael.
It is also the second ALKA record to be released on Vince Clarke's VeryRecords, following up 'The Colour Of Terrible Crystal' from 2017.
As the 'Regarding The Auguries' titles suggests, this long player is not a cheerful affair; "An augury is like fortune telling that comes from looking at the patterns of bird flight" said Michael, "Those patterns usually prophecy some sort of doom…"
'Regarding The Auguries' is therefore timely but it was recorded before lockdown. Expanding the ALKA line-up to a three way collaboration with vocals by Erika Tele and sonic interventions from Todd Steponick, the tracks developed in slow motion through file exchange with Michael beginning the creative process.
Despite the album being made under the spectre of existential dread looming, it starts in a comparatively lively fashion with the opener 'Fractured Time', catchy and immediate with its vocoder and synth hooks that will delight synthwave enthusiasts, although the bursts of sombre bass signal what is to come. 'Widthchild' is more metallic and even funky in the loosest sense of the world while using prominent beats and Japanese prose, 'Faito' is exotic and enigmatic.
But then the apocalypse looms in 'Earth Crisis' and is inevitably sombre in its apocalyptic ambience although at nine minutes, it rather overdoes it, but parts of it would probably fit in perfectly as part of a dystopian Sci-Fi soundtrack.
'Scrapple' is not much cheerer but exploits a harder rhythmic core augmented by a chant although 'Sourcery' lightens proceedings and 'My Heart' adds chimes over some spacey moods before electronic percussion, percolating hooks and sweet girly vocals provide a lift towards its conclusion. The robotic 'Solfège' buzzes and blips, albeit with a shadier tinge while with a subtle arpeggio, 'Doubt' doesn't really go anywhere.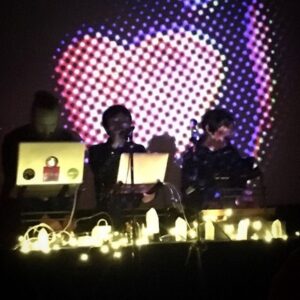 However, despite its title, 'Dead Like Me' is more accessible and prettier with fabulous synth tones complimenting Tele's dreamy voice. The closer 'King Card' features Vince Clarke on synths and programming and provides some exquisite chattering texturing to the rainy droning backdrop as a guesting Elizabeth Joan Kelly provides the eerie foreboding vocals.
As per usual with VeryRecords releases, a set of remixes append the main act and the boss works his magic on 'Faito' in an accessible upbeat fashion verging on Jean-Michel Jarre territory, the Basildon boy obviously applying the knowledge acquired from his collaboration with the French maestro on 'Automatic'.
Meanwhile, 'Solfège' is remixed by FUJIYA & MIYAGI and is inevitably a slice of pulsing electronic motorik merging into drum 'n' bass and DJ JEKYLL takes 'Fractured Time' into soulful electronic territory with a steadfast groove.
For those who like darker electronic textures from outside of the pop spectrum with contemplative aural concepts that capture the zeitgeist of uncertainty, 'Regarding The Auguries' will be worthy of investigation. But for everyone else, they might want to start with the remixes before attempting the album.
---
'Regarding The Auguries' is released by Very Records as a CD and download on 9th October 2020, available direct from https://veryrecords.com/shop/
https://www.facebook.com/buryn/
---
Text by Chi Ming Lai
6th October 2020