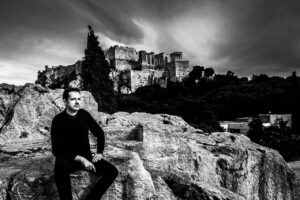 Every self-respecting lover of darker, moodier electronica will know of WOLFSHEIM.
The duo's best known song is still their 1991 debut single 'The Sparrows & The Nightingales' while their fourth album 'Spectators' released in 1999 went straight to No2 in the German charts. They were massive in Germany back in the day, winning the ECHO Music Prize in 2004 for 'Best German Alternative Band', although they remain largely unknown in the UK.
But after five full length albums, the duo split up in a monumental row seeing Peter Heppner moving his second-to-none voice elsewhere, leaving Markus Reinhardt standing. While Heppner went on to create solo projects and work with various collaborators including CAMOUFLAGE, Reinhardt is only resurfacing with his post-WOLFSHEIM material now.
As RENARD, he really is 'Waking Up In A Different World'
, bringing this multi-faceted, emotion laden production into life in the current climate of uncertainty, fear and new reality. Guest vocalists include Pascal Finkenauer, Sarah Blackwood, Marietta Fafouti, Eliza Hiscox, Joseh and Marian Gold while one of the producers is Oliver Blair, last spotted as RADIO WOLF in collaboration with PARALLELS.
With the release of 'Waking Up In A Different World', the man himself chatted about his past, present and future.
It's been a while since you were musically active. Why now?
I was working on my album all these years. It was a process to find the best singers, producers and a record company. But you can't force things to happen. They take patience to build. So the simple answer is, the album wasn't ready before.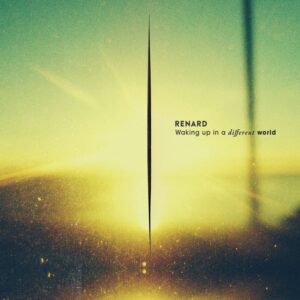 Are you worried about the fact that this record took years to get out while Heppner has been successfully releasing his material for years?
What should I be worried about? For me it's not a fight of two big fish in a small pond.
You chose various artists for this project, what was the criteria?
I was looking for charismatic voices and the perfect match for each song. But it took time to find them. On the album you hear only the tip of the iceberg. I guess I contacted around 40 singers in total.
Some of the songs were written a good while ago…
Most of them where written a good while ago. I think it's worthless to write a song you can't publish a couple of years later just because a certain trend has passed.
During WOLFSHEIM, you were involved in side projects, what have you done in the in-between years?
Even when WOLFSHEIM was kind of successful I felt a void. First I was a bit angry with myself because I thought I wasn't grateful enough. But I turned the end of WOLFSHEIM into an opportunity and I started to look for meaning in all this stuff.
Would you agree that Heppner's single 'Die Flut' with Joachim Witt, boosted the band's popularity and paved the way for 'Spectators'?
Maybe, maybe not. What I know for sure though is that there would have been no 'Die Flut' without WOLFSHEIM at all.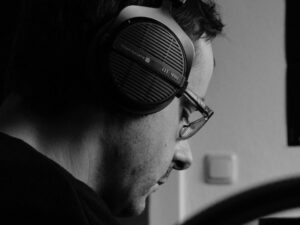 On the side note, CARE COMPANY did incredibly well too…
I still love to listen to the album. But it wasn't a commercial success though, if that's what you meant.
However I'd love to hear Carsten Klatte (the CARE COMPANY singer) to sing on the next RENARD album.
Receiving the ECHO award was quite spectacular…
On one hand I enjoyed it because WOLFSHEIM got there with a small independent label, but on the other hand, I consider such events as the dark side of the music business.
And then WOLFSHEIM was no more… what happened?
A couple of days before Heppner was going to sign his major-label deal, he demanded an eighty / twenty split in his favor. Otherwise he wouldn't go on with WOLFSHEIM. I found this a bit too much for someone who did barely twenty percent of the work. On top of that, he hired a so-called music expert who was supposed to confirm that my compositions for the next WOLFSHEIM album weren't good enough for Heppner.
On a side note: one of the compositions turned out to be 'Hotel' [a song on the album featuring Marian Gold of ALPHAVILLE]. I still have this disconcerting 'music-expert' document at home, maybe I'm going to frame it.
You say with this project you are "more with yourself", would you care to elaborate?
There are plenty of reasons, let me mention some of them: It was a production with no strings attached. No deadline I'd to take care of. I didn't need the skills of a psychologist since I worked only with easy-going artists this time.
What decided on the choice for the first single?
For me, it seemed only logical to pick 'Travel in Time' since it was the first song I had with a new singer after the end of WOLFSHEIM.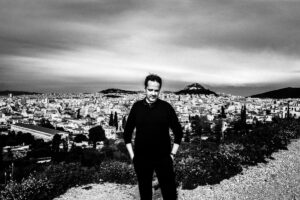 'Travel In Time' with Pascal Finkenauer is a tad confusing, he sounds like Heppner!
Maybe you got a bit fooled here. It's the song that sounds absolutely like WOLFSHEIM and therefore Pascal Finkenauer reminds someone of Heppner in this particular case.
Britain is represented by Sarah Blackwood… how did that union take place?
I met Sarah through a label guy. I knew her work and I was surprised that she knew mine as well. I'm thankful to her because she was the third to join RENARD, at a time not many people believed in the project.
But there is some Greece there too…
I live partly in Athens and my girlfriend heard Marietta on the radio. I liked the song and contacted Marietta.
Marian Gold of ALPHAVILLE is probably the best known voice on the album, what was he like to work with?
Marian is a great and humble guy. And he's still enthusiastic about music. It was great working with him and I hope we'll do it again.
What are your hopes and expectations with this record?
Basically all my expectations are already fulfilled. I had the pleasure to work with all these artists, the graphic and video artists included and the album will be published soon. I'll see what happens next.
Are you going to promote it live, given the pandemic etc?
No live plans at the moment. I had some ideas that include AR and VR, not because of the pandemic though, but rather due to the big number of singers. But there's nothing certain yet.
---
ELECTRICITYCLUB.CO.UK gives its sincerest thanks to Markus Reinhardt
Special thanks to Gary Levermore at Red Sand PR
'Waking Up In A Different World'
is released by Metropolis Records in CD, vinyl LP and digital formats on 9th October 2020, available from https://renard.bandcamp.com/album/waking-up-in-a-different-world
http://www.renard-official.com/
https://www.facebook.com/Renard-1391654787606169
https://www.instagram.com/renard_official/
---
Text and Interview by Monika Izabela Trigwell
8th October 2020