After a five year long hibernation, CLIENT are back with a new line-up and studio album 'Authority'.
With original vocalist Client B leaving the band in 2010, the future looked uncertain for CLIENT but with the release of the preceding singles 'You Can Dance' and 'Refuge', new lead vocalist Client N was revealed.  'Authority' starts with a news monologue that states "The prime goal of government is to protect the minority of the opulent from the majority…"
After four albums including two released by Mute Records via Andy Fletcher's Toast Hawaii imprint and a hiatus of four years since the departure of original vocalist Client B, the UK pioneers of female electronica are back, albeit in a rebooted format.
CLIENT 2.0 feature a new vocalist Client N on their fifth long player 'Authority' which has been hailed as a return to the group's roots in minimal electronic pop music when they attracted fans as diverse as Karl Bartos, Martin Gore, Robert Görl, Carl Barât and Pete Doherty.
Certainly the excellent first single from the new line-up launched in 2013 from the album didn't disappoint. Dynamic and club friendly, 'You Can Dance' lyrically reflected on the chemical reliance associated with clubland and managed to even sound like Frida fronting FAD GADGET. Even better though was the second single 'Refuge' with Client A's surreal Cold War disco essence being complimented by Client N's vocals reminiscent of LADYTRON's Helen Marnie.
Meanwhile, the album's remaining ten tracks all possess the hard edged but danceable synthesized template that has been CLIENT's trademark over the years. The opening title track begins like a routine Euro synthpop tune but then mutates into a discordant chorus for something quite unusual while the vibrant synthbass driven 'Obsession' with it rich gated melodies and the electro power rock of 'Design' continue the sub- LADYTRON vibe. A big surprise is the HI-NRG cowbells on 'XXX Action' although the end result is more of a distorted rhythmical groove than an actual song.
Now, as Client morphed from a group called TECHNIQUE, it's not surprising that some enjoyable New Order influences continue to linger, particularly on tracks like 'After Effect' and 'Faith'. And in another nod to their past, 'Artificial' with its electro boogie-woogie shuffle sounds like it could have come from one of Client's earlier long players, as does the pretty beat ballad 'The Shining Path'. Producer David Francolini of DRAGONS and LEVITATION fame does a good job of fusing minimal electronics and post-punk gloom as on the Siouxsie goes electro snarl of 'Quarantine'. And risks are taken with the sub-nine minute 'Nocturnal Eyes'; imagine Joanne and Susanne of THE HUMAN LEAGUE going all prog synth!
Long standing fans may dismiss 'Authority' as not being CLIENT … this is CLIENT, but as with governments entering their second term, there's been a cabinet reshuffle though the manifesto still remains. So for those who do miss the presence of Client B aka Sarah Blackwood, there's always her two vocal contributions 'Justice' and 'Beautiful' on Fotonovela's recent 'A Ton Of Love' LP.
Client A remains the driving force behind the act, but has now been joined musically by David Francolini – a producer / musician with a pretty diverse musical background. She kindly spoke about what motivated her to reboot CLIENT, some of the act's history and what we can expect from the new album.
There is a new member in Client N, and production duties on 'Authority' have been taken over by David Francolini, formally of Dragons and indie rock bands Levitation and Strangelove. How does it feel to return after what appears to have been an uncertain number of years?
Well it was certainly my intention not to ever make a CLIENT record again after the split with Client B. I had become jaded, worn out, burnt out and had decided that fashion and horse riding were my new joie de vivre! BUT then I met David Francolini by chance and he said he loved CLIENT and would love to work with me… he said he would start on some music and we could then collaborate … which is what happened and exactly a year after we met to the date, 'Authority' was born!
The production on the new album appears to be much smoother and more lush sounding than on previous CLIENT outings?
I think it is just a little heavier… more drum-based, less guitar so sounds smoother…
How did Client N find adapting to a very different style of music environment from what she has been used to? Has there been any particular electronic acts she has newly discovered and enjoyed?
Although Client N has another side to her musically, she is embracing the journey that joining CLIENT has brought and jumping in the electronic pop pool has been great for discovering a world of electronic pop and at the moment, she is playing CHVRCHES a lot.
How would a typical CLIENT song come together with the two of you for the new album?
We did a lot over the internet and Skype, and then would meet in Bristol to finalise.
New single 'Refuge' has quite a melancholic vibe to it, what is the concept behind this song?
This song speaks about a lifetime of making mistakes, however when one door closes another door opens.
The syncopated bassline on 'You Can Dance' is like a more funkier / rhythmic LADYTRON… what has influenced this looser dance direction?
Well I love LADYTRON, NEW ORDER… all the electro gurus but with 'Authority', I wanted people to be able to actually dance, so the BPMs are a little faster….
The opening voice you hear on the title track 'Authority' states that "The prime goal of government is to protect the minority of the opulent from the majority". Considering we are living in very dark times at the moment, should more musicians use their position to make an active political stance?
I never really think music and politics mix as people are either great politicians or great musicians – unless you talk about the folk heroes like Dylan who was the real deal and of course the black singers like Billie Holiday. Now everything is diluted and no-one wants to offend anyone… what there is of politics in music is virtually non-existent except perhaps PUSSY RIOT, but they are more of an art group symbolising what is so bad about Russia today… great politics and message but the music is unlistenable!
With the somewhat fluid CLIENT line-up changes down the years, don't you ever worry about morphing into an underground SUGABABES?
I have always rather liked the SUGABABES!!! No honestly, people change, music changes… but the identity can still be a factor. We could have changed the name from CLIENT but as the brand has an (albeit small) fanbase, it seemed logical to keep the name and change the face.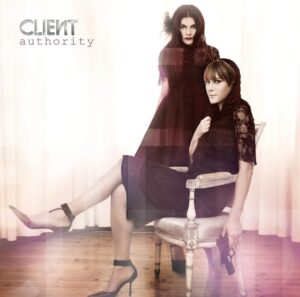 CLIENT's identity was initially kept strictly under wraps with the members' faces being deliberately kept out of shot. How do you think things in female fronted pop are nowadays, where sometimes there is very little left to the imagination?
Pop music now is a mixture of cool greatness (LANA DEL REY) and vulgarity (X Factor wannabes and bad R'n'B)… I could despair but you just have to soldier on… I love to make the new image for each album become a reality and for 'Authority', took 'The Sopranos' New Jersey and melded it with the Sicilian mafia….
In a bit of a change of tact, 'Authority' is also the first CLIENT album cover to feature its members from the neck up… any thoughts?
We were bored!!! Wanted a change!!!!
The music industry has changed quite brutally and significantly since CLIENT started in 2002, how challenging do you find it releasing electronic pop in the current musical climate?
Pretty challenging as it seems no-one really cares about music or reveres it like before… in the electronica age, anyone can be a musician but that also makes it a free for all with every tom, dick or curly clogging up the internet with their crap music…
It's hard … you have to only do music for love now…
How do you look back on your time with Andrew Fletcher's Toast Hawaii imprint and Mute Records? And how has your relationship with Out Of Line differed, especially with the recent changes within the CLIENT camp?
We had the best time with Toast Hawaii and the Andy Fletcher years….honestly it was the stuff of a reality TV show!!! But things have to change and we ended up with the brilliant and business-like Out Of Line who have worked their socks off for CLIENT, so we love them for that!
Previous CLIENT collaborations have notably included Martin L Gore, THE LIBERTINES, DIE KRUPPS and NITZER EBB. Are there any dream acts or artists you would love to work with on a future CLIENT release?
Can I dream? DAVID BOWIE please… or even a great young female singer… or MARNIE.
How are things coming along for the German tour in the Autumn? What are the plans for the format and instrumental make-up of the new live band?
We've just done Electronic Summer in Sweden …very hard, loud with the sweet voice of Client N…
What's next for CLIENT?
Anything and Everything!
---
ELECTRICITYCLUB.CO.UK gives its warmest thanks to Client A
Additional thanks to Matt Reynolds at Savage Gringo PR
'Authority' is available as a CD via Out Of Line Records or as a download from iTunes and Amazon
CLIENT's 2014 German tour includes:
Essen Hotel Shanghai (18th October), HamburgTurmzimmer (19th October), Berlin Berghain Kantine (20th October), Cologne Blue Shell (21st October), Munich Strom (22nd October)
https://www.facebook.com/ClientMusic
https://twitter.com/clientlondon
---
Interview by Paul Boddy
Additional Text by Chi Ming Lai
25th September 2014