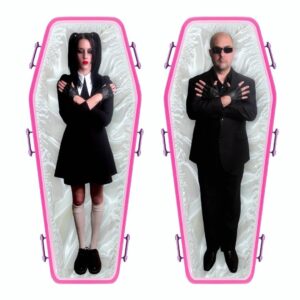 Having reflected on the 'Scary World' of 2018, LA based synth rock couple NIGHT CLUB go on the attack in 2020 with their excellent third album 'Die Die Lullaby'.
Reflecting the times the world is living in, the duo of Emily Kavanaugh and Mark Brooks have delivered a record that captures the introspection and paranoia of 2020.
'Die Die Lullaby'
will be one of those documents that commentators and historians will look back on in a few years when researching the uncomfortable and anxious emotions of the corona crisis.
For NIGHT CLUB, there has been frustration as they were travelling on an upward trajectory having opened for alternative rock supergroup A PERFECT CIRCLE in 2018 before embarking on their own headlining jaunt the following year.
Front woman Emily Kavanaugh talked to ELECTRICITYCLUB.CO.UK on behalf of NIGHT CLUB about their existential dread and riding the 'Misery Go Round'…
As quoted from the closing track 'Civil War', 'Die Die Lullaby' is 35 minutes of "Existential dread", so how and when did making the album begin in earnest?
We started writing songs for this album at the end of 2018. It takes us a long time to write and record an album and this one was the hardest yet. How do we grow from 'Requiem' and 'Scary World' sonically while also delving deeper into ourselves lyrically? We think / hope we succeeded in that.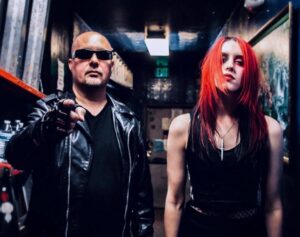 You'd more or less come back from touring with A PERFECT CIRCLE and then a run of your own headlining North American shows. How had the response been?
It's not easy to be the opener for such a beloved band in arenas (we're only two people on stage after all) but we think we did pretty well and we've noticed a definite uptick in awareness in the band since then. Our headlining tour though this past Fall 2019 was by far our favorite tour yet. Gruelling but so incredibly rewarding.
We were gearing up to do another one this year – it was all booked and ready to go. But obviously Covid had other plans for us…
How was the comedown when you got home? Did your experiences naturally shape the sound of the album?
After we got off of tour with A PERFECT CIRCLE in 2018, we started writing songs for this record. A series of deaths happened at that time: our friend Jon Schnepp, Mark's father and one of our pets. So that doom and gloom just kind of naturally permeated its way onto the record.
'Die in The Disco' lyrically was inspired by all of that darkness, and that was one of the first songs we ended up writing. It's about just wanting to escape all the bad shit happening around us, but in true NIGHT CLUB fashion, making it an upbeat dance song. 'California Killed Me' and 'Miss Negativity' came next, which were definitely more autobiographical and introspective. Then 2020 rolled around: the coronavirus, quarantine and civil unrest all influenced the new songs we were writing like 'Gossip', 'Misery Go Round' and 'The Creepshow'.
We met Courtney Taylor from THE DANDY WARHOLS in Portland during our headlining tour when he came out to our show at the Star Theater. And I remember a piece of advice he gave us was to write a song we could perform in the middle of our set that would allow us to slow down and just connect with the audience. Not a heavy song, no dancing, just an intense kind of personal moment; something ala DURAN DURAN's 'The Chauffeur'; and when we ended up writing 'Civil War', we were like… this is it!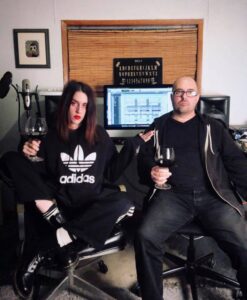 Did you find yourselves ideally suited to working in isolation during lockdown?
Yeah, by the time the lockdown came around, we just buried our heads into finishing the album. It was such a strange but productive time. We're used to just working together on a record, the two of us, so it was business as usual.
ELECTRICITYCLUB.CO.UK had used the "Britney Spears fronting NINE INCH NAILS" tagline a few years ago and it now seems to have stuck. But for 'Die Die Lullaby', you mixed the album with Dave "Rave" Ogilvie from SKINNY PUPPY member who also mixed NIN, Marilyn Manson and most importantly Carly Rae Jepsen's 'Call Me Maybe', so that's a rather perfect combination?
Yeah, we became friends with Rave several years ago when we discovered that he was digging the stuff we were making. We're big fans of all of the stuff that he's been involved with, so we always thought that we would work together in some way. Also, he's one of the few people that equally loves dark underground electronics along with mainstream pop. It seemed like a no brainer that we should work together, and we're so happy with the result.
While 'Die Die Lullaby' is still lyrically a heavy album, compared with 'Requiem For Romance' and 'Scary World', the more synthetic metal elements that were characteristic of those two records appear to be more restrained this time. Was that something you consciously aimed for during recording or did it come about at the mixing stage?
Not really. We try to always expand our sound and keep pushing the boundaries of what we do. We want the records to sound like us but be the next, more mature version of us. We never try to limit ourselves when we start writing; we just let it go where it wants to go.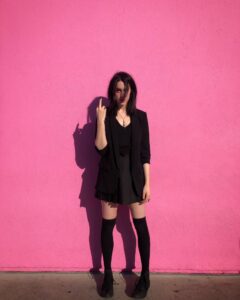 'Die In The Disco' comes over as a rather wonderful homage to Giorgio Moroder and Bobby Orlando?
Yeah, that's awesome that you think so. We're both big fans of Moroder but also fans of so many genres of music. We view everything as an influence.
The deep pitch shifted vocals are used on 'Die In The Disco', 'Sad Boy' and on a number of other tracks, it is wonderfully creepy and suits NIGHT CLUB to a tee…
That's one thing that we've been doing for years that we always love to incorporate. It gives the songs a little more texture and variance. It's like having another singer in the band.
You introduced Indian sub-continent flavours on 'My Valentine', how had this come about?
When we started writing the melodies, it just naturally lent itself to Indian instrumentation using the sitar, tambora, and tablas. So we thought that would be a cool addition to the "NIGHT CLUB" sound.
With 'Miss Negativity', was that a narrative or autobiographical? If Britney sung it, it would be a huge hit!
100% autobiographical. When you're told you have a black cloud over your head "x" amount of times, the only natural thing to do is write a song about it. Lemons into lemonade!
Could 'Gossip' be a metaphor for fake news?
Absolutely. Basically that is what's happening everywhere. Instead of actually learning the facts about something, people just repeat the rumors they hear. And that goes for music scenes and politics.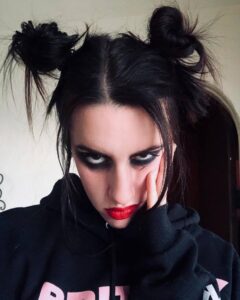 Is it healthy to keep riding the 'Misery Go Round'?
No, it's probably not but it's an addictive cycle isn't it? And that's what the song is about: why do you keep doing something that makes you feel bad? Why are we obsessed with things that aren't good for us?
On 'The Creepshow', you sing of "a broken lullaby" that "you sing until you die!"…
We wrote this a few months into quarantine. LA was in the middle of lockdown, civil unrest and the air was filled with smoke from the forests burning around us. The song was entrenched in the thought of everything crumbling around you and wanting to escape.
'California Killed Me' is classic NIGHT CLUB and within this intensity is a mighty chorus and a simple but effective synth solo, how do you feel about living in LA these days?
LA is without a doubt one of our biggest songwriting "muses". It's a recurring character in our songs as it's (for many reasons) one of the darkest places in the world. You have TikTok influencers making millions a year, and then thousands of mentally ill or jobless people on the streets struggling to survive with nobody taking care of them. You have new friends one minute, no friends the next. It's endless inspiration for creating art, you just have to try and keep your head above water before it sucks you under.
The notion of a 'Civil War' is quite an apt observation in US Presidential Election Year although it is more personal and you talk of how "I've become someone I hate" and "say it will be over soon"?
Yeah, so I get these really bad migraine headaches; usually after we play live shows. They're awful. So originally I wanted to write a song inspired by these headaches I get and how debilitating they are, and how they only seem to cruelly occur after doing something I love, which in turn makes me anxious and scared to do the thing I love (performing) for fear of getting one of these migraines afterwards.
Anyway I started writing the lyrics about having a headache- "I can't take the pounding in my head"; but then I guess I sort of drifted off and made it about myself and my own self-loathing. And it just sort of took a more natural introspective turn lyrically. Almost like a stream of consciousness style of writing.
It just became bigger than what I originally intended, more of an existential crisis in your brain brought on by something minor like a headache. Just spiralling down and down. Mark decided 'Civil War' would be an apt title for it, as it's essentially a war with myself. But yes, also taking into account the civil unrest within our own society.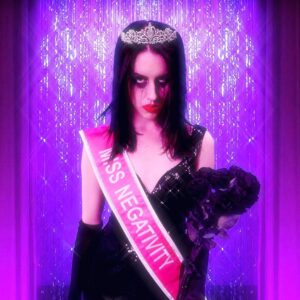 Have you any particular favourites from 'Die Die Lullaby' and how as a whole does it compare with your previous work?
Maybe 'Miss Negativity' and 'Gossip'? But honestly, we're proud of every song on this record for different reasons. This was the album we needed to make right now and we're happy with how it's been received so far.
We always aspire to great songwriting bands like DEPECHE MODE where every song is good on the record. No fillers, no skips. That's our ultimate goal: to do that every time.
It's an uncertain world out there now, but what are your hopes (and fears) for the future?
All of our fears are already baked into the songs on this album, but hopefully one day we'll actually be able to play them live.
---
ELECTRICITYCLUB.CO.UK gives its sincerest thanks to NIGHT CLUB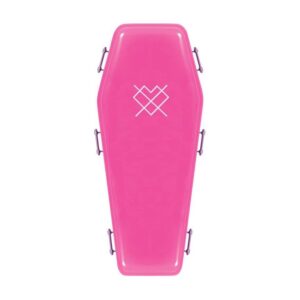 'Die Die Lullaby'
is released by Gato Blanco as a CD, purple vinyl LP and download, available direct from http://nightclubband.com/
https://www.facebook.com/nightclubband
https://twitter.com/nightclubband
https://www.instagram.com/nightclubband/
https://soundcloud.com/nightclubband
---
Text and Interview by Chi Ming Lai
7th November 2020