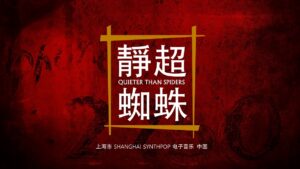 Back in 2014, a mysterious Chinese combo named QUIETER THAN SPIDERS caught the ears of ELECTRICITYCLUB.CO.UK.
Fast forward to 2019 and after a few delays, QUIETER THAN SPIDERS have finally released their debut album 'Signs Of Life' on Anna Logue Records, the independent label based in Germany.
Their understated but richly melodic and emotive Shanghai synthpop is largely played by the hands of the anonymous family group of Leon, Yi Fan and Yao.
'Signs Of Life' possesses a timeless quality which manages to be simultaneously both futuristic and classic, and in common with records such as DAVID BOWIE's 'Low', JOY DIVISION's 'Closer' or MOBY's 'Play', 'Signs Of Life' begins in an upbeat fashion but then gets increasingly slower, stranger and sadder.
Yi Fan from QUIETER THAN SPIDERS kindly chatted to answer a few questions about one of the best electronic albums of 2019.

How did QUIETER THAN SPIDERS become a musical entity and what is your creative dynamic?
It was a very gradual process which only formally came to fruition once we started to record the album.
Leon has been writing and recording songs since his teenage years while Yao and I both grew up playing traditional Chinese instruments such as erhu (a two-stringed fiddle) and guzheng (a type of zither). Over the years, we took an interest in each other's music and tried to encourage each other. Eventually, Leon started to teach us how he wrote and recorded music on his synthesiser and, step by step, we became more involved with it.
We started by designing electronic sounds and making field-recordings which we would then experiment with. By the time Leon wrote 'No Illusion' we had started to perform with him during the recordings and, from thereon, we were officially a group. It didn't take long to decide what to call our project. QUIETER THAN SPIDERS was an affectionate school nickname for one of us and, as we are all quiet people, we thought it would be a perfect name to use.
What was the key track that got QUIETER THAN SPIDERS rolling? Was it 'Shanghai Metro'? What inspired it?
'No Illusion' was the first song that Yao and I were involved with, even though we still hadn't quite officially formed QUIETER THAN SPIDERS at the point when Leon wrote it. Stefan Bornhorst aka THE SILICON SCIENTIST heard the song and recommended us to Marc Schaffer at Anna Logue Records who offered us the chance to record an album. It was such a special and unexpected thing to happen, particularly because Stefan's own wonderful music had actually been such an important inspiration.
Another defining moment was when 'Shanghai Metro' was included on a compilation CD. That really was a lovely moment for us, not least because it was the first time any of our songs had been officially released. We wrote 'Shanghai Metro' with the simple idea of celebrating the city and its modern development. We first had the idea after a day out together at the Oriental Pearl Tower which is a radio tower that overlooks the city. The next morning, we went out again to travel around on the metro system and record some announcements. We knew someone who owned a Speak & Spell machine, so we borrowed it to spell out 'Shanghai' for the chorus.
QUIETER THAN SPIDERS have described themselves as "using home-made electronic sounds played by hand", how much of that manifesto have you been able to maintain in the final realisation of 'Signs Of Life'?
Our recording style stems from when Leon first started to create music in his youth. His first keyboard was an old second-hand Roland W-30 and most of the buttons and functions were broken. He therefore learnt to create songs without being able to use or learn any of the basic technical features.
His songs were simply layers of live recordings played entirely by hand. Even the metronome didn't work, so he first had to play a freehand drum track to serve as the basis for the rest of the song. Later on, Yao and I also inherited the same recording method. When affordable software came along, it offered us the opportunity to record songs 'properly' for the very first time.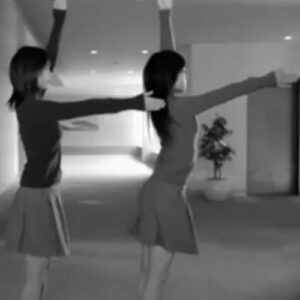 Some aspects, such as being able to programme the drums, were a welcome relief but, for the most part, we didn't want to let go of the old recording style. The challenges and limitations had actually become part of the creative process and it gave us the intimacy of being 'physically present' at every little moment of a song.
When it comes to designing our own sounds; this is something we enjoy just as much as making the music. We distort basic electronic sounds and manipulate sounds from our field recordings as a way of recreating imagined atmospheres.
Of course, we occasionally used some standard sounds and other samples too on the album but, for the most part, we preferred to rely our own palette of sounds.
What are your tools as far as producing the music is concerned, are you vintage synth or software users?
We didn't have the budget or space to acquire vintage synths and recording equipment, so we just embraced a modest set-up. We use software, mainly for the track recorder and the effect modules which enable reverbs and sound manipulations etc. We also use the software to programme basic percussion; we then add additional percussion sounds by hand as we record. For performing, we use midi keyboards and a microphone – that's about it. With such limitations, it can sometimes be frustrating and we had to use a lot of trial and error to make things sound the way we wanted.
'Arcade Eighty – Five' opens and has a bouncy chiptune backbone, but that is almost a red herring for the album as it steadily slows and becomes more understated. What inspired this unusual concept as most albums are either primarily fast or primarily slow, or at least mix the tempos up within the tracklist?
Initially, we did think about mixing the tempos but, in the end, we decided that we preferred the songs to be surrounded by an appropriate context. We also wanted the album to build, or perhaps subside, towards a certain feeling. Although there are some exceptions, the songs are roughly in the order that we recorded them so, in that sense, there is a vague personal narrative which takes the album in a particular direction.
'The Land Of Lost Content' was inspired by a AE Housman poem, but it works on so many levels as a track…
Housman's poem manages to express so much about the nature of memories and the passing of time. He laments the ability to remember a state of being that he can never return to. These are the types of themes which interest us because they seem to say something of life's deeper meanings and mysteries.
When we adapted the poem into a song, we also wanted to include a notion of uncertainty about dreams and memory. The development of Shanghai has been spectacular over the past decades and many familiar old streets and buildings have now disappeared. When you can no longer revisit and verify particular things that you remember, you're sometimes left wondering if it was just a dream.
'The Land of Lost Content' was actually the most difficult song on the album to record and mix. We seriously considered giving up on it at one point. Aside from mastering the album, Stefan Bornhorst also kindly mixed this track for us and performed some additional synths. It is entirely thanks to him that the song survived and made it onto the album.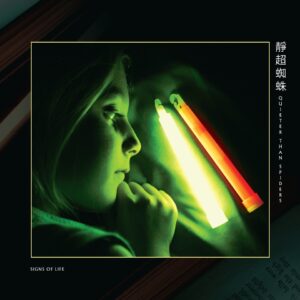 The interlude side of your music provides an important aspect of 'Signs Of Life' which has coincidentally fallen into that 'Stranger Things' soundtrack realm, is it a TV show that you have seen and followed? 
With many of our songs, we try to convey certain images and moods that we imagine. I suppose we approach things a bit like a soundtrack because we are trying to capture a particular atmosphere. This was certainly the case with the interludes and also the later songs on the album.
Are QUIETER THAN SPIDERS influenced much by TV or cinema??
Soundtracks certainly do inspire us, whether it's just the pure use of sounds or beautiful pieces of music from people such Angelo Badalamenti, Johann Johansson and Max Richter etc. We hadn't seen 'Stranger Things', but we recently had the opportunity to watch all three series in one go. We really enjoyed it and, needless to say, we absolutely loved the wonderful synth soundtrack by Michael Stein and Kyle Dixon!
On 'Brave New World' and 'The Statues', Vangelis is looming…
For all of us, our first real experience of electronic music was mostly through artists such as Vangelis and Jean Michel Jarre. For Leon especially, these were the kinds of artists which made him first dream of having a synthesiser. As a child, he had a compilation album of instrumental synthesiser music and, looking back, those songs must have formed his first ideas of what electronic music should sound like and what components it should have.
'Hibakusha' is a haunting song about the aftermath of Hiroshima, had this been a difficult song to write?
Whenever we have an idea for a song theme, it usually takes several attempts to find the right song melody and structure. However, with 'Hibakusha', it all seemed to develop and fit together quite naturally. In terms of the lyrics, Leon wanted to link them to small details which appeared in the hibakusha's testimonies. He also wanted the words to form a double narrative so that they could be from both the perspective of a hibakusha but also from the perspective of someone reading the testimonies and fearing them to be a premonition. We have no desire to ever include any politics in our songs; we just like to focus in on human feelings and the thoughts they inspire, that's all.
Musically, ELECTRICITYCLUB.CO.UK can hear SOLVENT and the solo work of Michael Rother from NEU! in 'Hibakusha'. Had they been reference points in the final arrangement?
It is a real honour to be compared with either of them but I must admit that we didn't consciously have any particular reference points for 'Hibakusha'. We generally approach our songs in a very abstract and intuitive way but I think it's inevitable that many music influences from across the years will weave themselves into the fabric of anything we do.
What inspired you to produce a piece of music about the tragic cosmonaut Vladimir Komarov? There's one hell of a backstory behind Soyuz 1 with him and Yuri Gagarin, both literally prepared to die for the other, knowing that this mission was likely to fail?
As with 'Hibakusha', we were moved by the human story behind it all together with the haunting backdrop of primitive space experimentation.
I can't actually remember how I came to be reading about Komarov in the first place but, when I shared the story with Leon and Yao, they were equally captivated by it. We actually recorded 'Komarov' during the same autumn that we recorded 'Hibakusha'.
There is a lot of sadness in the album, but is 'The Signs Of Life' song referring to something much more personal?
'The Signs of Life' was written as a personal memorial for a special person we knew. It was also a way for us to process our feelings in relation to the nature of loss. There are so many little signs of life which go unnoticed because they seem mundane or unimportant. When they suddenly disappear, they take on a heart-breaking significance.
While writing the song, Leon went for an evening walk and saw a rusty old vintage car hidden away in the long grass near the edge of a forest. It made him think about things disappearing from everyday life but still secretly existing somewhere else. Although songs such as 'The Signs of Life' and 'The Statues' are melancholy, they also convey a deep sense of hope; a feeling that all is not lost somehow.
What have been your own highlights on 'Signs Of Life'?
We are really pleased with the whole album but, if we have to choose, I think that 'Hibakusha' and 'Komarov' are the songs that we are most pleased with. We felt very deeply immersed in the feelings and imagery of the subjects when we recorded those and it felt a bit like re-entering a vivid dream each time that we returned to work on them. The same was also true for 'The Signs of Life' and 'The Statues' which had the added dimension of having a personal connection. They will always be very precious songs for us because they captured the way things felt at a specific moment of time.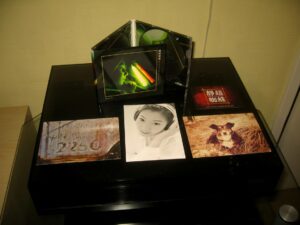 It's been a long time coming, but 'Signs Of Life' has been worth the wait, how do you look back on the journey?
Yes, quite a long time has passed since we originally recorded the songs. When we listen to the album now, it lets us retrace our footsteps but in the comfortable knowledge that we arrived safely in the end despite the setbacks.
The main feeling we have when looking back is 'gratitude' simply because, without the kindness of people such as Stefan Bornhorst and Marc Schaffer, we would probably never have made this album. Along with Steve Lippert who designed the artwork, they all put so much love and effort into the project to ensure that it reached the light of day. We are now inspired to write more songs to keep the journey going; but let's wait and see!
---
ELECTRICITYCLUB.CO.UK gives its warmest thanks to QUIETER THAN SPIDERS
Special thanks to Marc Schaffer at Anna Logue Records
'Signs Of Life' is released by Anna Logue Records in 2CD and double vinyl LP formats featuring a bonus album of 10 remixes by artists including Kevin Komoda from RATIONAL YOUTH, VILE ELECTRODES and THE SILICON SCIENTIST – please email orders@annaloguerecords.com
Information on prices and postage at https://annaloguerecords.blogspot.com/p/shop-mail-order.html
Also available from https://annaloguerecords.bandcamp.com/album/signs-of-life-2cd-version-master
https://www.facebook.com/QTSpiders/
https://www.facebook.com/annaloguerecords/
---
Text and Interview by Chi Ming Lai
20th November 2019