To celebrate the four decade legacy of Factory Records, Rhino / Warner Music Group have released two lavish boxed sets.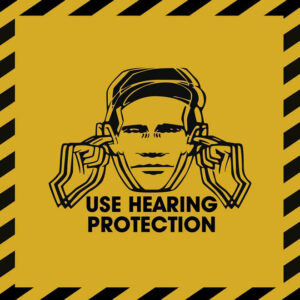 'Use Hearing Protection: Factory Records 1978-1979' gathers facsimile editions of the first 10 Factory items issued with a catalogue number.
It includes the first music releases 'A Factory Sample' (Fac 2), 'All Night Party' by A CERTAIN RATIO (Fac 5), 'Electricity' by OMD (Fac 6) and 'Unknown Pleasures' by JOY DIVISION (Fact 10).
Meanwhile, the early history of Factory Records is told in its accompanying 60 page book with text by label historian / biographer James Nice and photos by Kevin Cummins, while presented on DVD is the 8mm short film 'No City Fun' (Fac 9) featuring music by JOY DIVISION.
Additional items in 'Use Hearing Protection: Factory Records 1978-1979' include a white label 12" single by THE TILLER BOYS (originally intended as FAC3 but not released) and a previously unheard audio interview with Tony Wilson, Rob Gretton and JOY DIVISION from 1979 conducted by journalist Mary Harron restored across two CDs.
Featuring booklet notes by James Nice and Paul Morley, the second boxed set 'Factory Records: Communications 1978-92'
is a reissue of the 4CD collection originally released in 2009 featuring JOY DIVISION, NEW ORDER, OMD, SECTION 25, JAMES, THE RAILWAY CHILDREN, ELECTRONIC and HAPPY MONDAYS among many as a set of 8 coloured vinyl LPs.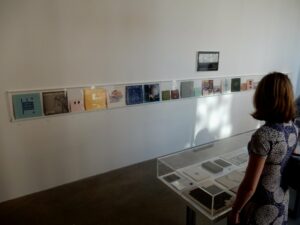 The 'Use Hearing Protection' exhibition premiered at London's Chelsea Space for a limited period in the Autumn featuring the first 50 Factory items, but an expanded version will open in July 2020 at The Science & Industry Museum in Manchester.
James Nice took time out to chat about all things Factory…
How important were Factory Records?
That's a huge question! Can I defer to all 546 pages of my book 'Shadowplayers: The Rise and Fall of Factory Records'
, published in 2010? I still maintain that Factory has more influence and cultural capital than any other record label since.
The design sensibility counts for as much as the music, but having said that I've played 'Unknown Pleasures' many times in 2019, and even with the passage of 40 years it still sounds utterly fresh and contemporary. Hats off to Martin Hannett as well as the band.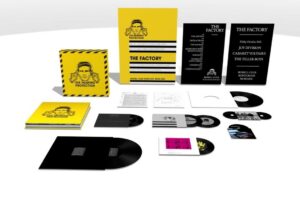 Are you happy with how the 'Use Hearing Protection: Factory Records 1978-1979' box turned out?
Yes, very much so. When WMG asked in 2018 whether there was something we could do to mark the 40th anniversary of the founding of the label, I suggested a mixed media 'exhibition in a box' containing the first 10 numbered artefacts because it seemed like an impossible challenge.
Aside from some complex licensing issues, some of the sleeves are exceptionally hard to reproduce. I don't think any other label could have realised 'Use Hearing Protection', to be honest. At no time did Warners veto any element as being too costly, or object to bonus items such as THE TILLER BOYS 12" or the double CD interview with JOY DIVISION, Rob Gretton and Tony Wilson.
The first Factory Records music release FAC2 'A Factory Sample' had a now iconic sleeve design, what was the process to ensure this reproduction was as close to the original as possible?
That was a significant challenge. The originals were hand-folded, hand-assembled – and even heat-sealed by hand using some sort of contraption no-one could identify 40 years later. The process took Factory several weeks back in 1979. The new edition was produced by a specialist printer in Italy and uses a heavier gauge polythene, but otherwise it's faithful. Actually that's not true – we corrected all the spelling errors on the sleeves and posters also. Hopefully that will stop anyone trying to sell these as originals.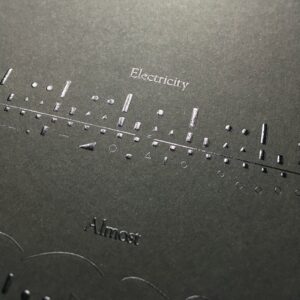 Legend has it that the thermographic process used on FAC6 'Electricity' by OMD set the black-on-black sleeve on fire during the original manufacturing run, how was the effect achieved this time round?
Well, that's what Peter Saville says. The black–on-black design concept of Fac 6 is fantastic, but I think the original thermographed sleeves ended up looking more 'interesting' than beautiful. The new version uses embossing and a spot varnish, and actually I think it looks better. That's just my opinion though. Several classic Factory sleeves are pretty much impossible to replicate exactly now because the old technology is gone.
Fac 6 is one. Another is Fact 14, DURUTTI COLUMN'S first album. No-one makes 12-inch square glasspaper sheets any more. In fact no-one in Europe even makes glasspaper.
There has also been the 40th Anniversary of FAC10 'Unknown Pleasures' by JOY DIVISION recently, is this the key release that allowed Factory Records to become a sustainable entity for the next few years?
Fact 10 was the logical endpoint to the UHP box, for sure. 'Unknown Pleasures'
sold quite well at the time, although in June 1979 indie distribution was still in its infancy and it took a while to actually recoup. Obviously Ian Curtis died in May 1980, and sales of JOY DIVISION and NEW ORDER subsequently underwrote Factory for a long time afterwards.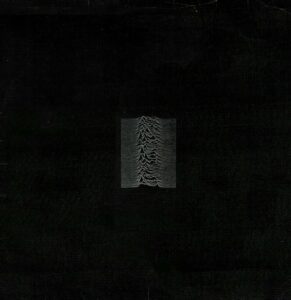 Here's what Tony Wilson had to say: "It began slowly. We did 'Unknown Pleasures', pressed 10,000, sold 5,000 off the back of the truck. The other 5,000 came home to Palatine Road. As soon as you'd got going, suddenly the mood changed, and by the end of '79 there was Rough Trade distribution, and that political identity you felt about being an independent label had arrived. But it wasn't until maybe six months after Unknown Pleasures. By the time you got to 'Closer', it was all there."
What's inside the 60 page hardback book that is part of the 'Use Hearing Protection: Factory Records 1978-1979' box?
The book is in the style of an exhibition catalogue, so each of the items included – records, posters, films, stationary, egg-timers – is given several pages. The explanatory text for each item take the form of first person quotes from those involved.
I also wrote an introductory essay about the formation of Factory, and there's also a highly perceptive Melody Maker piece by Mary Harron from 1979 which keys into the interview CDs. All the photos are by Kevin Cummins and provide an acute sense of time and place. It really was a joy to work with Howard Wakefield and Peter Saville on the whole project, and cut the singles at Abbey Road.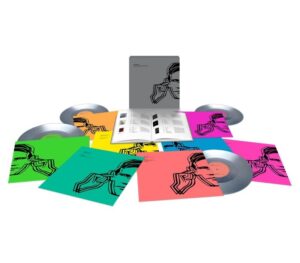 'Factory Records: Communications 1978-1992' has been reissued as a boxed set of 8 coloured vinyl LPs, what are your favourite five tracks from it and why?
In no particular order: 'True Faith' by NEW ORDER, which I think is their best pop song; 'Mercy Theme (aka Duet)' by DURUTTI COLUMN, very composed and classical yet warm and emotive; 'Baader Meinhof' by CABARET VOLTAIRE, because it still sounds terrifying; 'Nightshift' by THE NAMES, dark, understated pop by an underrated band; 'Flight' by ACR, thin boys punching above their weight to great effect.
Is there something you feel should have been included on it that isn't?
ESG; they asked for silly money 10 years ago when the original CD version appeared. I don't think anyone was very keen to try again this time. It's a great shame though, as their Factory single is a timeless gem. I love 'Can't Afford' by 52ND STREET too, but there wasn't space to include it on this comp.
Factory Records were known for their great artwork and sleeves, which were the five that you liked best?
I like pretty much every sleeve design by Peter Saville, 8vo, Martyn Atkins and Mark Farrow. My five favourites are probably 'Unknown Pleasures' (Fact 10), the tracing paper sleeve for the first SECTION 25 single (Fac 18), 'Without Mercy' by DURUTTI COLUMN (Fact 84), 'Always Now' by SECTION 25 (Fact 45) and 'Power, Corruption & Lies' by New Order (Fact 75). Ben Kelly worked on a couple of excellent Factory sleeves too – Fac 18, and 'Sextet' by ACR – as well as The Haçienda.
The 'Use Hearing Protection FAC 1 – 50 / 40' exhibition made its debut at Chelsea Space in London, where is it heading next?
It will open in Manchester in 2020, and will be slightly bigger too. I liked the merchandising WMG produced with Saville – the SECTION 25 'Always Now' tea towel in particular.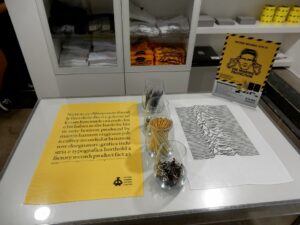 The 'Use Hearing Protection' T-shirts are only available in yellow in childrens' sizes, I don't wear T-shirts much but I'd have bought an adult one of those… do you think an opportunity may have been missed there?
Nothing to do with me!
However our 'Drifting Cowboys' DURUTTI COLUMN tee doubles as an 'early' Factory shirt, and is available in all sizes from Factory Benelux.
Why does Factory Records continue to be of cultural fascination in the 21st Century?
I'm going to be lazy and paraphrase from my text in the UHP book. According to Peter Saville, the remarkable Factory saga is one of the last authentic stories in pop music. "Because for 14 years nobody ever made a decision based on profitability". Rather, as Saville points out with admirable candour, the equity invested in the company was death.
Firstly that of troubled JOY DIVISION singer Ian Curtis, who took his own life in May 1980, and in 'Unknown Pleasures' left behind him perhaps the best debut album of all time. Those record sales underwrote The Haçienda, another astonishing story embracing druggy excess and gangland drama. Ultimately the label collapsed in spectacular style, and Tony Wilson, Rob Gretton and Martin Hannett also died far too young. Forget '24 Hour Party People' – the Factory story would make a great longform drama on Netflix or HBO.
---
ELECTRICITYCLUB.CO.UK gives its sincerest thanks to James Nice
'Use Hearing Protection: Factory Records 1978-79' and 'Factory Records: Communications 1978-92'
are released by Rhino / Warner Music Group, available from https://store.rhino.co.uk/uk/factory.html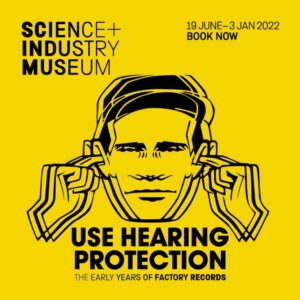 The next leg of 'Use Hearing Protection' takes place at the Science + Industry Museum in Manchester between 19th June 2021 to 3rd January 2022, further information at https://www.scienceandindustrymuseum.org.uk/whats-on/use-hearing-protection
https://www.usehearingprotection.com/
https://www.facebook.com/factorycomms/
https://twitter.com/factory_comms
https://www.instagram.com/factorycomms/
---
Text and Interview by Chi Ming Lai
22nd November 2019, updated 13th June 2022