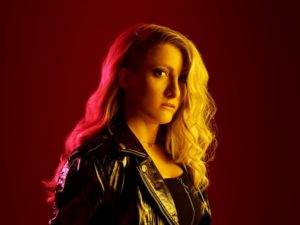 Synthilicious ditties aren't usually the thing of the colder climates of Toronto, but as far DANA JEAN PHOENIX is concerned, the Atari worthy tracks flow like liquid candy; pink and glossy, sweet and retro.
Bringing back that elusive feel of youth, first loves and first disappointments, DANA JEAN PHOENIX offers feel good music that doesn't have to be too serious and too complicated, recalling a world when things were simpler and exciting.
With a European tour approaching and including an Outland hosted event in London at Easter, ELECTRICITYCLUB.CO.UK had the pleasure to chat with the Alternative Ice Maiden and check out her super poppy world.
Sheridan College provided your first musical education, what was it in the form of?
After I studied Jazz at Humber College, I attended Sheridan for Musical Theatre. The two experiences really helped me in understanding songwriting, song structure, and putting on a more theatrical show experience.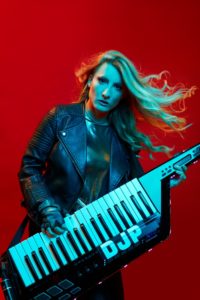 When did you start writing your own music?
When I was on tour as a singer for Canadian R&B Queen JULLY BLACK, I was inspired to write my own music. Then when I became a lead singer for the Canadian funk band, GOD MADE ME FUNKY, I got to hone those skills while writing more electrofunk and disco.
What attracted you to using synths?
My parents had a stacked record collection growing up. I would root through them and always come back to the albums that were heavily synth and funk inspired! Then I moved on to my brother's electronica collection and fell in love with the warm, melancholic and nostalgia inducing synth sounds of BOARDS OF CANADA.
With influences from?
The greats like MJ, PRINCE, MADONNA and HOWARD JONES are always influences, but my love for synth funk in groups such as CHANGE, D-TRAIN, SHALAMAR, THE TIME, S.O.S BAND and ZAPP & ROGER are a major source of inspiration.
2013 saw you performing in musical theatre…
Right out of theatre school, I was fortunate to land a lead role in a show called The Musical of Musicals of Musicals at an indie theatre festival, which then got picked up by Mirvish (Canada's equivalent to Broadway or the West End in London). I got to explore musical comedy in that time, which really inspired me to be fearless to try new things in front of an audience.
'Drrty Shooz' was your first long player. It was well received. That must have been a dream come true? How do you look back on it now?
I was experimenting in styles and stretching my voice in new ways on the album. Looking back, it was my stepping-stone into immersing myself in the synthwave genre, as it was the first time I had collaborated with synthwave artists such as SUNGLASSES KID and ROBOTS WITH RAYGUNS. It was an organic transition, merging my previous forays in songwriting to fully fledged synthpop and retrowave.
And then your music started featuring in motion pictures…
TIMECOP1983 sent me the music for what would become 'Dreams' and I got chills as I was writing the vocals because I knew it was special. Just as awesome as having that song featured in two Netflix original films and the PS4 game 'Crossing Souls' though, was getting to perform the song live with Jody in Stockholm last year!
For the stage adaptation of 'The Wedding Singer' in 2015, you were nominated for 'Best Supporting Actress In A Musical'…
That was a totally rad experience! I played the role of 'Holly' played by Christine Taylor in the movie, so all of my costumes were MADONNA inspired and I got to dance and sing my heart out every night over super 80s pop music! I got doused with a bucket of water every show a la the famous 'Flashdance' scene. It was great example of how the retro aesthetic and nostalgia really resonates with people of all ages and backgrounds.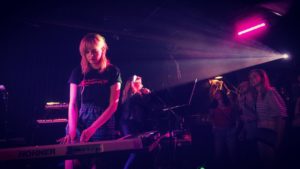 You're known for your collaborations, which one would you say you're the most proud of?
It's always dope working with MECHA MAIKO – she produced 'Be Alright' on my new album 'PixelDust'
and it felt great to collaborate with a fellow female synth artist from Toronto.
She also inspired me to start producing more of my own music, like my song 'Funky Fly Free' – my first fully self-produced song.
MECHA MAIKO also worked with you on 'Cold', which featured on her debut album 'Mad But Soft', and she was thrilled working with an icon like you…
I really dug her work with DEAD ASTRONAUTS, so it was hella cool finding out she was also a Torontonian in the scene. We've since performed 'Cold' live together in Toronto, Philadelphia, and at the inaugural NEON RetroFest in Rhode Island.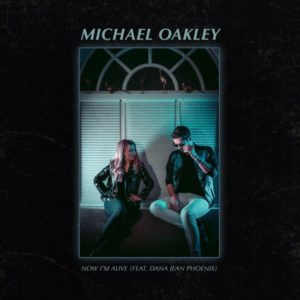 You've also collaborated with MICHAEL OAKLEY on a track called 'Now I'm Alive' for his new album 'Introspect'… ELECTRICITYCLUB.CO.UK can picture Demi Moore and Rob Lowe making out to that one!!
Right?! We created a powerhouse retro ballad.
It's so fun to write and perform harmonies with an amazing singer and songwriter like Michael.
You describe yourself as a "Retro Synthwave Singer". Could you expand on that?
A consistent theme in my music is self-empowerment and the courage to be in control of your own destiny. Retro music brings you back to a time when possibilities seemed endless and inspires those moments of boldness and courage. I combine these elements into pure synth jams that will make people wanna shake their ass on the dance floor and feel empowered while doing it!
'PixelDust' is girly and fluffy, fully reminiscent of the good old times; would you say you changed how you make your records much?
Since touring Europe and the US and Canada last year, my writing has become more focused to making songs that will rock in a live setting, keep you dancing, and make you wanna blast it in your headphones!
You've moved away slightly from pure Synthwave styles and have adopted other branches of electronic pop, which are your own favourite songs on 'PixelDust' and why?
I love rocking out with my keytar, Jareth, onstage, so it was great to add my first keytar solo to the Darkwave inspired 'Red Line' produced by Favorit89, and 'Only One For One Night' produced by Powernerd and 'Iron Fist' produced by Straplocked have made for awesome music videos.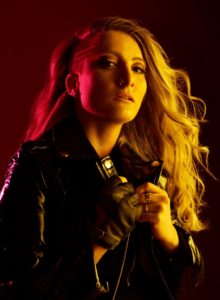 But of course, you were born towards the end of the synthpop era, do you wish you were born earlier so that you could have experienced the real thing?
I'm actually so glad to be here and now. As awesome as the 80s were, there were huge barriers of entry for artists who weren't willing to have record companies dictate their sound and image.
Today, we have the technology to binge watch 'Top of The Pops' and 'Miami Vice' and fully immerse ourselves in the era, but we also have the ability as independent artists to reach a broader audiences than before and have more creative control over our music and career.
The synth revival still continues, with the latest addition of 'Stranger Things', and the renaissance of the era's clothing, gaming and music…
Proof that the world needs Synthwave! Anyone who resists is a total mouth breather.
Last year saw you touring Europe extensively, how did that go? Any favourite places?
I toured Vienna, London, Warsaw, and Stockholm and every show was special! I was overwhelmed by the turnout and the passion the European audiences brought.
Any plans to return and include the UK?
I'll be playing London at Zigfrid von Underbelly Hoxton with Outland Presents on Thursday April 18th alongside KALAX and LEBROCK! Brett and Stu run a tight ship and know how to put together an epic retro party. I'm excited to come back and shred some more keytar solos.
What's next for you?
I'll be releasing a Deluxe Edition of my album 'PixelDust' with some darkwave remixes by Tommy '86, Gregorio Franco, FacexHugger, The Rain Within, Dredd, and Oceanside85!! I'm super geeked to come back out to Europe in April for my 'PixelDust' Tour!!
---
ELECTRICITYCLUB.CO.UK gives its sincerest thanks to DANA JEAN PHOENIX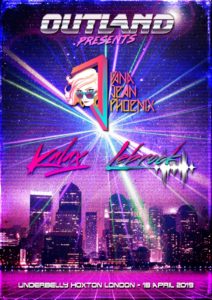 'PixelDust'
is released by New EmPire Entertainment, available from https://danajeanphoenix.bandcamp.com/album/pixeldust
DANA JEAN PHOENIX appears at Zigfrid von Underbelly of Hoxton in London on Thursday 18th April 2019. Presented by Outland, the event also features KALAX + LEBROCK – tickets available from https://www.wegottickets.com/event/462089
https://www.facebook.com/danajeanphoenix/
https://twitter.com/danajeanphoenix
https://www.instagram.com/danajeanphoenix/
---
Text and Interview by Monika Izabela Trigwell
Additional questions by Chi Ming Lai
Portrait Photos by Hayley Stewart
23rd February 2019