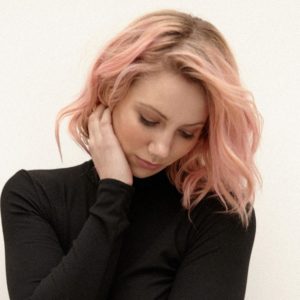 QUEEN OF HEARTS is the musical vehicle of Elizabeth Morphew.
Brought up to the sound of the synthesizer and learning to dance to the beat of electronic drums, she first came to public attention via RED BLOODED WOMEN, a girl group who sounded not unlike GIRLS ALOUD produced by Daniel Miller.
Following their disbandment in 2010, Miss Morphew was crowned QUEEN OF HEARTS and a debut EP 'The Arrival'
came not long after, along with several singles.
Then in 2014, her debut album 'Cocoon'
was released, a fine collection of electropop that reflected "love, loss, heartbreak, betrayal". The catchy glam stomper 'Neon' was one of its highlights and offered some deliciously wired glitterball sparkle that almost managed to out Goldfrapp GOLDFRAPP.
Keeping up the glitz, 'Freestyle' was a throbbing club friendly tune with a more than a hint of Moroder while 'Shoot The Bullet' was an energetic union with Swedish duo THE SOUND OF ARROWS.
Later expanded to a 2CD edition, the 'Cocoon' sessions featured three notable collaborations with the Berlin based producer Mark Reeder, 'Suicide', a cover of 'Wicked Game' and 'United'.
Following a break from music, QUEEN OF HEARTS returned in 2018 with two new well-received songs 'Cold'
and 'The Water Between Us'
. She invited ELECTRICITYCLUB.CO.UK to her palace to chat about her career to date and much more…
Your debut album 'Cocoon' was released in 2014, how do you look back on it?
I still can't quite believe I actually did it! You spend so long thinking about it; analysing which songs work and which to scrap and totally overthink it!
I put so much pressure on myself to make it perfect and to tell a story, which I'm so glad I did because it could have been a completely different piece of work.
'Neon' was a key track and has ended up on several TV shows?
'Neon' has been the money maker for sure! I fantasised about my songs being used in movies and TV songs but never actually thought that would happen. It's a pretty surreal feeing to hear yourself in the background of 'Made in Chelsea' on a regular Tuesday evening.
'Neon' was then remixed by Mark Reeder and led to you doing the track 'United' with him, how did that come together?
Mark sent me the instrumental and I instantly found myself breaking into a 'Vogue'-esque spoken monologue which eventually became the "no teacher can teach me and Jesus can't reach me…" pre-hook section. I loved it so much I also made it the middle 8. I have no idea how I came about the rest of the melody, I never do really. I'm all about those hooks.
How did you come to be working together?
My good friends at ELECTRICITYCLUB.CO.UK made the intro.
How does it feel to have 'United' sitting next to ERASURE and KATY PERRY on a compilation?
I've seen worse seating plans. 😉
Whereas 'United' was very uptempo and rousing, 'Suicide' which you did also with Mark Reeder was much more personal?
I like that they are completely different. I think it's easy to get stuck in a rut with your output so changing tempo and the overall theme automatically does that. One is playful and one is vulnerable. You can't have one without the other.
You also did a cover of 'Wicked Game' together?
I LOVE that cover! I always like covering songs originally sung by a man because it naturally gives a completely new dynamic and context. I also think it's such a classic I wanted to give it the respect it deserves, while still making it my own. Who's hasn't been in one of those relationships, right?!
Which songs from that period have stood the test of time for you?
'Neon', 'Colourblind', 'Shoot The Bullet' and 'Tears In The Rain'.
The later 2CD version of 'Cocoon' tells a bigger story, it seems there were a variety of directions that the original album could have gone in?
I began putting out music in 2011 and my album came out in 2014, so naturally my sound grew and changed, as well as working with different producers and co-writers along the way. I could probably produce another two albums with the songs I didn't end up using.
You had taken a break from the music business, why was that necessary for you?
There's that famous quote: "Insanity is doing the same thing over and over again and expecting different results" – a bit of that I suppose: boredom, exhaustion, frustration, fear? It's quite common to have an identity crisis in your late 20s. I needed the break.
Does the music business need more mindfulness?
The shift I've seen in the last decade has been a positive one. When I began working professionally in the music industry, I was constantly rejected because I didn't 'look' right, and as a result didn't particularly like or treat myself with much respect. It's a world that appears glamourous but in reality is cut throat, superficial and money driven. You're not warned about this and in fact expected to feel grateful about it. I think people are waking up to authenticity and having empathy and understanding of people's mental health. We've got a long way to go, but it's 1000 times better.
'Cold' and 'The Water Between Us' have been your first new recordings released for many years, what set the muse off again?
Freedom to create what I wanted to… I wasn't writing the music for QUEEN OF HEARTS at that point. For the first time in a long time I just wrote about how I was feeling. I wasn't trying to be clever or calculated, I just wrote. The pen rarely left the page and I'd practically finished both in the two days I'd booked the studio for. That was a really exciting feeling.
How do you think you've developed as a songwriter?
I'm a lot less worried about creating a product now. I think the greatest songs are written when you're in a state of flow, zero expectation, writing from the heart. As soon as you overthink or try to make yourself sound like what you're hearing, you lose everything that makes that song special. In a nutshell, I give less f**ks now.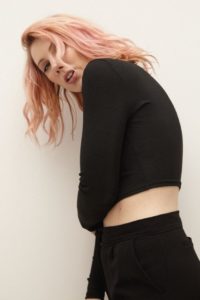 Where do you think you're heading musically?
I'm not sure. I'm trying to be really open-minded and less of a control freak. It'll always start with a beautiful melody and it'll always be electronic. Some things never change.
Things have changed within music considerably even since 2014, what are the positives and negatives for an independent artist like yourself in your opinion?
It's harder to make money. My income is purely the result of sync these days, no one 'buys' music. What it does mean however is complete creative control and the ability for anyone who wants to make music to get it out there. I think that's a beautiful thing.
You once said "pop is not a dirty word", what state of health do you think it's in as we head towards the end of the second decade of the 21st Century?
I've always been a pop fan and will sniff out beautiful music and do what I can to promote it. A lot of the stuff out there however is sh*t. I try not to lose too much sleep over that.
Do you still get mistaken for Taylor Swift?
If I had a pound for every time I'd been referred to as a "Poor man's Taylor Swift", well… we'd have a fully funded second, third and fourth album! 😉
I don't mind it though, she's hardly Quasimodo! I'll take pretty much any compliment on offer. I particularly like the stuff she did with Jack Antonoff.
What next for QUEEN OF HEARTS?
I'm still riding high on the double A side I released at the end of last year 'Cold' / 'The Water Between Us' and working on my next move. You never know how a new release will go down, so I'm chuffed that people seemed to like the tracks and I don't have to hide away in a cave somewhere. I'm also trying my hand at a bit of DIY DJ-ing with my weekly Spotify 'Monday Mixtape' playlists.
---
ELECTRICITYCLUB.CO.UK gives its warmest thanks to QUEEN OF HEARTS
'Cold'
and 'The Water Between Us'
are available via the usual digital outlets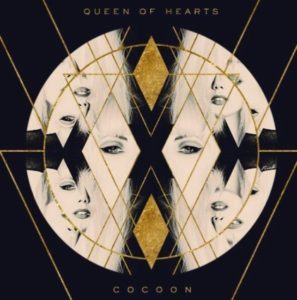 The expanded 2CD 27 track version of 'Cocoon' released by Night Moves is still available direct from https://iamqueenofhearts.bigcartel.com/product/cocoon-limited-edition-2cd-gatefold-digipack-pre-order
http://www.iamqueenofhearts.com/
https://www.facebook.com/QOHofficial/
https://twitter.com/iamqueenofheart
https://www.instagram.com/qohmusic/
---
Text and Interview by Chi Ming Lai
25th February 2019