Although he had been out of the public eye for over two decades and had all but retired from music, the sad passing of Mark Hollis, frontman and songwriter of TALK TALK, was a shock to many.
Also featuring Paul Webb on bass and Lee Harris on drums, TALK TALK released a series of highly regarded albums and even had several hit singles such as 'Today', 'Life's What You Make It' and belatedly 'It's My Life' which was later covered by NO DOUBT.
TALK TALK were originally dismissed by the press as DURAN DURAN copyists as they shared a label in EMI, producer in Colin Thurston and even had a repeated word name! Hollis was particularly irked by the DURAN DURAN comparisons, stating to 'Smash Hits' that their overall sound was "just bass drum" and citing Otis Redding as one of his own main influences.
Although their debut album 'The Party's Over' released in 1982 was an impressive synth flavoured collection that very much captured the sound of the times with its thundering Simmons drums and fretless bass, the serious lyrical overtones of the title track and 'Have You Heard The News?' indicated that TALK TALK had more in common with artistically thoughtful collectives such as JAPAN and THE BLUE NILE. But despite his apparent dour persona, Hollis later revealed his sense of humour by employing Tim Pope to direct the band's promo videos.
Following the departure of their original keyboardist Simon Brenner and an excellent interim single 'My Foolish Friend' produced by Rhett Davies of ROXY MUSIC fame, for their acclaimed second album 'It's My Life' released in 1984, Hollis found his ideal collaborator in producer Tim Friese-Greene. On paper, he was an unlikely writing partner as his credits included STIFF LITTLE FINGERS and somewhat bizarrely TIGHT FIT, but it was to be the start of a fruitful partnership.
To give TALK TALK a unique aural template, Friese-Greene exploited the use of a Roland Jupiter 8 for the 'It's My Life' album's guitar solos. in particular on the solemnly emotive 'Tomorrow Started' which also featured jazz trumpeter Henry Lowther and the magnificently powerful 'Such A Shame'. Although the album sold well in Europe, it was largely ignored in the UK but this overseas success allowed EMI to provide a bigger budget for their third long player 'The Colour Of Spring' in 1986.
Hollis had insisted around this time that he hated synthesizers apart from their use in live work and the band had only used them because they couldn't afford traditional instruments or the session musicians to play them. Hollis strived for a more organic keyboard template, as well as expanding the palette to include electric guitar as on the progressive wonder of 'Living In Another World', a children's chorus on the hypnotic 'Happiness Is Easy' and a full choir on the epic album closer 'Time It's Time'.
But despite a hit single in 'Life's What You Make It', 'The Colour Of Spring' was TALK TALK in transition, mutating from a well-crafted intelligent pop rock combo into something much deeper. Even so, when 'Spirit Of Eden' came out in 1988, its uncommercial freeform nature where conventional song forms had all but disappeared was totally unexpected.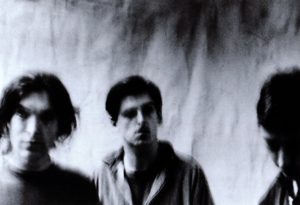 Jazz influences came to the fore with the intro of 'The Rainbow' sounding not unlike Miles Davis, while the tranquil artrock of 'I Believe In You' recalled THE VELVET UNDERGROUND despite being described by Hollis as an "anti-heroin song." Totally uncompromising in its nature, the album also featured a chamber orchestra and Nigel Kennedy, using space and silence in its non-conformist construction.
While unhappy with 'Spirit Of Eden', EMI sensed the band had been ahead of their time and keen to recoup their financial investment, the label released a compilation 'Natural History' in 1990. This led to 'It's My Life' belatedly becoming a Top 20 UK hit single. By now, EMI's relationship with TALK TALK had completely deteriorated but keen to exploit Hollis, Webb and Harris further, a remix album 'History Revisited' was issued, with EMI charging the band for the privilege from their unexpected boost in royalties. TALK TALK sued their former label and won, leading to all remaining copies to be destroyed.
Despite Paul Webb leaving, TALK TALK released one more album 'Laughing Stock' in 1991 via the jazz imprint Verve revived by Polydor Records. Expanding on 'Spirit Of Eden', despite the post-rock acclaim, sales were poor and any new fans acquired via 'Natural History' were totally confused; TALK TALK disbanded.
Hollis was left bruised and disillusioned by his experiences in the music industry, so he effectively semi-retired to study music composition. But in 1998, there was the surprise of a self-titled solo album where all the notes were written before any music was recorded. Sparse and minimal, it drew from 20th-century classical music and jazz. But it was to be Hollis' final full length work as he withdrew to devote his time to his family.
A reclusive artist in the mould of Scott Walker and David Sylvian who each also had successful pop careers before venturing into more experimental territory, Mark Hollis leaves a legacy of artistic ambition over commercial success, standing up to the corruption of the music business. But ultimately, he was prepared to abandon everything for tranquillity and his own personal well-being.
Hollis' songwriting capabilities were apparent from the first TALK TALK album and his varied output has been appreciated at various times by pop fans and serious music connoisseurs. But he was perhaps underappreciated by the wider public in his day… such a shame.
---
Text by Chi Ming Lai
25th February 2019