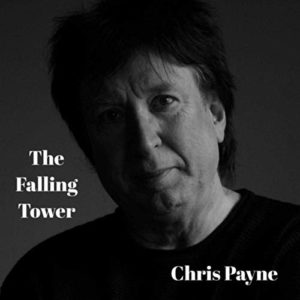 If 'The Falling Tower', the second solo album by Chris Payne has a familiar ring to it, then you are not mistaken.
"Last year I rushed out an ELECTRONIC CIRCUS album of the same name and I wasn't happy with it." said the one-time Numan sideman who returned as his boss' opening act for last year's shows, "Electronic Circus was a hurriedly reformed outfit with myself, my wife Dominique and two founder members Tim Vince and Michael Stewart; and the aim was to be able to have enough material for a live show. My problem was that as the album was rushed, it had some wrong elements about it that didn't fit in with the idea of a social and political armageddon."
While the ELECTRONIC CIRCUS version of 'The Falling Tower' was enjoyable and included the wonderfully quirky 'Roundabout' and 'Space Invaders', potential audiences were confused about how these synthpop tunes fitted in with the very serious concept highlighting the eventual implosion of the world's political system. As Payne put it: "If you're writing an album about the collapse of modern civilisation, it's not going to be all about 'Jigs and Reels'."
The end result has Chris Payne reworking the album in an Industrial Classical Electronic style which he has called 'ICE', with seven new tracks and five retained but remixed from the ELECTRONIC CIRCUS original. In a confident mood, Payne even starts the album with his first lead vocal since 'Turn' in 1981 when he was a member of DRAMATIS. Sounding not unlike CRASH TEST DUMMIES collaborating with NITZER EBB, the thundering percussive backdrop of 'The Great Gates' sets the tone loud and clear as a simple metaphor for a society that are falling apart.
Continuing at a Goth disco friendly tempo, 'The Science of Gaia' will be loved by anyone who enjoys Polymoog Vox Humana sounds of the sort Numan and Payne exploited together on 'The Pleasure Principle' plus with Payne's classical credentials, there's that element of his 'Fade To Gey' co-writer Billy Currie from ULTRAVOX too.
With 'The Trapeze', the wondrous tone of humanistic unity on the main act flows over a brilliant neo-instrumental with a symphonic theme that gallops like classic ULTRAVOX. But despite the pomp, there is a dominant melancholy throughout much of this record.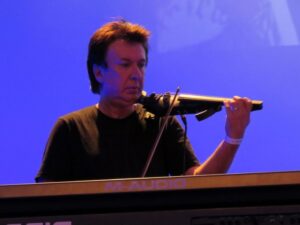 Within this background, 'The Falling Tower' title song acts as an acute warning to the looming collapse of western civilisation.
To add further poignancy to the message, it is entirely sung in Esperanto by Dominique Hemard-Payne; the language was created by LL Zamenhof in the late 19th Century and its intention was to foster harmony between people from different countries.
"The idea was to use it as a kind of metaphor for global unification" explains Payne, "Something I personally believe we should have concentrated on a long time ago. Basically the theme is simple: 'If we don't look after the planet, nothing else matters'". Ni amos! Pacon! But with Esperanto being Latin based, for aural aesthetics alone, the Cornishman confirms that "The song wouldn't have worked half as well if it had been in English irrespective of the fact that most people won't understand it".
As can be expected from a violin player who studied Medieval Music, 'The Falling Tower'
sees classical and traditional music forms figuring strongly. This comes to the fore on 'Electro Vivaldio'; "I've been intrigued about this notion of how classical composers would have dealt with today's modern music" says Payne, "Of course, we will never know but I think they would have embraced it. That's the Vivaldi track theme". With its frantic chopping violin, it recalls the B-side 'Pomp & Stompandstamp' by DRAMATIS.
The electro classical template continues on the appropriately titled and beautiful 'Nocturne For Piano & Synths', which Payne describes as "My way of expressing a classical piano piece using synths not orchestra", adding "Did you know that towards the end of his life the Russian composer Dmitri Shostokovich was said to have listened to CREAM for inspiration?".
The piano piece 'Isolation' and the sombre overtures of 'Desolation' add to the solemn air of Armageddon which is also reflected during 'In Red Fields Of Flanders' sung by Marikay Payne. Her father doesn't hide his anger when he considers how despite the lessons of previous conflicts, his family could have no future: "'In Red Fields Of Flanders'' is a poignant song honouring all war dead from all sides of the conflict in World War I. It's about the suffering caused by the usual bunch of political f*cking idiots dragging us into conflict that could of been avoided, and how ordinary people are used to further their ends. Plus it's been 100 years since the end of the conflict".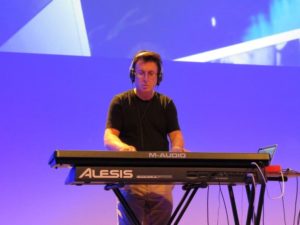 Appropriately solemn, 'A Saviour Comes' delivers a metaphor for the religious concept of mankind being saved with a forceful tribal optimism.
But as Payne points out "It doesn't matter that in reality a handful of survivors would rebuild society or we might just disappear from the earth entirely. Hence the poignant 'Evensong' that reflects either view and finishes the album."
And with that final plaintive lament, everything ends… "It's all a bit doom and gloom" mourns Payne "but tragically this is where I'm seeing mankind heading unless we have a new Geo political system in place….Very soon!"
A worthy follow-up to Payne's debut long player 'Between Betjeman, Bach & Numan', 'The Falling Tower' may appear to be a bit heavy and cerebral, but its ambitious neo-classical stylings provide an intelligent and thoughtful listen, while also satisfying cravings for strong melodies and timeless musicality.
After all, when was the last time you heard a record that was sung in Latin, Esperanto AND English?
---
'The Falling Tower' is released by Gaia International Music available as a digital album via the usual platforms
https://www.facebook.com/chrispaynecomposer/
https://www.instagram.com/chris.payne.music/
---
Text by Chi Ming Lai
22nd February 2019