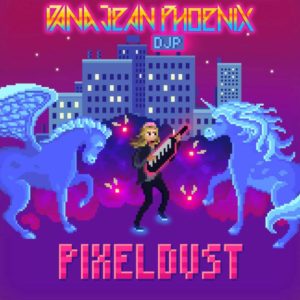 With a few long players under her belt and with her music featured on various television series, here comes 'PixelDust', the latest album from DANA JEAN PHOENIX.
Self-described as a "Retro Synthwave Singer", the Toronto based songstress knows how to turn heads with catchy vintage tunes, which are Atari games worthy.
Having recently featured on the debut album of MECHA MAIKO with the fabulously dancey 'Cold', DANA JEAN PHOENIX isn't a stranger to synthylicious ditties.
Not concerned with 'Losing The Connection', Phoenix introduces her new album with a colourful bang of vintage guitar, good old synth and candied poppy melody. Back to the days of big hair, leg warmers, fashion jewellery and blue eye make-up it is!
The more demure, sweet love ballad 'Far And Away' is a nostalgic nod to the sun-setting pop songs of TIFFANY and 'Red Line' could have been blasted away in a shopping mall, while you and the girls pulled faces squeezed into the swivelling photo booth chair. Remember those uncomplicated teenage times, when you thought you could take on the entire world!? Dana Jean can!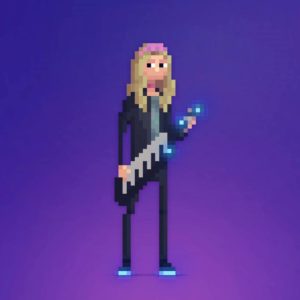 Maybe you can go back to the neon lights 'Only For One Night', with stripped down synth lines, or have you 'Lost Touch' with the classic sound of PAULA ABDUL?
'I'll Rescue You' is a girly 'Boys Of Summer' and 'Funky Fly Free' reminisces FIVE STAR's achievements. After all, everything will 'Be Alright'. A fabulous little track, perfect for carefree girly gatherings, pillow fights and pink Walkman headphones, what's not to love? 'Iron Fist' speeds up the matters and could have easily been used as a secondary 'Rocky' track, while the title number calms the senses with a sweet, slightly melancholic feel, which has the qualities of a perfect chick flick soundtrack.
The closing 'Written' is the longest song on 'Pixeldust' and you wish it could go on for longer still. It's a classic feel good number, embroiled in uncomplicated vintage romance.
Gentle, melodic and beautifully performed, you imagine Phoenix running in slow motion into the sunset after her lost love, or blushing while dreaming of her newly found amour.
Whatever the story, you are transported back into that world we always come back to with sentimentality, the world when things were simpler and exciting.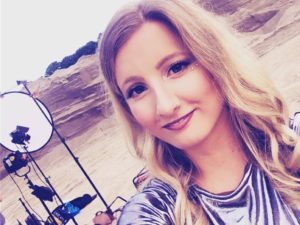 And that's the whole point to DANA JEAN PHOENIX's music; to bring back that elusive feel of our youth, to relive first loves and first disappointments, "back when possibilities seemed endless because your world was colourfully enigmatic and very few doorways were shut to you. A time when you were in love, or just about to be."
Feel good music doesn't have to be too serious and too complicated, and 'PixelDust' is just that.
For a summery, relaxed feel, go no further and immerse yourself in the simplicity of this record. You won't be disappointed.
---
'PixelDust'
is released as a download album by New EmPire Entertainment, available from https://danajeanphoenix.bandcamp.com/album/pixeldust
https://www.facebook.com/danajeanphoenix/
https://twitter.com/danajeanphoenix
https://www.instagram.com/danajeanphoenix/
---
Text by Monika Izabela Trigwell
7th September 2018