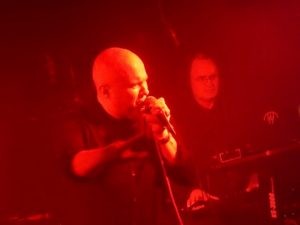 Returning to the UK after a successful Spring 2017 stint, ASSEMBLAGE 23 again packed their favourite London venue Electrowerkz with their dark industrial flavoured synthpop.
A23 main man Tom Shear is on something of a high right now, with the acclaimed album 'Endure'
still attracting live audiences 2 years after its release while his new side-project HELIX with vocalist Mari Kattman has just issued its first album 'Twin'
.
Opening proceedings were WITCH OF THE VALE, a Scottish electronic duo from the serene shores of Loch Lomond and the remote Outer Hebridean Isles, centred around the folk inspired soprano stylings of Erin Hawthorne and the stark instrumental structures of her husband Ryan Hawthorne.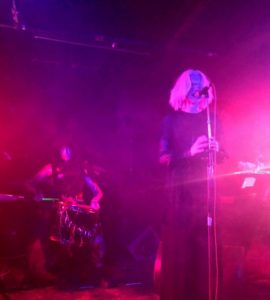 Like GAZELLE TWIN meeting 'The Wicker Man' and 'Twin Peaks', their music possesses some Pagan fervour. From the eerie beauty of 'Listen To Your Voice' to the more unsettling ritualistic overtures of 'Fever', their presentation was totally captivating while maintaining that important air of mystery, making them an act to watch out for in the future.
On their second successive UK tour with A23, RAINLAND were very much the party animals who utilised their down-to-earth weegie personas to act as cheerleaders for the headline act. RAINLAND formed from the ashes of ANALOG ANGEL and Tom Shear has recognised the pair's capabilities for a long time now.
As RAINLAND, Ian Ferguson and Derek MacDonald have been able to follow their synthpop instincts, free of the industrial shackles that occasionally held them back in the past. Ferguson in particular had shown his worth with a tone not dissimilar to Midge Ure on ANALOG ANGEL songs such as 'No Goodbye', 'I Am Me' and 'Another Rainy Day'.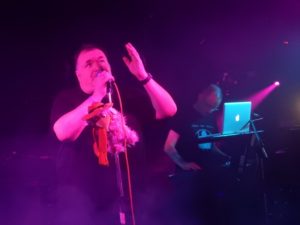 The 'Rainland' song was a stomping opening salvo that recalled ULTRAVOX with a touch of Vince Clarke too, while the BRONSKI BEAT inspired 'Touch' with its digital slap samples had the crowd dancing.
'Silverlight' with lyrics co-written by author Ange Chan kept the momentum going, but with only the 'Touch' EP to their name so far, their performance closed with the Ferguson-penned ANALOG ANGEL evergreen 'Drive'.
Tom Shear has maintained a successful career over the last two decades years despite some ups and downs. In ensuring ASSEMBLAGE 23's survival in the modern music industry, his resilience could be summed up by their opening number 'Bravery', a poignant statement that self-doubt which always lingers within the human condition, whatever the circumstances.
Accompanied by the ever faithful Paul Seegers on synths, Shear was his usual engaging self with songs like 'Let The Wind Erase Me'. Meanwhile from 'Meta'
, the brilliant 'Damaged' from 2007 reminded everyone of the sort of tunes that DEPECHE MODE were once good at.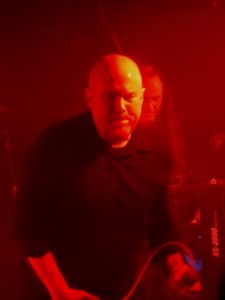 The emotive electro-gothic discoscape of 'December' captured being "Silent and alone, trying to make sense" in a song swathed in sadness despite the danceable rhythm construction, while the classic A23 of 'Let Me Be Your Armor' is still a firm fan favourite with its trance energy. However when the riff laden 'The Noise Inside My Head' made its presence felt, the crowd erupted in a sea of bounce!
Closing with a marvellous spirited cover of INXS' international breakthrough 'Don't Change', itself borrowing the distinctive swooping synth line from 'Bunker Soldiers' by OMD, ASSEMBLAGE 23 provided the perfect conclusion to an excellent triple bill.
This evening proved again that if a line-up is properly curated with acts that actually musically complement one another, it will result in success. As Jim Morrison said in 'Wayne's World 2': "Book them and they will come…"
---
With thanks to Tom Shear and Ian Ferguson
'Endure'
is released by Metropolis Records in CD, deluxe 2CD and download variants, available from http://www.assemblage23.com/store
ASSEMBLAGE 23 German live dates include:
Berlin Kreuzberg Maze (11th September), Hamburg Indra Club 64 (12th September),
Frankfurt Das Bett (15th September)
https://www.facebook.com/Official-Assemblage-23-138651156153800/
https://twitter.com/Assemblage_23
https://www.facebook.com/RainlandtheBand/
https://rainland.bandcamp.com/
http://www.witchofthevale.com/
https://www.facebook.com/witchofthevale/
---
Text by Chi Ming Lai
Photos by Chi Ming Lai and Marilyn Wilson
9th September 2018