Bill Leeb is unimpressed with the Super Bowl half-time show. The best the NFL could muster for the break in the biggest game in the American sports season was MAROON 5, who showed twice as many nipples as Janet Jackson and a tenth of the melody of Taylor Swift.
We're speaking the day after the event, but not about Tom Brady's passing game. Leeb's main band, FRONT LINE ASSEMBLY, has a new album to share.
'Wake Up The Coma'
, the latest from Canada's electro-industrial pioneers, is loaded with energy and makes a number of surprising plays. We start by asking why FLA weren't asked to do the half-time show.
Leeb: Because I don't have enough tattoos. I gotta say, if I put a tattoo across my chest, stating Vancouver, that would be kind of a big statement.
On stage, Leeb is an imposing figure, even without his hometown etched into his skin. The former SKINNY PUPPY keyboardist prowls the boards with a shock of blond hair rising above him. When he points at the audience, you half expect lightning to take out the front row. He's always drawn attention for his looks. When he moved to Canada as a teenager, the Austrian stood out.
Leeb: The craziest thing is my first girlfriend in Vancouver, Debbie Jones, who is no longer with us, approached me at a nightclub because these guys were harassing her table. She asked if she could sit with me.  I used to get this question all the time, because of my hair: "Hey, are you in a band?" I think I've been asked that more than anything my entire life.
The meeting with Jones led to another important connection.
Leeb: We started chit-chatting, and the next thing you know she knew cEvin [Key] from SKINNY PUPPY. They met because Debbie and her cousin Donna were driving through a park, and cEvin pulled up in a black Monte Carlo with swivel seats. He rolled down the window and said, "Hey, do you guys want to smoke a joint?" Debbie said, "OK, yeah, sure." There was also Gary [Smith] from Images in Vogue. So it all started with that group of people. When I think back now, it's a bit like a movie how we all met up together.
With cEvin Key, Leeb struck up both a friendship and a friendly rivalry to find the latest obscure sounds from around the world. Their bible was the Contact List of Electronic Music (CLEM), an annotated directory of record stores and labels involved in the DIY tape and record scenes.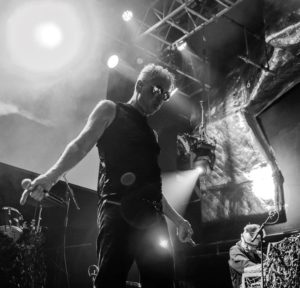 Leeb: One of the first things that got me going was a magazine called CLEM. That was one of our key influences. In there was all the PORTION CONTROL, ATTRITION and LUSTMORD. They had all the contacts, and you could write to all these people, and I think that was the big key for us. Me and cEvin being competitive, of course, we started writing to all these artists.
Back then, you could send an IRC [International Reply Coupon], which was a coupon you could buy at the post office that could be exchanged overseas for stamps. 
We started collecting cassettes from all these artists, and I still have lots of them. Me and cEvin would meet up, and it would be, "I've got a cassette from Edward Ka-Spel or In Phaze Records or PORTION CONTROL." So, we started a bit of a collection war, and that's how we got onto a lot of those artists.
Crate digging was the other way that the two friends found the sounds that connected them to the industrial and electronic scenes on the other side of the world.
 Leeb: Odyssey Imports and Quintessence Records were the two main stores in Vancouver which continuously, every week, brought in 12" vinyls from the UK and Germany. The UK pressings were better than those from anywhere else, so every Monday we would go down and wait to see what was going on. I remember cEvin turned me on to FAD GADGET. One day, he was standing beside me in the record store and he pulled out that album, Fireside Favourites, and said, "Have you heard this?" I go, "No." And he says, "Great album – check it out!" And, of course, I became a huge FAD GADGET fan.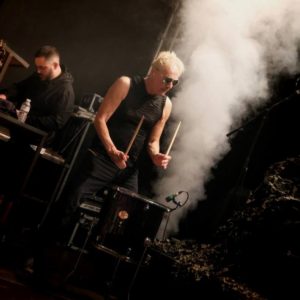 Still, Leeb gives a lot of credit to CLEM and its publisher, Alex Douglas.
Leeb: He was way ahead of the curve, as far all those bands. We got half of our contacts and info from that guy. That magazine was invaluable.
It was through CLEM and the underground cassette scene that Leeb became aware of Third Mind, a British label, and its guiding force, Gary Levermore. Third Mind would go on to release Front Line Assembly in the UK and organise shows for the innovative band.
Leeb: The thing that got me on to Gary was when he released Rising from the Red Sand. That was in CLEM magazine, and it had PORTION CONTROL, ATTRITION, BUSHIDO, LUSTMORD – it just went on and on. That was probably the best of the cassette compilations – song for song, that was probably the best one. 
Another great thing that me and cEvin used to do was stay up all night with our group of people, getting wasted and high, and we would find phone numbers for these artists. Come Sunday morning, we would call them. One time, we called PORTION CONTROL at three in the morning here – because the UK is eight hours ahead. Some guy would answer the phone, like Ian [Sharp of PORTION CONTROL], and be, "Hello?"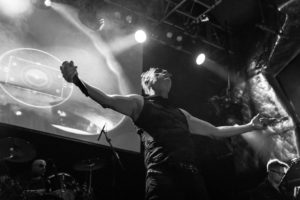 We'd be, "Hey, this is cEvin and Bill. We really love your music." I think they were taken aback that we would call them. It was a different time. You can't do shit like that now. You'd probably send an email or something. 
It was a much bigger deal back then to get something like that – to get a cassette. I guess these guys over there, if you needed a cassette, they would just run one off.
One of Vancouver's natural advantages is its permanent place on the North American tour map for interesting artists. Pity music fans from Winnipeg, who were in overflight territory for bands like SIMPLE MINDS and DEPECHE MODE.
Leeb: The crazy thing about DEPECHE MODE is I saw them the very first time they came to Canada, because Images in Vogue – cEvin's band – opened for them at the Commodore. You know, cEvin and Gary and Joe had the latest and greatest stuff. They had all of that onstage and played. Then DEPECHE MODE, the original line-up, came onstage, and all they had was one keyboard – a small one – and they had an 8-track on the chair behind them. No visuals – that was it. When I think that I saw them last year at the Rogers Arena in front of 80,000 people…
At the first show, there were maybe only 400 people there, and they were up there with only one keyboard. We laughed then, because Images had all the gear and those guys didn't, but who knew that they were going to be as massive as they were? Who puts a tape player on a chair behind them? But people were different back then.
That isn't to say that everyone was open to the harder, darker electronics that Leeb and his friends were getting into.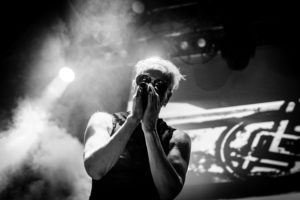 Leeb: I was with cEvin the night he went to Images in Vogue's manager and said, "I'm leaving the band and starting a new band called SKINNY PUPPY." Kim Clarke Champniss was the manager of Images, and he was basically telling cEvin, "You're crazy! Images is on a major; they've opened for Roxy and Duran – and you're going to start a band called SKINNY PUPPY?! Are you crazy?" I was there just for support. And I think SKINNY PUPPY turned out to be ok, right?
The first support for their new approach came from the country that was producing many of the artists Leeb and Key had been discovering – England.
Leeb: For the very first review we got with SKINNY PUPPY – for Remission – me and cEvin went down to Odyssey Imports. There was a guy in Sounds [one of the weekly music tabloids from the UK] called Dave Henderson who ran a weekly thing called Wild Planet – he was another forerunner, encouraging those bands. He wrote a review, and we were walking down the street with it. It said, "From the land of Anne Murray and Gordon Lightfoot, there is a new electronic band by the name of SKINNY PUPPY. Who do these guys think they are?"
 cEvin was so excited about this guy acknowledging us and saying he liked the album Remission. We're reading this as we're storming down the street, and he's like, "Bill, look – someone in the UK knows who SKINNY PUPPY is!" Henderson called us all the Wild Planet bands. It was another key factor in this movement, way in the very early days.
Once he was touring with FRONT LINE ASSEMBLY, Leeb got to know some of those bands better.
Leeb: We toured with PORTION CONTROL and did remixes with them. We became friends with Edward Ka-Spel and he and cEvin did THE TEAR GARDEN. Debbie Jones actually went out with Edward for a while – the girl who had brought us all together. Me and Gary Levermore have been really good friends. All those early tours we did through his label in Europe – we became a huge family. It was quite a movement for quite a while – thirty years.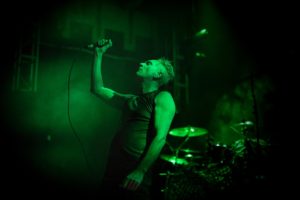 The influence of those cassette-trading pioneers is still being felt.
Leeb: It spawned the things like, in Europe, the M'era Luna festival and Wave-Gotik-Treffen festival –  Amphi. Every band there – whether AND ONE or COVENANT, any of these bands – got their cue from that movement. Not just us, but the whole movement.
Half the bands that are industrial still sound like SKINNY PUPPY or were motivated by that sound. We were motivated by PORTION CONTROL with that distorted, angry vocal – I'd never heard anyone do that before! People were so brainwashed with rock and roll back then. If you think about the whole Gothic world, our world had a lot to do with bringing that forward.
Of course, you had your German bands like DAF – another groundbreaker. FRONT 242 were there, too. They came along during the early SKINNY PUPPY days. That all created a healthy, thriving world in itself. It maybe wasn't as big as hip hop, but still… NINE INCH NAILS opened for SKINNY PUPPY when it was just Trent for a while and he's kind of done ok, right? The whole Marilyn Manson thing. It's spawned a couple of decades of music and it's still going strong in its own way. It's still an alternative to all that other stuff, like MAROON 5. It's so narcissistic, all that world of new popstars now: half the day at the gym; half the day at the tattoo parlour. It's a whole different mindset.
'Wake Up The Coma' features several collaborations. A notable one 'Eye On You' with Robert Görl of DAF, opens the album.
Leeb: We met at M'era Luna and another festival. We all hung out backstage, and I kind of hunted him down. One time, they played right after us and we were hanging out backstage, waiting to change, and I just started talking to him. I was such a huge fan, and the first couple of DAF albums were groundbreaking – kind of like the whole Mute and DEPECHE MODE world. We just started chatting in German, and he's a super nice guy, and next thing you know we were doing the track.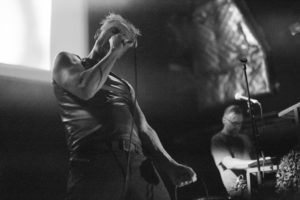 We were going to get him to sing on the song, but he had some things he had to deal with at the time and we couldn't get it all together – but that was a good start. 
If I think back to twenty five years ago, that I would actually get to do a track with someone like him – I would have thought was far-fetched. That was kind of cool for me. A final thing, as we fade into the future mist.
"David Bowie" even makes a surprise appearance on the last track 'Structures'.
Leeb: I asked Chris [Connelly], because he does that SONS OF THE SILENT AGE. It's very popular. They do a couple of Bowie albums every year. I asked him to use that approach to a song. When we did that tour with REVOLTING COCKS in America, it was such a success. Every show sold out. We became really good friends with Richard 23 and Chris and Paul Barker. It was a very fun tour, and everyone was very professional and friendly, so I took the liberty to ask Chris when we became friends and he agreed [snaps fingers] just like that.
The song that will make or break the album might actually be a cover. FLA's version of Falco's 'Rock Me Amadeus' will surprise a lot of fans with its audacity. It's not an obvious choice; but, infused with intensity by Rhys Fulber's programming, and shorn of the wigs and powder of the original, it could be a cross-over hit. They have had those before in their DELERIUM guise.
Leeb: I thought that, having been born and raised in Austria, and being Austrian, there was enough of a connection to do that song. I felt like something foreign and I like classical music, so I hope that the Mayor of Vienna gives me the key to the city and that song gets on Viva rotation. I'm curious to see how much hate and love we get over it. Rhys is loving it. He's like, "Everyone is going to hate it!" Well, ok, that's cool. When you hear the original and ours, they are quite different. Jimmy [Urine] is the king of irony. The way he does the song has a hint of humour in it. In the studio, he had it in two or three takes – in German!
Even with covers and collaborations, 'Wake Up The Coma' hangs together incredibly well. It's a mature, sophisticated FLA release. The unifying theme, if there is one, is contact.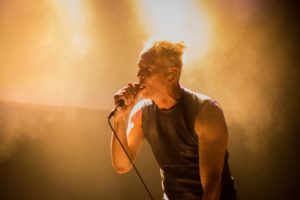 Leeb: Jeremy [Inkel] sent me some demos, and the day after he passed away we were supposed to speak. After 'Echogenetic', Rhys was back in the picture. It was so crazy, and we put this record together with bits and pieces of these guys. I made new friends with Robert and Chris. Three of the songs came from Ian Pickering. 'Wake Up The Coma' was from one of his songs. He was the guy who wrote a bunch of lyrics for SNEAKER PIMPS. We became friends with him through somebody else.
'Wake Up The Coma' is with the guy from PARADISE LOST [Nick Holmes]; he does the vocals. Rhys produced a couple of PARADISE LOST albums and they became good friends. It was a weird, big, crazy thing. Rhys summed it up, with all the craziness and Jeremy's passing: "I guess we're a real band now."
---
ELECTRICITYCLUB.CO.UK gives its grateful thanks to Bill Leeb
Special thanks to Gary Levermore at Red Sand PR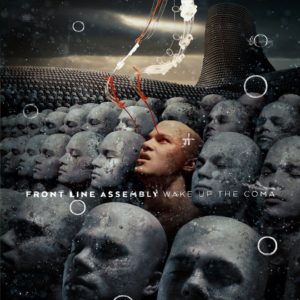 'Wake Up The Coma'
is released by Metropolis Records, in double vinyl LP, CD and digital formats, available from https://frontlineassembly.bandcamp.com/
https://www.facebook.com/frontlineassembly/
https://www.instagram.com/front.line.assembly.official/
https://www.metropolis-records.com/artist/front-line-assembly
---
Text and Interview by Simon Helm
Photos by Simon Helm except where credited
16th February 2019