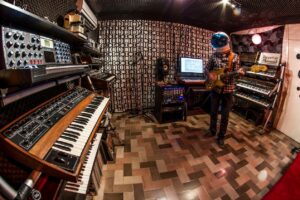 Shawn Ward is the DJ and producer behind FM ATTACK. The Vancouver native grew up enjoying New Wave synthpop with 'Space Age Love Song' by A FLOCK OF SEAGULLS being a particular favourite.
He released his first EP 'In The City'
under his own name on Tiga's Turbo Recordings in 2001 before, after over a dozen solo releases, creating FM ATTACK in 2009 to fashion much more dreamier electronic disco vibes.
With a dance style not too dissimilar to regular Tiga associate Jori Hulkkonen, the debut FM ATTACK album 'Dreamatic'
got a profile boost in 2011 when 'Drive'
actor Ryan Gosling mentioned the directing team were fans of the record during interviews promoting the now-influential cult movie.
2013's 'Déjà Vu'
moved into more song-based movie soundtrack and Italo territory, but the third FM ATTACK album 'Stellar'
in 2017 featured Texan combo MNYNMS and saw Ward's love of new-wave and post-punk truly entering the fore, alongside the neon aesthetic that was now known as Synthwave.
With a new album just released appropriately titled 'New World'
featuring the likes of MECHA MAIKO and VANDAL MOON on vocals alongside the more understated tones of Ward, he kindly spoke about his career to date as FM ATTACK and his upcoming live appearances in the British Isles this Autumn which include a London date with FUTURECOP!
What attracted you to produce music that had more of an atmospheric filmic vibe, rather than say full-on EDM?
My parents brought me up watching all the great 70s and 80s films and albums so that was definitely a big influence. My mom was more into new wave and my dad was a rocker.
What are the tools of your trade? Have your views on the hardware / software debate changed as you've progressed in your career?
I'm a vintage synth nerd, there is something very unique about programming your own sounds, the ones I use often are the Roland Jupiter 8, Jupiter 4 and the Emu Emax, I think software based synths can be great too, I've heard some great songs that are totally software based. Analog gear seems even more popular than ever now as people realize that you can really get "that" sound using the old gear and also they are a lot of fun!
How do you look back on your development from the first FM ATTACK album 'Dreamatic' in 2009 to 2017's 'Stellar' which featured the vocals of MNYNMS on two tracks?
'Dreamatic' is more on the disco side of things and even touches on some French house vibes. 'Stellar' I think is more of a listening album and journeys into some more indie / post-punk vibes.
'Magic' from 2013's 'Déjà vu' is considered to be your most popular track and is sung by Kristine, what was it inspired by and how did that come together in the studio?
I reached out to Kristine after I had done a remix for FLAMINGO DRIVE (SATIN JACKETS) with her on vocals. I originally sang on that song but thought her vocals would suit it much better, so I sent it to her with the lyrics. She sent me back her takes within a day and nailed it!
'Ultraviolet' from your most recent album 'New World' reflected a modern day take on Giorgio Moroder, is he a key influence?
I'm a big fan of Italo Disco so it came about pretty naturally. I've always been a Giorgio fan and also love Gino Soccio who did a lot of groundbreaking electronic disco tunes.
The subtle vocoder aesthetic which permeates through a number of FM ATTACK tracks is an interesting style, how do you decide when a track remains instrumental or needs a vocal whether natural or treated?
The vocoder gets used quite a bit of use in my studio. I like to use it for harmony vox to get dreamy textures or sometimes for funky main vocal lines.
Speaking of natural vocals, you collaborated with MECHA MAIKO on 'Stranger', what was she like to work with?
Hayley is a very talented artist. She knew exactly what to sing and came up with an amazing chorus when I sent her 'Stranger'. Everything just clicked on that song.
The 'New World' title track has an interesting twist with more of a gothic vibe, plus it features VANDAL MOON on vocals… it sounds like THE SISTERS OF MERCY gone synthwave! Please discuss *laughs*
Yes! Blake (Vandal) has an amazing voice and adds a huge vibe to this song. We recorded his vocals on the fly in my studio – The guy is brilliant.
And 'Believe' sounds like THE CURE gone Synthwave??
Again I can't say enough about Blake's talent. He has so much passion and vibe in his vocal delivery and he encapsulates so many epic darkwave influences. He also wrote the lyrics instantly and we recorded the takes right away.
You remixed 'Lifetime', a great track by KOISHII & HUSH voiced by Gillian Gilbert in 2016, how was it to work on a track featuring one of NEW ORDER?
This was a very exciting and fun remix and I just love Gillian's voice and always thought she sang amazing with THE OTHER TWO. It was pretty surreal when they announced the remix on New Order's webpage too!
Canada appears to be a hotbed of electronic talent in its various sub-genres and at all levels, what might be in the water at the moment in your opinion?
Haha. Yes it seems like a lot of great synth wave / synthpop artists are coming out of here nowadays. It's funny I think the same thing was said back in the 80s maybe? 🙂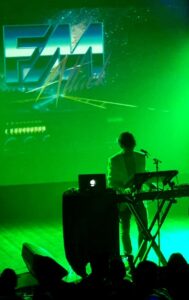 There is a not entirely unfair criticism about Synthwave in a live context, so how do you undertake the challenge of presenting your music engagingly to an audience in a club or concert hall?
It's never easy to perform live and deliver your show to an audience. Try to just let the music speak as I'm not a big stage performer and have very little stage presence.
You'll be coming to play in London and Dublin this October, how are you looking forward to your first gigs in The British Isles?
London and Dublin are epic cities so I feel very lucky to play shows in both! The people are quite passionate about the music there so I am quite excited!
What's next for you as FM ATTACK?
I am finishing off a remix for this great band from Vancouver called ACTORS. There is a new BETAMAXX album due for release in the Fall that I am working on also!
---
ELECTRICITYCLUB.CO.UK gives its warmest thanks to Shawn Ward
Special thanks to Stuart McLaren at Outland
'New World'
is released by Starfield Music in vinyl LP, cassette and digital formats direct from
https://fmattack.bandcamp.com/ along with all the back catalogue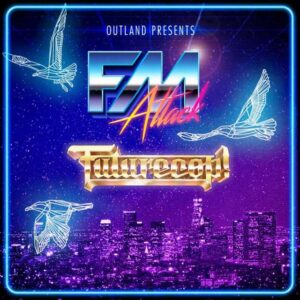 FM ATTACK plays London Electrowerkz on Thursday 24th October 2019 with FUTURECOP! – tickets available from https://www.wegottickets.com/event/479136
There will also be a performance at Dublin Whelan's on Monday 28th October 2019 – tickets available from http://www.whelanslive.com/index.php/fm-attack/
https://www.facebook.com/fmattackmusic/
https://www.instagram.com/fmattack/
---
Text and Interview by Chi Ming Lai
19th August 2019