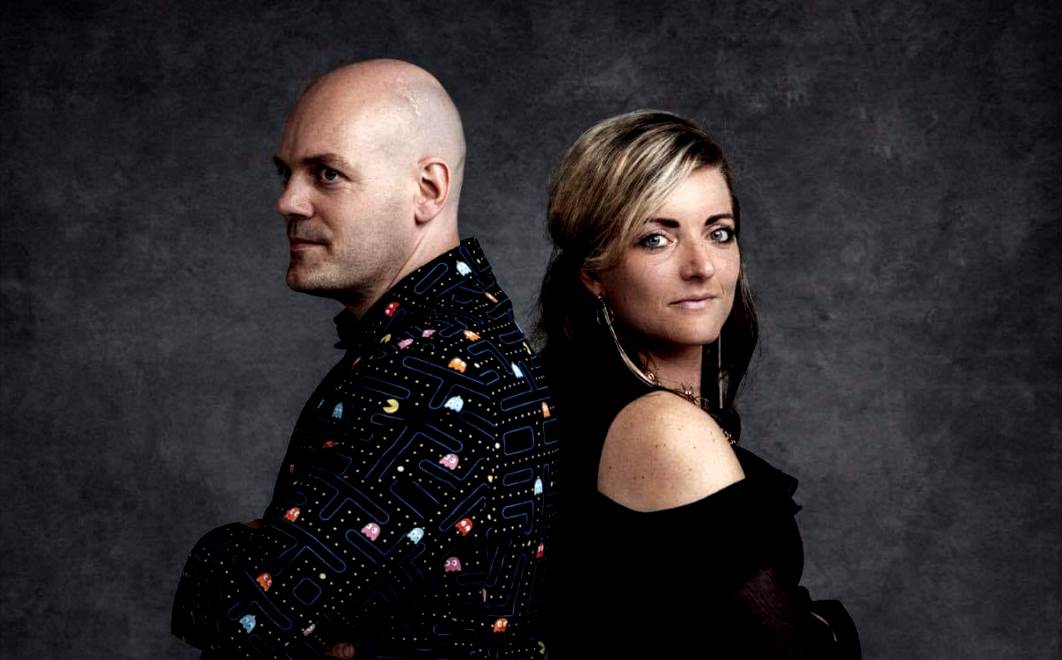 It often takes an album for an act to more fully realise their sound.
This has certainly been the case for SOFTWAVE with their debut 'Game On'
. With the influence of big voiced singers such as Celine Dion, Tina Turner, Madonna, Gwen Stefani and Avril Lavigne, the Danish couple add a twist to sub-ERASURE flavoured synthpop.
Laced in Nordic melancholy, SOFTWAVE have delivered a fine debut album with off-the-wall narratives contained within a classic melodic framework.
Since their debut EP 'Together Alone'
in 2016, Danish duo SOFTWAVE have been gaining momentum with well-received live performances and notable endorsements from former members of THE HUMAN LEAGUE Jo Callis and Ian Burden, as well as one-time Numan sideman Chris Payne.
From their studio in Herlev, Catrine Christensen and Jerry Olsen kindly talked about 'Game On' and what is turning out to be their busiest year to date…
How has the reception to 'Game On' been for you?
Catrine & Jerry:  It was a great success. We sold way more vinyls that we thought we would. We were warned by so many Danes about producing vinyls, but we did it anyway because it was our personal wish to have our debut album on that format. We received good feedback from several reviewers.
Looking back, how was making 'Game On' compared with your first EP 'Together Alone'?
Catrine & Jerry: It was more professional and serious with a strict deadline and a lot of collaborators. We constantly gain experience, so we completed tracks faster and the workflow was much better. When making the EP everything was new to us; the whole music scene, how you interact with people involved, is all something we are more familiar with today.
'No Need To Hide' has been cited by a number of people as one of the highlights from the album, what was that inspired by?
Catrine: This was the second song we worked on for the album. Lyrics wise, the song is inspired by my past time with a critically ill dad and how much I experienced from group therapy sessions. For me, it wasn't a taboo and I wasn't afraid to expose my feelings with others. Therefore I named the song 'No Need To Hide'.
Jerry: Music wise, I wasn't inspired by anything in particular; it was just a creative idea. If I were to name the title, as the shy guy I am, it would have been 'I Need To Hide' … *laughs*
ELECTRICITYCLUB.CO.UK understands 'Something Is Missing' is about your dog Nero?
Catrine: Haha… yes it is. I haven't said that directly in the lyrics, because it was important for other people without a dog-relationship to relate to it as well. But basically this song is dedicated to everybody who lost something or someone valuable in their lives.
"As a child all my dreams came true" – The life before my dad got ill, I was spoiled. Apart from games, movies and toys, I always wanted a dog so badly, so he gave one to me. After 15 years with a lovely time with my dog Nero, he passed away. Therefore I named the song 'Something Is Missing'.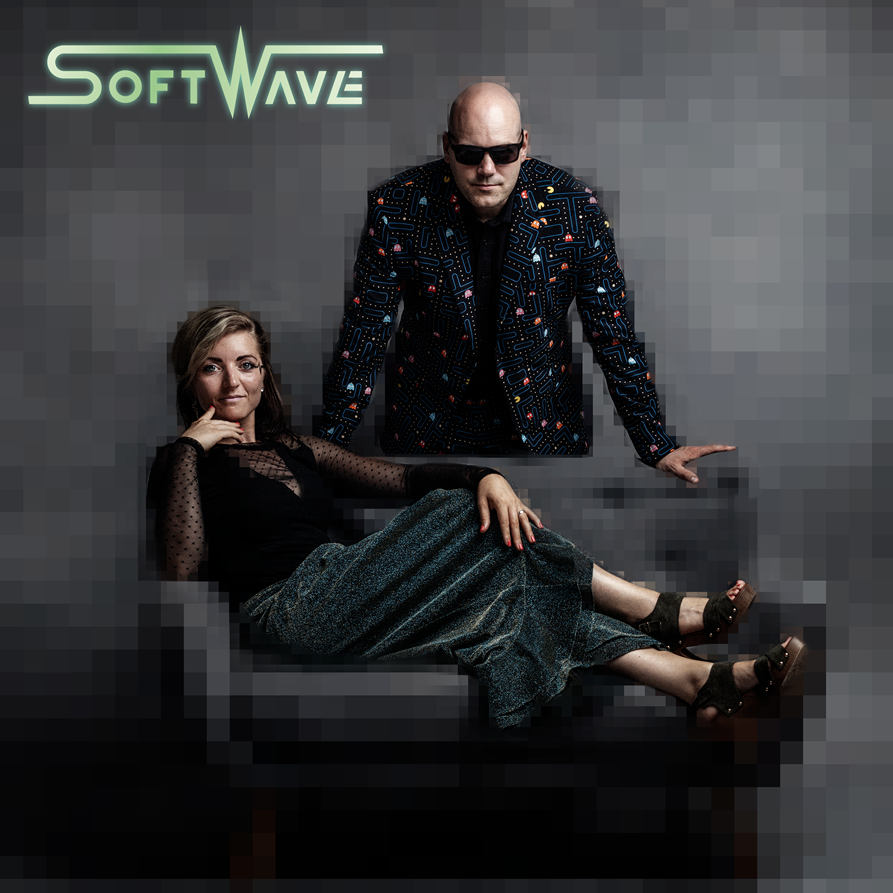 Was the dancefloor friendly 'Human Beings' an observation of modern society?
Catrine: Yes. In today's society, my experience is that only a few people have the time to study and analyze important subjects.
Some people only have the time to be superficial and then they forget about each other. That is a sad development when it doesn't demand much more from you than to give "one smile one hug, empathise and having fun – in giving we receive, we are human beings".
'Galaxy Of Stars' was quite an appropriate song to release in 2019, the 50th anniversary of the first moon landing, did you watch any of the many fascinating documentaries about it? Would you like to travel in space?
Catrine: We haven't seen any recent documentaries about it. In fact we didn't realise it was the 50th anniversary when we wrote the song, so we can label it as a happy accident.
Jerry: I love science fiction, so travelling in the great unknown would indeed be exiting. I wouldn't rely on a metal tube with fire in the bottom to travel to other galaxies, but if some friendly ETs came by and offered me a ride in their shiny UFO, I would definitely go for it.
If Celine Dion fronted ERASURE, it would probably sound like SOFTWAVE, please discuss… 😉
Catrine: I would love someone to introduce us like that someday. As the humble person I am, I wouldn't say that I have a voice like Celine Dion. But Jerry definitely has the talent of a young Vince Clarke 😉
Jerry: An interesting theory. Maybe someone should propose the two of them to collaborate. Then we can discuss if it sounds SOFTWAVE-ish.
Speaking of ERASURE, you covered 'Siren Song' live with a choir as part of the promotion for 'Game On', how was the experience and why did you choose that song in particular?
Catrine & Jerry: The song wasn't really chosen by us, but by ELEKTROKOR (Electrochoir). For a long time, we had a request from a huge fan for us to make an ERASURE cover song. After discovering ELEKTROKOR by a coincidence via Facebook, we saw an opportunity to meet our fan's request.
ELEKTROKOR has a huge talent and passion covering songs by DEPECHE MODE, YAZOO and ERASURE, which was a perfect match. It's not often you get an opportunity like that in little Denmark. There was no doubt that we should collaborate. The idea was for guest them at their concert in a church. Afterwards we thought it was a perfect fit for them to join our release concert, which was welcomed by most of the audiences and the reviewer Teddy Bjørklund. Next time we do an ERASURE cover, we will choose the song ourselves.
Which tracks have been your own favourites from 'Game On' and why?
Jerry: My personal favourites are: 'Something is Missing' because I felt it had something to it from the very beginning and it's quite catchy as well. Also 'Galaxy of Stars' because it's very ERASURE like in its sound and 'I Need Love' is upbeat and in my own opinion, I think it has a YAZOO feeling to it.
Catrine: 'Galaxy of Stars' was my first challenge singing in a downbeat tempo and maintain the joy in my voice while singing. It was a lovely song to work with. I actually loved everything about it. It was written without struggling at all, the lyrics came easily to me. I really dreamed myself into the 'Galaxy of Stars'. Even the vocal recordings were lovely. Normally I prefer to sing live, because singing in a box feels unnatural to me. I had the same experience with 'Guardian Angel'. Music wise and in general, I like how much 'Human Beings' and 'Curiosity' differ from the other tracks. My favourite live performance track would be 'No Need To Hide'.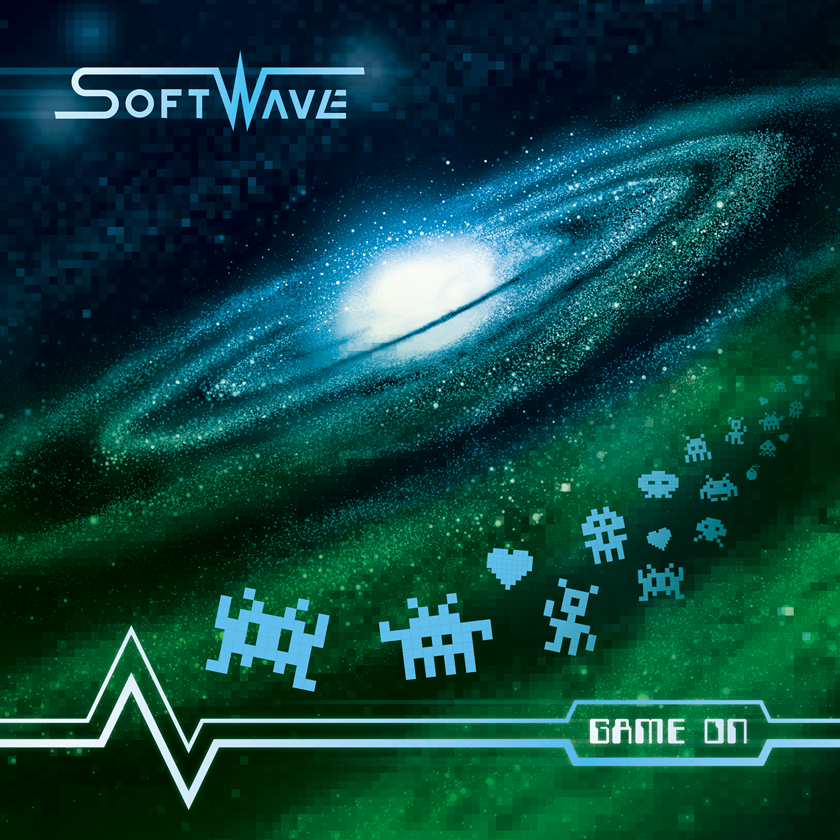 Remixes can be a bit hit and miss but Jerry's Alternate Version of 'On & On & On' was an improvement on the original, have you any more planned for release?
Catrine & Jerry: Thank you, we feel so too 🙂
We are planning a new remix release of 'Game On' (release date TBA soon). As something new, there has been a surprisingly great interest from talented producers this time. So we don't feel the need to do a remix by ourselves and besides, we're busy producing new original SOFTWAVE tracks.
One of the producers we're very proud to have on the compilation is ex-HUMAN LEAGUE member Ian Burden who we were lucky to meet last year in addition to our tour in London, thanks to a good friend who invited us to Ian's solo album release in Soho.
An extended version of 'Something is Missing' will be released by the well known German label ZYX Music on 'New Generation 15' released September 6th and 'I Need Love' by Conzoom Records on 'Electropop.15' released September 13th.
You are performing at the 'Pop+Synth Festival' in Copenhagen in November, along with JOHAN BAECKSTRÖM, TRAIN TO SPAIN and OCTOLAB… this might actually be the first event of its kind in Denmark if ELECTRICITYCLUB.CO.UK is not mistaken?
Catrine: Well. In Denmark the synthpop scene isn't that big, actually non-existent. But in Sweden, the scene is bigger and therefore I decided to increase the attention to the genre by inviting a bunch of Swedish synthpop bands to my debut synth event 'Pop+ Synth Festival' along with other international bands.
I have also succeeded with some great collaborations and tickets are already selling fast. Some wrote "This might be the synth-event of the year" and "Great initiative!". My concept is to support the artists, because as an artist, I know how much work we put into gigs etc. No one deserves to perform for free. And when I experience a lot of Swedish bands (whom I have never heard of) contacting me to get a spot on my line up – it touches me deeply. I feel I'm doing a good thing here. "Something is Missing" in Denmark – and I hope I can make a difference. Even though the scene isn't big, I know there's a synthpop and Italo audience out there.
Classical composer Maurice Ravel said: "Whatever sauce you put around the melody is a matter of taste. What is important is the melodic line", any thoughts?
Jerry: I totally agree. Without it there's nothing.
Catrine: The melody relates to so many feelings and can be part of a memory from your life. Even though I'm not a producer, I guess it's easier to produce a great beat than a great melody. Therefore SOFTWAVE tries to combine melodies from both vocals and music.
So how will SOFTWAVE's synthpop heart will go on?
Catrine: Always by striving for improvement, never to give up and to reach new listeners with our music.
---
ELECTRICITYCLUB.CO.UK gives its warmest thanks to SOFTWAVE
'Game On'
is released by Gateway Music in vinyl LP and download formats, available from https://gatewaymusic.dk/kunstner/26025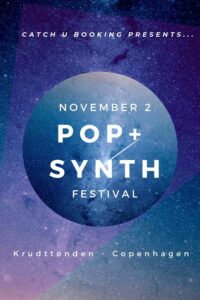 SOFTWAVE play the 'Pop+Synth Festival' at Krudttønden in Copenhagen on Saturday 2nd November 2019, also performing are JOHAN BAECKSTRÖM, TRAIN TO SPAIN + OCTOLAB with more acts to be announced, tickets available from https://billetto.dk/e/pop-synth-festival-billetter-365508
https://www.facebook.com/SoftWaveMusic/
https://twitter.com/SoftWaveMusic
https://www.instagram.com/softwave_music/
https://softwave.bandcamp.com/
---
Text and Interview by Chi Ming Lai
17th August 2019