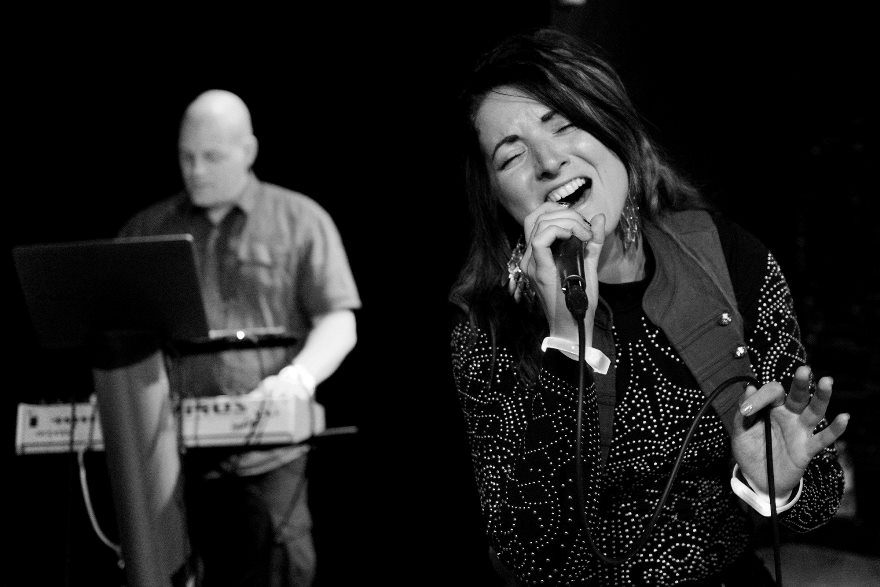 Danish duo SOFTWAVE impressed on their debut London live performance in 2017.
Featuring engaging lead singer Catrine Christensen and technical wizard Jerry Olsen, their first EP 'Together Alone' was a six track collection of appealing Nordic synthpop.
A remixed version of the EP, naturally titled 'Together Alone – The Remixes' actually managed to improve several of the numbers, particularly with Jerry's Alternate Version of the catchy 'On & On & On'. Catrine and Jerry took time out for a lengthy chat.
Which artists have inspired SOFTWAVE, whether synthy or not?
Catrine: Before knowing about ERASURE and the existence of electronic music at all, the female vocalists who inspired me the most was Celine Dion, Tina Turner, Madonna, Gwen Stefani and Avril Lavigne. You might think that's quit an unusual mix, and it is. I have always liked listening to different kind of music to discover new artists and new sounds. I got to know about Celine Dion, after seeing the world premiere of 'Titanic' in 1997. 'My Heart Will Go On' is therefore my favourite of hers, and yes, I have been singing it A LOT since 😉
Tina Turner inspired me because I saw the movie 'What's Love Got To Do With It', an authentic movie about her tough life experiences. I was amazed about her strong attitude and not to forget her deep and extremely powerful vocal.
Madonna's catchy melodies, vocal, simple sing able lyrics and music videos inspired me and Gwen Stefani, because of her beautiful innocent look and nice female vocal. Avril Lavigne was a skategirl and at that time I was one too, so the song that inspired me the most when I was 14, was 'Sk8boy'! But after meeting Jerry in 2007 at Culture Box, a famous Danish electronic club, I discovered electronic music. I was overwhelmed by Jerry's huge interest in it and the unique sounds he produced himself and never heard by no one else but him and his closest friends.
Jerry: For me, my inspiration is all synthy. DEPECHE MODE, SOFT CELL, YAZOO and various artists from the 80s and especially ERASURE as they are my favourite band. It's not like we try to sound like any of them, we are very focused on not getting too cheesy. We want to sound like us, but with elements from mentioned acts.
Catrine: Jerry was the one who told me about ERASURE for the first time in my life. I remember seeing a live video where Andy Bell was jumping around on stage in silly clothes, fearless and expressing the songs to the audience in a fascinating lovely way. I loved him right away, his performances made me happy. I had never seen anything like it before. At that particular moment, I got motivated to sing on stage immediately. To give away positive energy, that's the purpose of my life. And being a singer is the best way to do it.
Today I'm pretty much inspired by the 80s sound and think it's important to produce songs with great music, lyrics and vocals, so not just having vocals up front and the music just left in background with a sound of a simple beat.
No, I love the music from the 80s because it reminds me of my lovely childhood when my big brother still lived home, he was born in 1978 and always listened to 80s music. Besides ERASURE, I'm also inspired by EURYTHMICS, YAZOO, KAVINSKY, CODE 64, EMPATHY TEST, NINA (and her amazing drummer Laura) and Danish artists like MATHILDE FALCH, SØS FENGER and NEPHEW.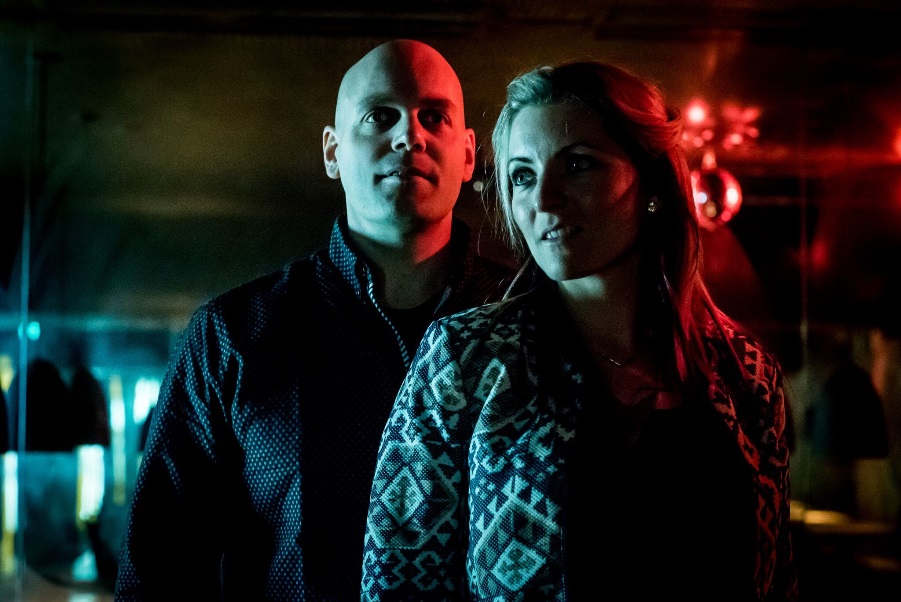 What is the usual creative dynamic with SOFTWAVE?
Catrine: New ideas and deadlines with exciting goals make us creative. Jerry usually produces a demo, consisting of a beat or chords, for me to listen to. If Jerry's idea inspires me, I will automatically come up with great vocal melodies. If Jerry likes my idea, we stick to the track and continue working on it until it's finished.
Jerry: When we started out, it was basically me creating an almost finished track but now we start with just chords, a simple beat and Catrine's final vocal melody before we move on and make it an actual track. That seems to work a lot better.
Catrine: Usually it takes a long time for us to finish, but we don't want to hurry up finishing the tracks we produce and then end up with a lot tracks, but crap. NO, we want to develop our skills during the progress and learn from our mistakes so that we can improve the productions. Also feedback from the audience encourages our creativity, so no one should ever hesitate telling us their real opinion.
How do you look back on the 'Together Alone' EP?
Jerry: I'm both proud and embarrassed at the same time. Proud, because it was our first ever musical project and because neither of us have any education or anything regarding music composition or production. Embarrassed, because when you compare our music to so many others, I can hear that there is room for improvement all across the board. And as me being my own worst critic, it's easy to feel that it's not good enough at all.
Catrine: It was tough completing it since the EP was our first release ever. It took us about two years. We established SOFTWAVE back in 2014 and at that particular moment, we decided to build a soundproof studio (Blue Orange Studio) to be able to produce good quality music and great clean vocal recordings. The debut EP was kind of a test. Actually, we didn't think people would like it, we just had to follow our common dream to see what happened or else we might not ever get the opportunity again.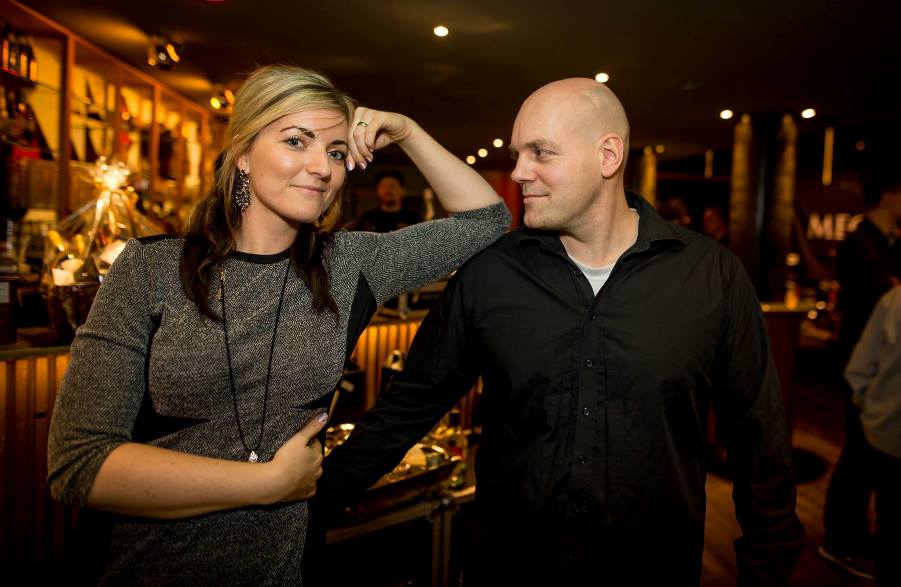 What was the thinking behind the remix version of 'Together Alone'? Was it about improvement or reinterpretation?
Jerry: The initial thought was reinterpretation, we thought it would be fun to hear other artists' versions of our tracks. We hoped for just one or two remixes but got contacted by several artists who wanted to work with us and that was really a pleasant surprise for us. It ended up being an improvement for our tracks as well as an interpretation.
Catrine: The remix compilation is the result of the popularity of the 'Together Alone' EP outside of Denmark. Support from around the world helped us to reach our audience in a way we could never have done by ourselves. The thinking behind the remixes was to give other great producers the opportunity to ad their sound and creativity to our tracks, help them to be spotted and hopefully inspire us and others.
It felt naturally to do a remix version after the EP since we don't have a huge repertoire and are new to how things worked in the music industry. To hear other producers' versions of our music was very exciting because they came from Denmark, Sweden, Russia, Israel, USA and Mexico. They added a lot of different sounds and we pretty much got inspired by them, they did a great job.
But actually the originally plan was only to produce about 3 remixes in total which turned out to be 9, we were surprised how many who showed their interest. Patrik Kambo was the first one to produce a remix for 'On & On & On' – we were asked by Ingo Möller from Conzoom Records to make an extended version of our own songs and sent it to him to be part of the 'Electropop' compilation series. It never happened, so we decided to do a remix compilation. Also, don't forget Jerry's alternate version of 'On & On & On' which we think is better than the original.
Things appear to have gone up a level for SOFTWAVE since the 'On & On & On' remix video and your London debut?
Catrine: Yes it did, I guess everything was perfect timing even though the release of the music video and remix EP was delayed.
Jerry: It has and it's funny because lately we haven't released any new music, it's just people who still seem to discover our EP and Remix EP. It's kind of like a freight train, slow start but when it's up to speed, it's difficult to stop again and just rolls on by itself. So apart from a couple of live gigs in Denmark, it's mostly due to Catrine's excellent PR skills that we are getting the attention we get.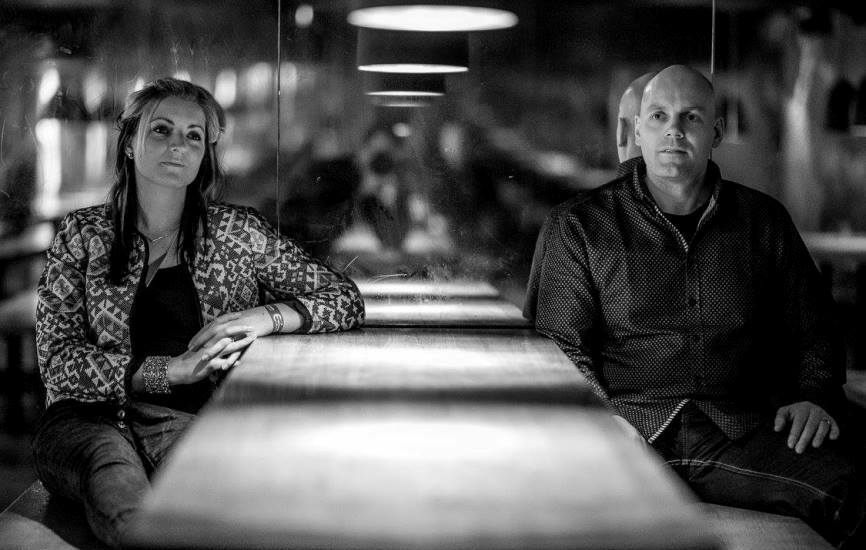 The new found attention has exposed you to the good and bad sides of the music business; what do you think you have learnt over the last 12 months?
Catrine: That it's very important to be a good team and get in contact with the right people. A good team meaning, be able to work creatively and constructive together, no matter ups and downs in the process of building up a band. I could never had done this alone, or Jerry either.
It has been a very tough adventure for me so far as Jerry controls the music part and I, everything else to make our dream come true. It's not a secret that I'm a fighter and if I meet a conflict such as people that don't find our music or story interesting enough for their projects, I just find another way around. The truth is, that there always is another way as long as you don't quit fighting and believe in yourself and your dreams to come true. The moment you don't believe it will happen it won't.
So I do my best not to get to much influenced by what other people think of our band and just keep trying to be even better. The last 12 months I have learnt that deadlines are hard to comply, that's why I love to write down schedules all the time. I have plenty of to-do and who to contact lists. Thank God, or else I couldn't manage all this traffic that is going on when I administer the band.
I have also learnt that it is very expensive to have a band, especially if you want to move forward and reach a bigger audience. In the beginning I didn't care because we needed this so badly and had to move fast. When I look back, I see that a lot that was spent was never returned to us as a huge amount on our bank accounts as we wished for. BUT I also see that every day, our band gets more attention worldwide, more views, followers, listeners, promoters etc. and everything happens because of our great network and supporters who seems to like our music pretty much. I believe in SOFTWAVE and I feel a bright future is near!
Jerry: So far, we have almost only been exposed to the good part of the music business, we are very fortunate to have met so many great people. Everybody around us has been very kind to us, and that's both here at home and in London. So I would say that I have learned how things are supposed to be like when it's "right". If something deviates totally from how things are now, there's probably something wrong. People who enter the music business and start off by knowing the bad guys think "Oh so that's just how it's supposed to be like".
I can't imagine we will ever find ourselves in that place as we are not dependant on some sh*tty mainstream label to exploit us as we make our own money through our jobs. We do this first and foremost because we love music, not for the money. It's very hard this way but we are our own masters, so to speak.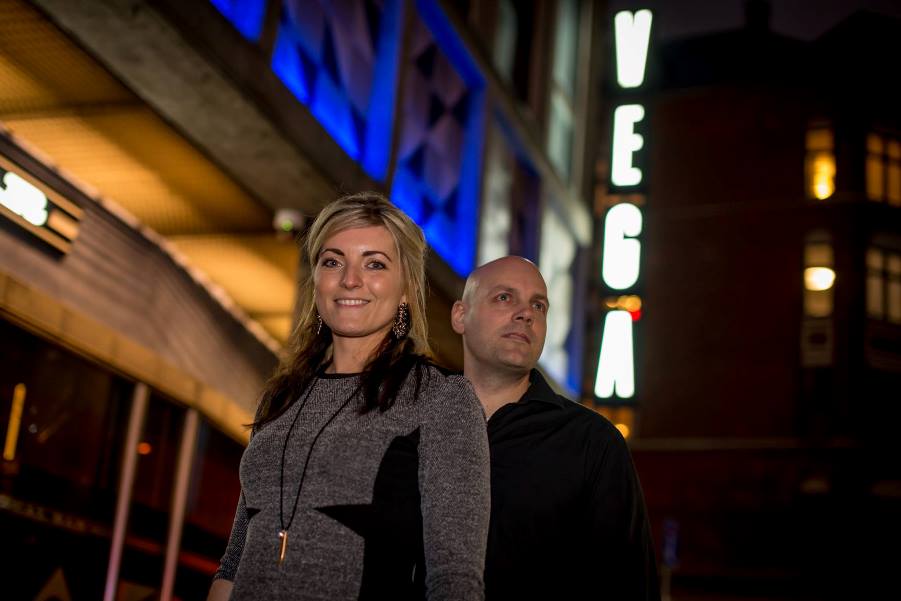 Is there any advice you would give to acts starting out?
Catrine: Everything is possible if you believe in yourself and what you stand for, so please show it to the world and the world will give you back – Be patient, success takes time!
Don't work on a project all alone. Be kind to the people you meet and they might be kind to you as well. There will also be a good chance of being remembered. Why be bad when you can be good?!
Jerry: Be aware that the DIY method and having a full-time job at the same time while making progress in the music business can have a really big impact on your private life. It gets frustrating at times when you don't have enough spare time…
Remember in these times where getting a record label deal is rare and you have to do it all yourselves, it's not only making music but also PR, keeping in touch with other artists and business contacts, it's merchandise and live performances, so I suggest outsourcing as much work as possible to either friends, family or even hired hands. When we started out, I thought I would just be sitting making music and even though Catrine does the most work regarding PR etc, I can't just sit in my studio chair and only do that.
Whereas in the Nordic region, Sweden, Norway and Finland have had their electronic acts make an impact around the world, Denmark appears to not have as much of a tradition, why do you think that might be?
Catrine: Sadly you're right about that. Denmark is not into electronic music. For many years, it has been underground music, and not welcome anywhere else. Also the artists didn't have the need to be mainstream and it felt great not to be famous. BUT in 2016 something happened… a lot of small independent companies run by volunteers wanted electronic music, plus all its sub-genres, to be known by the Danes and to make seriously changes.
I started as a volunteer this summer at STRØM, which supports everything within the electronic music scene in Denmark. They just published a "Study of electronic music in Denmark 2017" in collaboration with the famous Danish Festival, Roskilde. The study had an article in the famous Danish music magazine, 'Musikeren' in September by Dansk Musiker Forbund (DMF). I believe in their course and am working on something with STRØM right now…
Jerry: That's a tough question. Maybe it's the famous Danish Jantelov (Law of Jante) that says "You are not to think you're anyone special or that you're better than us" – sadly it's very embedded in the Danish society and way of thinking. It could be the influence of hip hop music, which for some reason is extremely popular in Denmark. And if you do something that's not popular or what others do, then the law of Jante kicks you in the face. Anyway, the scene for alternative electronic music is really small in Denmark and I don't think it's going to change any time soon.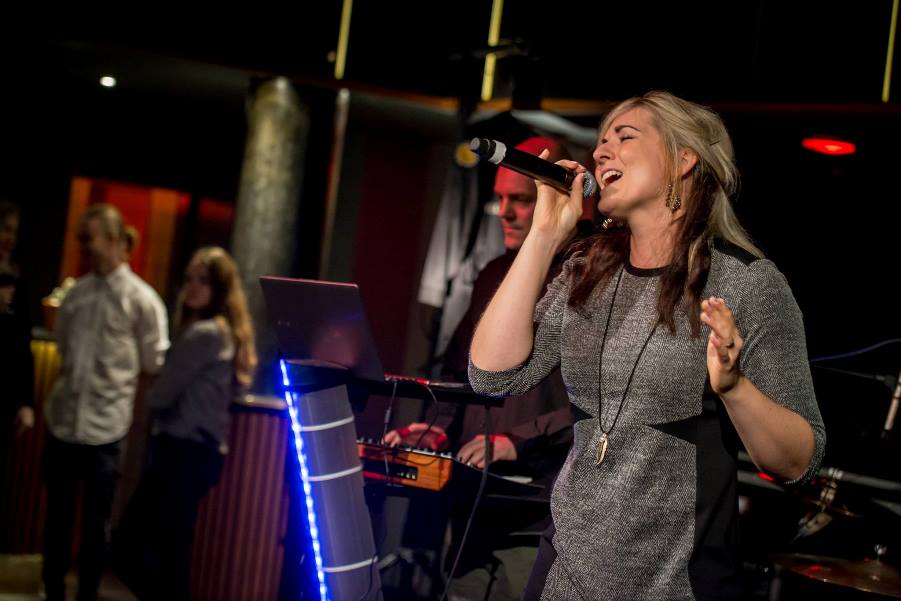 Do you feel any connection with your Swedish neighbours TRAIN TO SPAIN who explore some similar synthpop terrain to SOFTWAVE?
Jerry: No actually we don't. In fact I think there is a big difference between Danes and Swedes, tragically enough we don't even understand each other when we speak our native languages, even though they are pretty similar and we are neighbours. I feel a stronger connection with the English people and music. We had such a great time in London and made a lot of new friends there.
Catrine: Not before you told me that you thought we had. I always thought they seemed interesting, and listened to their music. In my opinion TRAIN TO SPAIN is TRAIN TO SPAIN and SOFTWAVE is SOFTWAVE, we are two different bands with different history. But I don't know them in person. Hopefully I will get the chance to meet them one day.
How is the new material coming along and what type of release are you planning? Does the album format still have any relevance anymore in today's market?
Catrine: Our upcoming music productions are something special. Since the EP, we can truly hear improvements in that our skills actually have developed.
Jerry's sound and my vocal, melody ideas and live performance have all been improved since the beginning. This is our first time to try comparing an old release with a new one and it is very exciting, especially because we both feel the improvements. The new sound can be described as Danish synthpop influenced by the 80s, but with a touch of the sound from the modern trance genre to make our music more danceable.
Jerry: It's coming along, slow but it's shaping up. As I've mentioned, it's hard with both of us having fulltime jobs and other stuff besides the music and so we are a bit slow… personally I want an album release because I'm old school I guess. People are telling us that we should release single tracks only, because that's just how it's done in today's world of music, but I feel that something is missing when doing so.
An album is like a story with smaller parts that connects and become that greater story. It's small parts and emotions from your life that fits together, some being uptempo and energetic, some being slow and some sad etc. As an artist, you put them together in the right order for the listener to enjoy in its full glory. Hopefully it'll be something people can connect to and remember.
I'm not a fan of single tracks being spewed out all over YouTube and then forgotten the next week, I view that as musical junk food.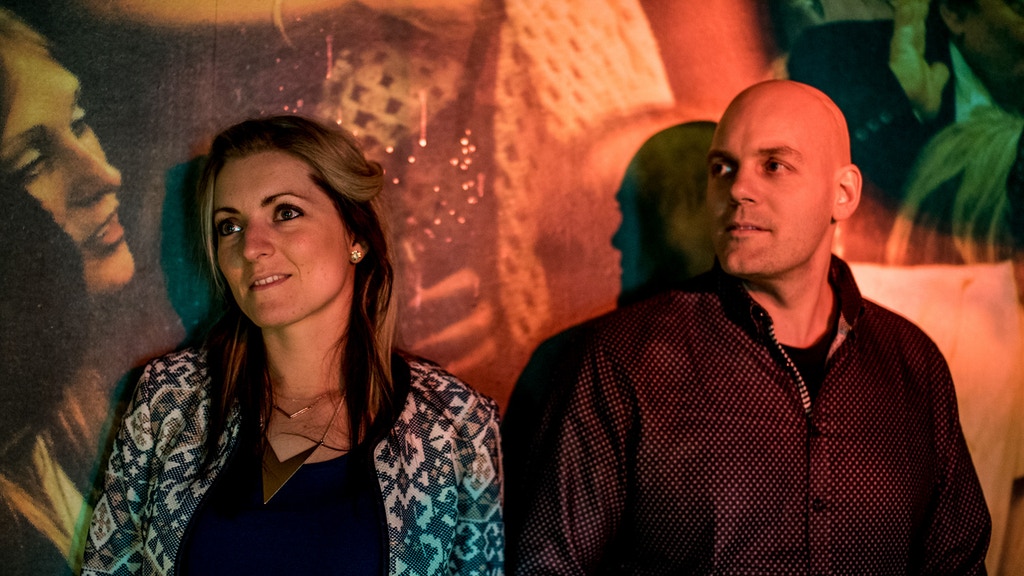 What have you planned for your return to London?
Jerry: Apart from new tracks I can't say anything about that 🙂
Catrine: First of all, meeting all the great people we have got to know from this synth family from the UK.. people are always so friendly and as I said, I feel they are like a new family. This community really is something special for both of us. We hope to meet a lot of new people and maybe make some musical activities during our stay. Last time, we only stayed in London for 3 days. This time we are planning to stay for a little longer. Let's see what happens…
Synth Wave Live 2 is going to be part of our first European tour, which means something. Therefore we are planning to bring with us a lot of surprises.
Friends, new music from the upcoming album AND our first cover, which will be a song by ERASURE; it is actually possible for people to choose which one if they pledge on the ERASURE cover reward.
For more details, you will have to wait a little bit longer. God I'm excited about everything. So many great things are coming up thanks to all the people who believe in us. We are so thankful and look forward to show the audience how much we have developed since April 2017.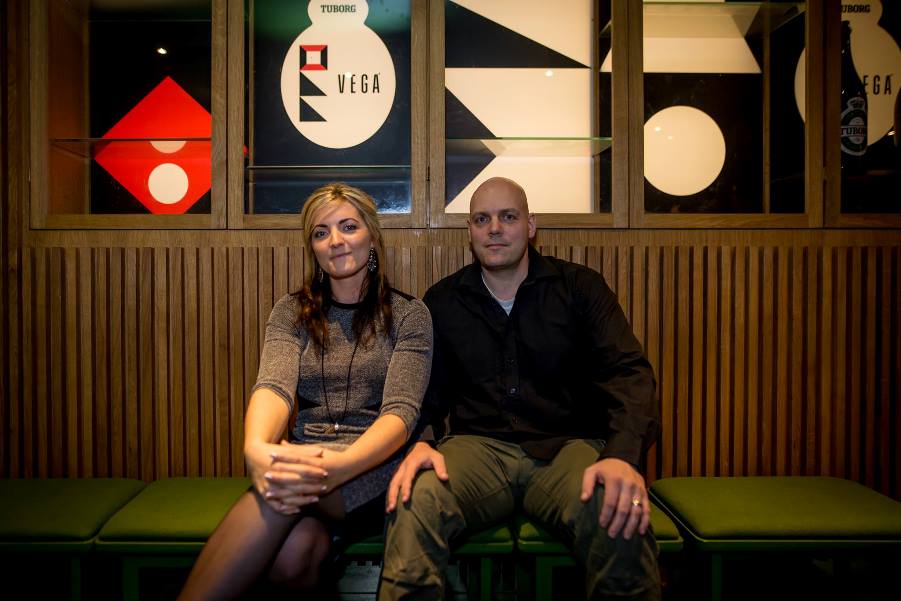 What are your hopes and fears for SOFTWAVE?
Jerry: My hope is that we will at some point be able to ditch our jobs and make music full-time, I'm not desiring luxury and stardom I just want live by making the music I so much like. I think my fear is that we don't evolve in to something greater and better.
Catrine: Hopes – That we will raise enough money from the Kickstarter Project to afford the things that are needed to produce new music. That will give even more hope for our future and indeed motivate us to work even harder. Also I hope to be signed by a label, so we can concentrate to produce more music and don't have to do everything by ourselves. Still I like to be in charge and to have the overview and main contacts. Until now it worked just fine, but there is more work now than ever for me alone to administer… simply I don't have got the time to manage, days are too short, so a manager could be nice.
Fears – That the Kickstarter Project is unsuccessful, that we can't continue to afford SOFTWAVE's future, and run out of creativity and energy to manage the band over time. There are so many tasks to be done every single day when you're working with DIY-methods and trying hard to reach higher goals like we do – SOFTWAVE has become a very important part of my life and I don't think I can live without it.
It's like a child to me, my precious child whom I'm raising and look after since I love to follow its progress. SOFTWAVE keeps me creative, happy and sometimes exhausted, but I love everything that comes with it, especially the enormous music network and fantastic fans we have been given. All these things is something we have achieved by fighting for the thing we love, for that I'm so thankful and wish for others to follow their dreams as well.
---
ELECTRICITYCLUB.CO.UK gives its warmest thanks to SOFTWAVE
'Together Alone' and 'Together Alone – The Remixes' are available from https://softwave.bandcamp.com/
2018 live dates include: Odense Musikbibliotek (2nd February), Copenhagen Lygten (3rd February), W-Festival Opening Party (15th August)
https://www.facebook.com/SoftWaveMusic/
https://twitter.com/SoftWaveMusic
https://www.instagram.com/softwave_music/
---
Text and Interview by Chi Ming Lai
25th November 2017, updated 20th April 2018