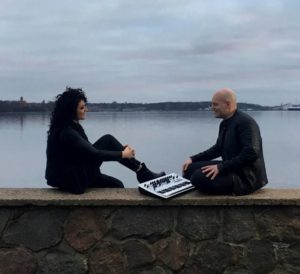 Impressing recently at Synth Wave Live with a very engaging performance were Danish duo SOFTWAVE.
The Herlev couple of singer Catrine Christensen and music producer Jerry Olsen released their first EP 'Together Alone'
in Summer 2016.
A six track collection of appealing Nordic synthpop, it includes their debut single 'Follow You' and the solid live favourite 'Awake But Still Asleep'. With debut releases often being like dress rehearsals in public, SOFTWAVE have learnt very quickly.
A few months on, they have actually managed to improve on the EP's best number 'On & On & On' with a throbbing alternate reworking by Olsen for a remix version of the EP. As the video illustrates, it is a hope filled electronic tune with the positivity mantra: "In a world of circles, she goes on and on and on…"
'Together Alone – The Remixes'
features five of the original EP's tracks over nine remixes and while these vary in accomplishment, 'The Light Behind My Eyes' in particular benefits from a remix courtesy of David Burdick which adds a chirpier paced Europop groove.
Like their Scandinavian neighbours TRAIN TO SPAIN who they could be most compared to, SOFTWAVE are greatly inspired by the sequenced superpop of Vince Clarke. Their optimistic outlook is to "make sense of today's relationships, while exhibiting strength and patience when it comes to fighting for it and the one you love".
As well as working on their debut album, SOFTWAVE will be featuring on 'Electropop.12' released by Conzoom Records and are planning to open for some bigger artists.
SOFTWAVE's promising synth laden sound is another sign that in some parts of the music world, it's like acid house never happened and for this, ELECTRICITYCLUB.CO.UK is extremely grateful 😉
---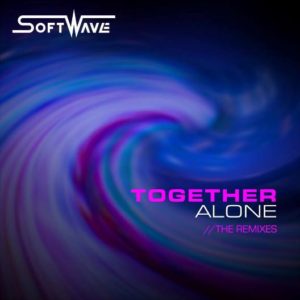 'Together Alone'
and 'Together Alone – The Remixes'
are available as download EPs from https://softwave.bandcamp.com/
SOFTWAVE play the Drop Inn in Copenhagen on 29th June 2017
https://www.facebook.com/SoftWaveMusic/
https://twitter.com/SoftWaveMusic
https://www.instagram.com/softwave_music/
---
Text by Chi Ming Lai
12th May 2017, updated 24th September 2017