For the launch of his first solo album 'Hey Hey Ho Hum', Ian Burden held a Q&A in the centre of London to chat about his past, present and future.
A member of THE HUMAN LEAGUE during their imperial pop years between 1981-1986, Burden was joined by his former colleague Jo Callis to answer questions put to them by music journalist David Sinclair from The Times.

To begin the evening, there was a playback of 'Hey Hey Ho Hum' accompanied by some specially filmed psychedelic visuals as part of Burden's ongoing interest for music and fine arts to engage with each other. A seamless of collection of ten songs written, played, programmed, produced and mixed by Burden himself, the album reflects his love of prog and PINK FLOYD in particular, something which perhaps was not so apparent while he was in THE HUMAN LEAGUE.
Talking about his thirty year absence from the music business living out in the English countryside, Burden mentioned how he only got a Spotify account a few weeks before and that the album began when he rescued some vintage synthesizers from his attic. "I thought somebody might have some sort of use for them" he said, "so I thought I'd better check out whether they worked. They were mostly modular synths so you have connect a keyboard and route them through some software, so I just started writing up some parts".
These riffs and chord sequences developed into an album. 'Hey Hey Ho Hum' also features Burden on lead vocals; "I had to get the ideas down" the bassist told everyone, "no-one has come along and said it's terrible…YET!"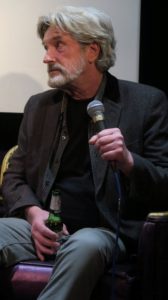 With a cosmopolitan background having been born in Cyprus and spending a part of his childhood in West Germany, Burden became fascinated with the piano at school in Cambridge before listening to DAVID BOWIE, CAN and PINK FLOYD.
The latter's extraordinary sound template on the 'Meddle' album was to become a favourite but he could identify a thread running through his tastes. "If PINK FLOYD was prog rock" he declared, "then I would have said Bowie was as well!"
Asked about more recent influences, for Burden there was none: "I haven't listened to a lot of music, I kind of switched off a bit during the 1990s, I wasn't hearing stuff that interested me apart from MASSIVE ATTACK and THE PRODIGY".
Naturally, THE HUMAN LEAGUE became the next topic of discussion; Ian Burden and Jo Callis between them co-wrote some of the band's biggest hits including 'The Sound Of The Crowd', 'Love Action', 'Open Your Heart' and 'Don't You Want Me?', but they rarely wrote together except on 'Mirror Man'… or did they? "No, Jo put the music together" clarified Burden, "he kept playing these chords in soundcheck"
The song even had a different title then, 'I Can't Get To Sleep At Night', "but that was just to get some lyrics on it as we did it live before recording it" added Callis, "everyone would come up with bits of ideas and someone else would have another part to add to it. You'd have a bit of music and Phil would have some words that fitted, it happened quite organically like that… it was competing and collaborating for the good of the whole… Phil did a song called 'You Remind Me Of Gold' which he wrote and programmed up, I thought it was one of the best ever songs by THE HUMAN LEAGUE, absolutely brilliant!"
On the 'Dare' album favourite 'Seconds', Callis remembered "it actually came out of a synthesizer jam!" but with regards leaving THE REZILLOS to join THE HUMAN LEAGUE, it was a case of "leaving one set of mad bastards for another! I just fancied a change from playing the guitar…"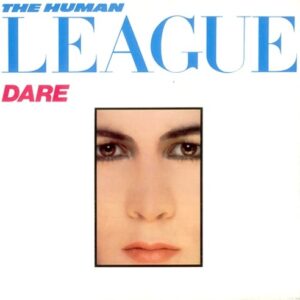 With a vocals and synthesizers only policy, THE HUMAN LEAGUE's 'Dare' was to become of a classic album loved by pop fans and electronic enthusiasts alike.
"The policy existed already from when Martyn Ware and Ian Marsh were in the original band" recalled Burden, although for the corresponding tour, Roland supplied one of the first bass guitar synths for him to use; "I had to keep resetting everything in between songs and in those days, you couldn't store any sounds, so Roland gave me this analogue synthesizer controlled by a guitar instead of a keyboard which had foot switches on it, so you could quickly change from one sound to another".
"Phil Oakey had a vision" said Callis, "but it was good to push at those goal posts as me and Ian were the only players in the band if you like, so we came at things from a slightly different angle".
"It was interesting to have real restrictions because it doesn't make sense on paper", Burden added although the irony was "you're a synthesizer band and you need help, so you get two guitarists! But what I learnt from Philip and Adrian Wright was because they hadn't spent years learning to play an instrument, they would play with one finger and that meant they came up with things that I never have thought of…"
Central to the success of 'Dare' was producer Martin Rushent; "he understood what sort of sound it was any of us were trying to achieve and improve upon it" Burden recollected, "He really disciplined me and Jo with our playing because the rhythms were generated by computers, so you had to be much more accurate".
Of 'Hysteria', the ploddy follow-up to 'Dare', Callis concluded "because 'Dare' was such an unexpected success, there was all that pressure to follow and that put a lot of stress on people. I just got really frustrated with how long it was taking, the changing of producers and the lack of direction. It needed a kind of boldness".
In response, Burden considered the departure of Martin Rushent during the earlier part of the sessions was the main contributory factor: "It didn't flow… Martin kept the momentum going because he managed the recording sessions and if something sparked a bit of debate, he would put that song away and get out one of the others".
'Louise', one of the few highlights from 'Hysteria', proved to be troublesome with six sounds being considered for Callis' chord parts; "so when you got six people with an opinion on which one is best…" pointed out Burden, "the producers Hugh Pagham and Chris Thomas didn't know how to deal with us".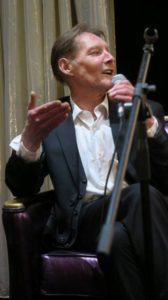 "We started out with Martin before everyone kind of fell out" confirmed Callis, "with the benefit of hindsight, we'd put out the two singles and had an export mini-album called 'Fascination!' with six tunes on it including 'I Love You Too Much' all produced by Martin. If only we could have kept it all together and done another three or four songs, it would have done a lot better than 'Hysteria' because it had two hits on it anyway and come out with a year of 'Dare' rather than three! The longer you leave it when you're on gaps between albums, the better people think it's going to be, they have great expectations of it, but what you don't realise is you've disappeared up your own ar*e!"
Things indeed had been promising with Burden sampling two bars of himself playing bass guitar for '(Keep Feeling) Fascination', although Rushent left the recording before the song could be mixed.
Callis departed THE HUMAN LEAGUE after the lukewarm reaction to 'Hysteria', but Burden remained for 'Crash'. After sessions with Colin Thurston were aborted, the band were despatched by Virgin Records to Minneapolis to record the album with Jimmy Jam and Terry Lewis.
It's a period that Burden does not have good memories of: "I spent a lot of time playing table tennis, I didn't play anything although I did bits of vocals… it wasn't for me. There was a point when I went up to the microphone with my headphones on for a song called 'I Need Your Loving' and I just thought 'why am I singing on this?'… this is no disrespect to Jam and Lewis but it was their record and they let you know that! Although when we went out on tour, I was enjoying being on stage for the first time ever because I was actually doing something…"
After a bit of tech talk to reveal that their favourite synths were the Korg 770 and Roland Jupiter 4 respectively, Ian Burden and Jo Callis chatted informally with fans before leaving to catch up on old times over a drink with Dave Allen, the assistant to Martin Rushent on 'Dare' who went on to produce THE CURE's best albums. It had been a fascinating evening with many fabulous stories.
And with 'Hey Hey Ho Hum' getting unleashed to the public, Ian Burden will no doubt be asked to tell a few more.
---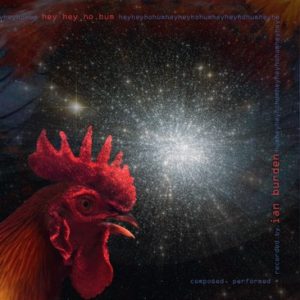 Special thanks to Matt Reynolds at Savage Gringo PR
IAN BURDEN 'Hey Hey Ho Hum' is released by Rutland Artspace Limited, available as a CD or download from https://www.pledgemusic.com/ianburden
https://www.facebook.com/ianburdenofficial/
https://www.facebook.com/ForlornHopeOfJobidiah/
---
Text by Chi Ming Lai
Photos by Richard Price
12th April 2018