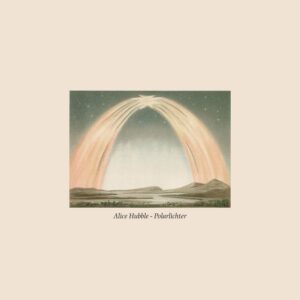 ALICE HUBBLE is the new solo project of Alice Hubley, previously best known for fronting ARTHUR & MARTHA and COSINES.
Taking in the influence of Delia Derbyshire, Daphne Oram and Sally Oldfield, the avant pop heart of Hubley is now set free on her debut long player 'Polarlichter', literally translated in Deutsch as "polar lights" or auroras.
Recorded with analogue synths at home before being mixed at Big Jelly Studios under the co-production supervision of Mikey Collins who also contributed drums and guitar, 'Polarlichter' is undeniably escapist.
In keeping with the aura of varying colour and complexity projected by the album's title, the opening instrumental 'Ruby Falls' offers mysterious octave shifts and pagan flutes while picturing North Sea islands painted by hand played keys.
Laced in Korg and Juno, her forlorn vocal presence makes its first appearance on the wonderful 'Goddess', a song about male obsession which has already been declared one of the singles of 2019 by BBC 6 Music's Steve Lamacq. With its moody vintage synths and primitive drum boxes, there are also hints of BOOK OF LOVE, THE CURE, SPARKS and OMD.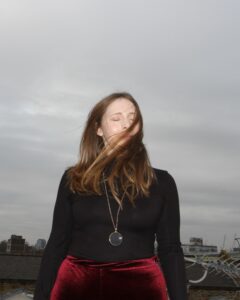 Channelling German trailblazers Manuel Göttsching and Harald Grosskopf, both in their solo guises and together as ASHRA, the pulsing cosmic overtones of 'Atlantis Palm' offer beautiful synthetic choirs and airy fluty textures for a superb seven minutes of melancholic ambience.
Hubley's earthy demeanour returns on the sub-OMD of 'We Are Still Alone', where the lilting bass and elegiac transistorised melody are glorious.
But when the synth strings respond in that ASHRA style, it becomes perfect avant pop where Hubley sadly resigns to herself that she "couldn't find the way to make me better".
'Kick The Habit' takes a jump in tempo and schaffels with live percussion for a charmingly enjoyable slice of electro-glam. Meanwhile keeping things to waltz time, 'Hunt For The Blood Red Moon' is electronic folk, solemnly dancing around a maypole of Moog.
Filmic instrumental 'The Golden Age' has its synths set to toy town, but more haunting Mellotrons weave their way into the wicker lattice with brilliant vibrato swirls before progressing into mutant funk and a collage of album segments to create an uneasy schizophrenic feel.
The chimes of 'Still Polarlichter' sees Hubble still alone, again echoing OMD with the string machine playing a variation on the 'We Are Still Alone' theme, but with more of a psychedelic vibe. At over nearly seven minutes, the mighty bubbles of synth, drum breaks and Germanic demeanour concoct a recipe of feisty feminine prog.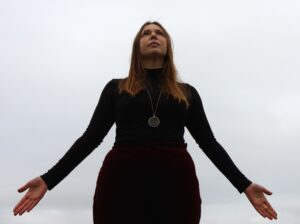 With the language of melody in common, 'Polarlichter' makes a fine voice-assisted companion to OBLONG 'The Sea At Night', an instrumental album of rustic organically farmed electronica released earlier in this year.
Over four songs and four instrumentals, ALICE HUBBLE makes the perfect synth earth mother with her endearing array of vintage keyboards. This is an impressive solo debut that is a soundscape of pastoral solace.
---
'Polarlichter' is released as a vinyl LP, CD and download by Happy Robots Records on 27th September 2019, pre-order from https://www.happyrobots.co.uk/product-page/alice-hubble-polarlichter-new-12-lp-pre-order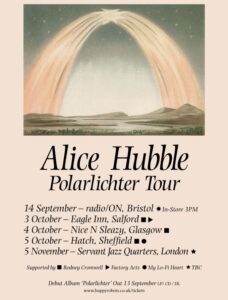 ALICE HUBBLE 2019 live dates include:
Bristol Radio / ON (14th September), Manchester Salford Eagle Inn (3rd October), Glasgow Nice N Sleazy (4th October), Sheffield Hatch (5th October), London Servants Jazz Quarters (5th November)
https://www.happyrobots.co.uk/alice-hubble
https://www.facebook.com/alicehubblemusic/
https://twitter.com/alice_hubble
https://www.instagram.com/alice_hubble/
---
Text by Chi Ming Lai
21st August 2019