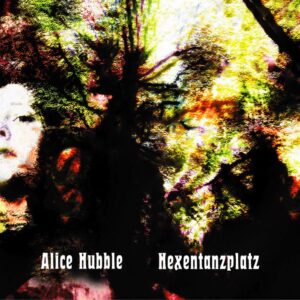 Literally meaning "Witches' Dance Floor" in German, 'Hexentanzplatz' is the evocative title of the second album from Alice Hubble, formally of ARTHUR & MARTHA and COSINES.
Channeling her inner Delia Derbyshire, Daphne Oram and Sally Oldfield, 'Polarlichter' was a fine avant pop debut that captured an earthy musical aurora. Named after a mountain located just over 70km south west of Magbeburg located in what was the former DDR, 'Hexentanzplatz' begins with a gorgeous filmic set piece entitled 'West Reservoir' that could be best described as a watery wash of aural morning dew.
But the album gets serious with 'Power Play', an statement on the #MeToo movement reflecting Alice Hubble's embracement of collective digital activism and serves as an electro-organic protest song.
With a subtle similarity in theme but bursting with assorted electronic moods and rhythmic pulses, the 'Hexentanzplatz' title song recalls some of the more recent work of Sarah Nixey on 'Night Walks', while our heroine stares in awe at the named mountain and surroundings, although using the view as a metaphor about fighting the patriarchy.
One of the glistening highlights on 'Hexentanzplatz' comes with the rousing indie synthpop of 'Projections', successfully combining emotive Mellotron strings and a catchy countrified chorus like NEW ORDER's 'Love Vigilantes' but without the ghostly war story, instead a love song for the confused.
The laid back 'Summer Smoke' provides another of Alice Hubble's earthy yet otherworldly offerings, while 'Make Believe' plays within a magical cavern of its own that is all strange off-beats and wobbling synths.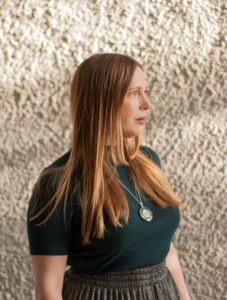 Another highlight comes with the optimistically romantic 'My Dear Friend' where subtle drums and a whirring cacophony of varyingly tuned synths recalls LADYTON and 'Mirage' in particular.
Meanwhile, 'Numb' musically comes over like a carousel ride run by The Brothers Grimm before the closing instrumental 'Gleichfalls' motorises itself into an enjoyably frantic NEW ORDER stylisation.
A worthy follow-up to her similarly Pagan spirited 'Polarlichter', Alice Hubble has immersed herself in the mystic air of the old Saxon cult site that is 'Hexentanzplatz' and emerged with a melancholic but positive body of work celebrating nature, inclusivity and acceptance.
---
'Hexentanzplatz' is released by Happy Robots Records in vinyl LP and digital formats on 10th September 2021, available from https://happyrobotsrecords.bandcamp.com/album/hexentanzplatz
Alice Hubble 2021 live dates include: London Folklore (7th October), Nottingham Old Cold Store (8th October), Leeds Wharf Chambers (15th October), Brighton West Hill Hall (23rd October), Cardiff The Moon (31st October)
https://www.happyrobots.co.uk/alice-hubble
https://www.facebook.com/alicehubblemusic/
https://twitter.com/alice_hubble
https://www.instagram.com/alice_hubble/
---
Text by Chi Ming Lai
4th September 2021