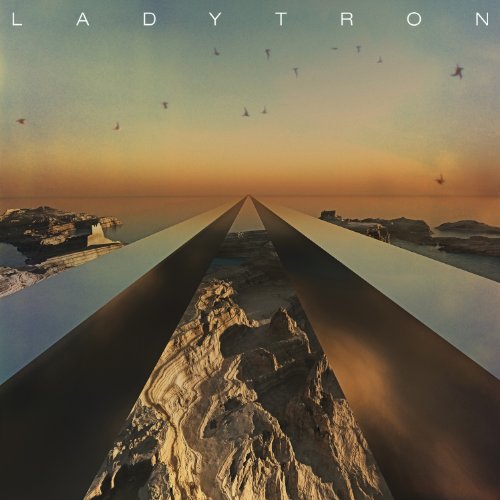 Warm, rich, evocative and quietly rebellious; 'Gravity The Seducer' could be the sound of Phil Spector in the 23rd Century and all this from a long player recorded in Chatham!
With more time to think musically about their next opus without the pressure of being out on the road, 'Gravity The Seducer' may well be LADYTRON's most sedate album yet but it is also ambitious in its grandeur, described in Daniel Hunt's own words as "baroque 'n' roll".
Like the song from which they got their name, it could even be perceived as Eno-esque.
So LADYTRON have now entered their Nancy Sinatra and Lee Hazlewood phase, hardly surprising as the foursome used to walk on stage to the obscure magnificence of 'Some Velvet Morning'. Daniel Hunt and Reuben Wu, both sporting their hippified facial fuzz, could easily be Lee while the vampish glamour that Helen Marnie and Mira Aroyo have been aspiring to, casts them obviously as Nancy.
This album could even be a synthetic take on LOVE's 'Forever Changes'; 'Gravity The Seducer' is both blissfully sun kissed and optimistic whereas much of their previous work possessed a haunting Cold War spectre that was distinctly more dystopian.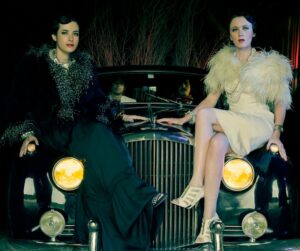 With a deliciously cerebral flavour, this album is fantasy pop with the odd psychedelic overtone thrown in. Mira Aroyo said that the new material was "more atmospheric".
Thus the opener 'White Elephant', so titled after the nickname for the vintage Moog Cordovox dual keyboard used on the album, is deeply melodic with some wonderfully shimmering strings, brass lines and harpsichord runs. A statement of intent, it is the complete antithesis of the bombastic attack of LADYTRON's last album 'Velocifero'.
The widescreen timbres of new single 'Mirage' complimented by woodwinds might confuse some fans of 'Velocifero', but this is a catchy tune in keeping with this album's warmer outlook. And don't forget, many of KRAFTWERK's classic melodies were based around the aural structures of the flute.
With thoughtful dynamics and room to breathe, the quartet are given the chance to explore and they do that rather well. The mightily percussive 'White Gold' could be their own tribute to PROPAGANDA as thunderous drums enter a third of the way through over a simple drum box pattern to side chain alongside the gated rhythm pulses, muted guitar and 'Ice Machine' colours of deception.
'Ace Of Hz' isn't that much different from the version that was released earlier this year on the '00-10′ compilation, but it's still dreamy and easy on the ear with Helen Marnie's vibratoed vocals bathed in sophisticated electronics.
The fastest paced offering on the album, 'Ritual' is instrumental syncopated New Romantic disco in the manner of DURAN DURAN attempting 'To Cut A Long Story Short'. It acts as a brash interlude before a bizarre mid-album lull; Mira Aroyo is strangely off-key trying to sing instead of snarling on the piano led 'Moon Palace' that follows.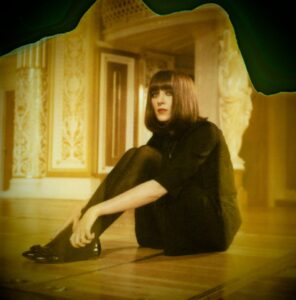 A gentler monologue from Aroyo on 'Altitude Blues' however is much better with its hints of MOBY in the sweeping backing.
But perhaps due to the less aggressive material that forms the majority of 'Gravity The Seducer', it is Aroyo's two leads that are possibly the album's disappointments.
Whereas Aroyo was a dominant figure vocally on 'Velocifero'. it is Helen Marnie's sweeter tones that suit better the much less frantic template of 'Gravity The Seducer'. If 'Velocifero' was Aroyo's album, then 'Gravity The Seducer' is very much Marnie's.
But it all snaps back with the beautiful masterpiece that is 'Ambulances'. A fulsome epic drama that musically echoes SIOUXSIE & THE BANSHEES in their more orchestrated moments, Marnie's voice takes on an unexpected angelic register over the delectable, spacious blend of acoustic and electronic instruments.
The magnificent crescendo is really something to be savoured. 'Melting Ice' is a fantastic James Bond theme in the making, full of tension and action packed cinematic energy; it is perhaps one of the more immediate tracks on the album. Sparkling with arpeggios and a range of squawky sounds, one can imagine the opening sequence for this movie with Marnie and Aroyo playing the role of highly seductive, ruthless assassins.
As the second of the instrumental interludes, 'Transparent Days' is a spacey hypnotic collage rising to a crest of rolling toms, buzzing vintage synths and crystalline vibes accompanied by some lovely choir girl stylings.
It sounds like somthing you'd expect to accompany one of those wiggly arthouse animations they used to show on BBC2.
The organic '90 Degrees' takes the pace right down and bridges into a discordant chorus despite the fairly conventional verse topline. The piercing string machines add to the unsettlement but the end result is strangely uplifting.
To finish the album, there's 'Aces High', an alternate wordless variation of 'Ace Of Hz' that is akin to a groove laden jam performed by The Mysterons following a pounds, shillings and pence windfall! Can you imagine Captain Black (any relation to Miss Black & Her Friends?) experimenting with mind expansion? Marvellous!
Yes, 'Gravity The Seducer' IS different from all previous LADYTRON albums. It may primary be mid-paced and possibly underwhelming to some on first listen. But then again, there are heaps of fulfilment for those who are prepared to look above the instant gratification of loud drums and accelerated tempos.
Worthy investment is required on the part of the listener. This is a carefully crafted, lovingly arranged body of work. And it is an artistic journey; you might want to get off at the start because you're not used to the ethereal and otherworldly soundscapes flying by.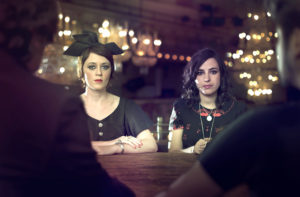 But if you can get used to the ride, it could be the one of the best neo-psychotropic trips you have ever been on in this particular vehicle!
Daniel Hunt says: "I feel it's the most perfect work we've done". While it is not perfect, 'Gravity The Seducer' is among LADYTRON's best and admirably, is without doubt their most adventurous.
---
'Gravity The Seducer'
 is released on 12th September 2011 by Nettwerk Productions
With grateful thanks to Sarah Richardson at Anorak London
https://www.facebook.com/ladytron/
https://twitter.com/LadytronMusic
---
Text by Chi Ming Lai
28th August 2011