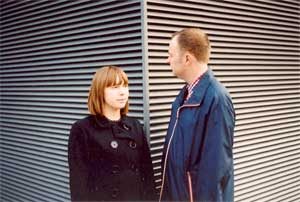 Independent alternative synth duo ARTHUR & MARTHA are rather confusingly, Adam Cresswell and Alice Hubley.
Presenting lo-fi electro for happy robots to dance to, ARTHUR & MARTHA have been described as "Gilbert & George, disguised as The Carpenters, stealing the hits of Kraftwerk and bashing them out on an old Moog in the style of SECTION 25".
With an impressive arsenal of old analogue synths and augmented by quirky instruments like melodica, stylophone and Theremin,  they released their debut album 'Navigation' last year.
The superb first track 'Autovia' was one of the lost songs of 2009 in a year teaming with quality electro from all quarters. With a charming slightly off-key vocal from Alice and driven by a synthetic motorik beat, 'Autovia' is perfect fahr'n-fahr'n-fahr'n musik for English eccentrics heading north up the M1, as can be seen in the video.
The 'Navigation' album is also worth checking out with its variety of styles ranging from early NEW ORDER and CRYSTAL CASTLES to the sort of quirky instrumentals that would accompany the weird East European animations they used to show on BBC2 in the '70s!
If you're into Brighton's highly acclaimed KATSEN, you might like ARTHUR & MARTHA too!
---
'Navigation'
is released on CD by Happy Robots
www.facebook.com/Arthur-and-Martha-6821029194/
www.myspace.com/arthurandmartha
---
Text by Chi Ming Lai
30th March 2010