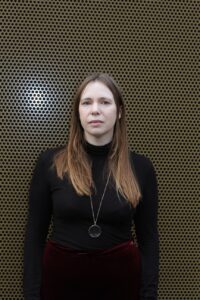 Over four songs and four instrumentals on her impressive debut album 'Polarlichter', ALICE HUBBLE makes the perfect synth earth mother.
Behind ALICE HUBBLE is London-based musician Alice Hubley, previously best known for fronting cult favourites like ARTHUR & MARTHA and COSINES.
Despite her roles as a lead vocalist, this is the first time she has ventured out musically on her own.
With her forlorn vocal presence and endearing instrumental charm, courtesy of her array of vintage keyboards, 'Polarlichter'
is an impressive solo debut that is a soundscape of pastoral solace.
Released on Happy Robots Records, home of RODNEY CROMWELL and TINY MAGNETIC PETS, the first single 'Goddess' has already been declared one of the singles of 2019 by BBC 6 Music's Steve Lamacq, while the sub-OMD of 'We Are Still Alone' with its the lilting bass and elegiac transistorised melody is wonderfully glorious.
Alice Hubley chatted about the genesis of 'Polarlichter' and much more…
'Polarlichter' as a title is perfect for the album, but what inspired you to use that particular word, as opposed to other variants and languages?
The title track initially came from the artwork from the LP which I bought in a flea market in Berlin a few years ago. I like the way it sounds and rolls off the tongue, I probably don't do the best job of pronouncing it though!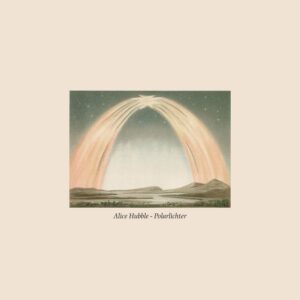 Some would say this is the album people have been waiting for from you since ARTHUR & MARTHA? Who were your key influences for this record?
That's very nice of you to say. I do think this LP is very self-indulgent and it's been the most fun I've ever had recording and putting out a record.
The tracks were generally influenced by places and people / personal interactions. I don't necessarily set out to borrow from other artists, I enjoy seeing what people pick up on when reviewing the record.
There are definitely some surprises and Googling I've had to do, but I know I do wear my heart on my sleeve.
Was it the intention to make a half song / half instrumental album? What do you get as a musician from one form that you can't get from the other?
I didn't set out for that initially. When I first started the project, I was really looking to do more instrumental tracks and attack the writing process in a different way to how I have approached song writing in the past. I got a lot out of changing round my processes.
The song tracks developed along the way, mainly 'cause they just come out of me. I think my instrumental tracks are representative of what I'm trying to get across when writing them, but it's definitely easier to tell as a story with a song.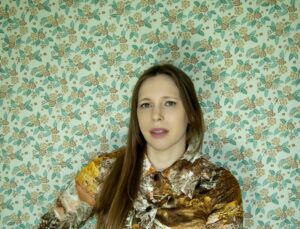 You began the compositional process on an iPad before bringing in analogue synths, which particular instruments did you use?
The main apps I've used are Tabletop and the Moog Model 15 synth app along with Garage Band and a few effects.
Where do you sit on that hardware versus software debate?
Ha, it is a contentious debate, I created a hushed silence in a room with a band (I won't divulge who!) once when I said I liked the Moog iPad app! The thing I like about some apps is that they encourage a different way of thinking to playing a keyboard, recording can be quite immediate and you can come up with different ideas when things are more off cuff.
I personally feel if the sound fits the track and is good enough quality then why not use an app sound. I think I re-recorded the majority of the Model 15 tracks 'cause they sounded better on the Prodigy, but the Tabletop sounds are very prominent on the LP.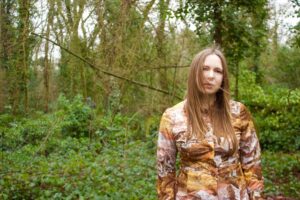 'Ruby Falls' is a lively opening statement that paints pictures in the listener's mind. When you go travelling, what sort of places do you like to visit and how does it stimulate your music?
I like to visit places of natural beauty and those more off the beaten path; this year, for contrast this year I've visited the Alhambra in Granada and a nuclear bunker in Prague. It's nice to be taken out of the familiar, I've found travelling is inspiring and also triggers creativity for me.
The single 'Goddess' has had a very positive response, what was its genesis?
'Goddess' was one of the first tracks I wrote for the LP. I'd always liked the idea of writing a song called 'Goddess', it's a word that is bold, beautiful and distinctly female. Through thinking about Goddesses and goddess worship came the idea of the destructive nature of the male gaze when taken to extremes, which the song explores lyrically.
I think the bass riff came in first before the song, it was written over such a long time. I then wanted to go for this chorused / filtering synth sound, which I remember worrying after it was done that it was too intense to listen to on headphones. I'm really delighted by the response it has got though, so I guess I was wrong!
The choral laden 'Atlantis Palm' is rather gorgeous…
Thank you!
The key track on the album is 'We Are Still Alone', it's a bit like OMD meeting ASHRA?
That's very kind, both bands are big touch points for me.
The main melodic theme of 'We Are Still Alone' reoccurs on 'The Golden Age' and 'Still Polarlichter', is this all part of a bigger story?
Ha, well spotted. The solo from 'We Are Still Alone' was at one point quite prominent in 'The Golden Age'. It wasn't intentional but it does help to pull the record together.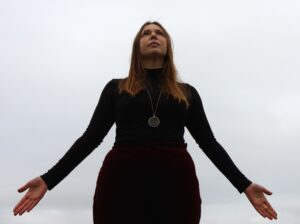 'Kick The Habit' goes all electro-glam, like a synthy Suzi Quatro?
Totally! I wrote the track after coming off tour supporting the psychedelic rock band BLACK MOUNTAIN, they have a lot of songs with big guitar riffs in them and this was my attempt at writing a big riff song.
Other touch points for me were second / third LP GOLDFRAPP and LADYTRON.
There's a lot of flute sounds on the album, are they real ones?
I wouldn't be adverse to a real flute on a record, but it's all the beautiful sound of the Mellotron.
Which tracks on 'Polarlichter' are your own favourites and why?
I like them all for different reasons, though I'm particularly fond of 'Still Polarlichter' and 'Atlantis Palm'. 'Still Polarlichter' because we went on such a journey in the studio with that song, it's so sinister and also I love playing it live. With 'Atlantis Palm', it just feels so different from anything I've done in the past, it's so simple but a big statement.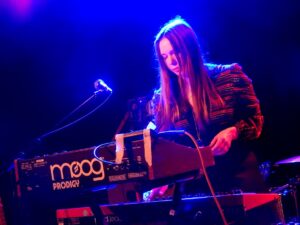 You are undertaking a headlining tour having opened for DAMO SUZUKI and TINY MAGNETIC PETS earlier in the year. How were those experiences and how will your approach change as you move into the role of headliner?
Both shows were a lot of fun, it was such a great experience playing with Damo and TINY MAGNETIC PETS and they were both very sweet to me.
It is a bit daunting but I am looking forward to the headline shows, I'm not planning on bringing anyone into the band as of yet, but I am looking to expand the set in some ways. Come along and see for yourself!
Will there be more from ALICE HUBBLE in the future, how has the solo experience been for you compared to being part of a band?
Yes, there is definitely more ALICE HUBBLE in the works, I'm actually in the middle of preparing to go back into the studio in September to start recording for the next release.
The whole ALICE HUBBLE process has been a dream, being solo means you can work at your own pace and can be quick at making decisions. It can get lonely at times, but I make a point of working with people I enjoy being around and try to have fun with it.
---
ELECTRICITYCLUB.CO.UK gives its sincerest thanks to ALICE HUBBLE
'Polarlichter'
is released as a vinyl LP and download by Happy Robots Records, available from https://www.happyrobots.co.uk/botshop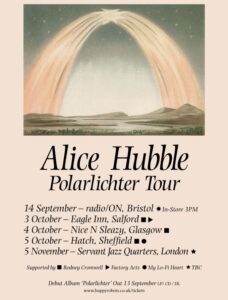 ALICE HUBBLE 2019 live dates include:
Manchester Salford Eagle Inn (3rd October), Glasgow Nice N Sleazy (4th October), Sheffield Hatch (5th October), London Servants Jazz Quarters (5th November)
https://www.happyrobots.co.uk/alice-hubble
https://www.facebook.com/alicehubblemusic/
https://twitter.com/alice_hubble
https://www.instagram.com/alice_hubble/
https://open.spotify.com/artist/4NWmEXIOna3UpoCp1FQxuP
---
Text and Interview by Chi Ming Lai
20th September 2019