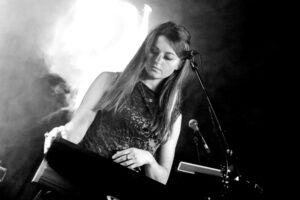 Leeds based singer / songwriter IMI has made a fine impression in 2019 as one of the most promising new synth acts of the year.
Blessed with a glorious soprano in the vein of striking vocalists like Alison Goldfrapp and Tara Busch, what has also stood out is the widescreen aesthetic of her music with sharp electronic melodies and inventive arrangements.
Having previously been a member of a Goth band, classically trained IMI's ears were drawn to her parents' record collection; her father, a veteran of the New Romantic campaign had naturally been a fan of VISAGE so it was fitting when Rusty Egan started playing her music on his radio show.
IMI made a rare live appearance in London at The Finsbury to showcase her intelligent avant pop. Opening with 'The Fence' from her recent 'Lines' EP, a programmed warbling drop of vintage bass synth and a metronomic rhythm construction was the backdrop for an almost folky vocal before a percussive build to usher in the clouds and the darkness with a beautiful crescendo.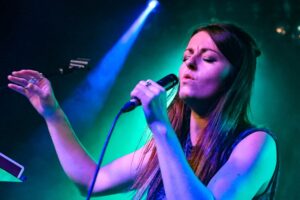 Two still-to-be-released songs 'Monolith' and 'Pin Me Down' demonstrated IMI's previous flirtation with the gothique while encapsulating the filmic ambition of GOLDFRAPP circa 'Felt Mountain' and its delightful oddness.
On stage, IMI took up different personas in the live presentation of her songs, from serious synth girl to serene pop princess, but the rousing melodic call of 'I Feel Alright' saw her enter I SPEAK MACHINE mode.
With the dramatic combination of her magnificent live vocals and sampled ethereal voices while sternly facing her Moog Sub Phatty, proceedings became more sinister but strangely captivating as her delivery emotively conveyed the parradox of the song's title in a barrage of squelch and rigid beats.
Closing the short set with the mighty triplet infused operatic statement of 'Margins', IMI's musicality allowed her to cross trip hop and Synth Britannia without anyone noticing the join, before a piercing cry on the caesura.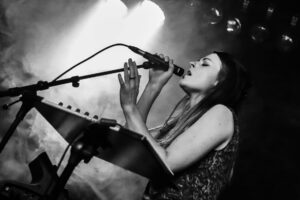 A largely mesmerising solo performance, IMI did well to get round some minor technical difficulties. As she increases in confidence and maturity, she will only get better.
For the moment, she is a highly promising songstress with lashes of talent and a focussed esoteric mindset that will hopefully lead to more artful adventures for all to savour. IMI is undoubtedly one of the keys to a sustainable synthy future.
---
The 'Lines' EP is released by Bibliotek, available as a CD or download direct from https://imimusicuk.bandcamp.com/album/lines
https://www.facebook.com/imimusicuk/
https://www.instagram.com/imimusicuk/
https://open.spotify.com/artist/0GKGK6KIlrmJM4C4UJGMJI
---
Text by Chi Ming Lai
Photos by Simon Helm
18th September 2019