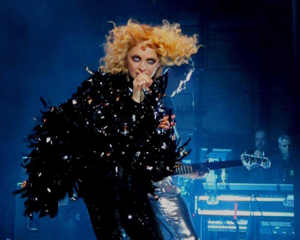 On a cold Autumn evening in a packed Hammersmith Apollo, something unusual was happening; Alison Goldfrapp was having fun!
The fairy godmother of modern electro has always cut a striking if static on-stage persona but tonight, it was if the thigh booted ice queen of yore had melted.
Like LADYTRON's Mira Aroyo on their 'Velocifero' tour, Ms Goldfrapp totally loosened up, just as ERASURE's Andy Bell once suggested she should.
So after a start which included darker, more artful selections like 'Voicething', 'Crystalline Green' and 'You Never Know', there was a breakout of smiles, dancing and even acknowledgements of the audience. While she has not turned into KYLIE MINOGUE, tonight saw a more relaxed and confident Alison Goldfrapp, someone who was now comfortable in their own aura.
There could be a variety of factors contributing to this but one almost certainly is the uptempo material from the 'Head First' album that dominates the middle part of this show. Tailor made for the sheer dynamics of live performance. A song like 'Dreaming' may be gorgeously layered Eurodisco, but the bouncy FM synth rock numbers 'Alive', 'Believer' and 'I Wanna Life' make the audience punch the air and join in the choruses.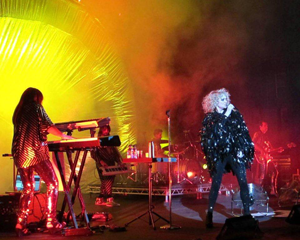 'Rocket' is another case in point, a wonderful slice of Trans-Atlantic pop with Italo refrains a la LAURA BRANIGAN. The gorgeous middle eight is just angelic while the near lyrical banality of the chorus is utter genius.
Honorary Frappers Charlie Jones, Angie Pollock, Davide Rossi and new drummer Daisy Palmer all contribute a strong visual presence, with Pollock and Rossi taking to keytars in mock-VAN HALEN parody during this lively section of the show.
Rossi is a total musical all-rounder, swapping between violin, synths and guitar while Pollock backs up on keyboards and backing vox, looking every bit the glam vamp. Marching around the stage in neo-militaristic fashion, Ms Goldfrapp's crazy curly locks billow in the artificial wind like some live action remake of the cult cartoon 'Crystal Tipps & Alistair' and her black tinsel-covered outfit does the same.
The glam era is very much at the root of the GOLDFRAPP aesthetic and even on the mid-paced material, this influence is prevalent. The fantastic 'Number 1' is a ROXY MUSIC number transported into the 21st Century, while the wonderful ABBA inspired singalong of 'Head First' would do Agnetha, Bjorn, Benny and Annifrid proud.
Throughout the set, the rhythm section remains rock solid. Jones, son of LED ZEPPELIN's John-Paul cooly textures and jazzes up proceedings as appropriate on his bass while despite having a full acoustic kit at her disposal, Palmer sticks mostly to a punchy electronic percussion pad but comes to the fore when the power is needed.
An extended electronic work out of 'Ride A White Horse' meets the crowd's approval while 'Ooh La La' and 'Strict Machine' are effectively turned full-blown T-REX tributes with as usual, the latter's 'We Are Glitter' intro threatening to turn into RAH BAND's 'The Crunch'! And not forgetting 'Train', this doesn't disappoint either as a filthy slice of Teutonic schaffel!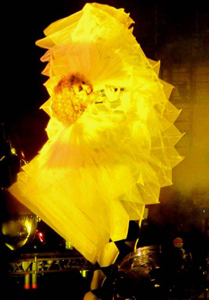 Indeed, the sheer volume is a pleasant surprise tonight. It even paradoxically helps the quieter numbers in the encore like 'Black Cherry' and the superb 'Lovely Head' with Ms Goldfrapp's spine tingling electronically assisted banshee wails.
GOLDFRAPP gigs have often been too quiet in the past, thereby encouraging talking in the audience and provoking the culturally challenged who simply cannot get their heads around the more esoteric GOLDFRAPP material. This evening, the loudness sees them all thankfully silenced, even when she tackles these songs dressed like a Meringue!
Tonight, people saw the real Alison Goldfrapp, the girl with the Olivia Newton-John fixation.
If she had only performed the early B-side 'UK Girls' featuring its chorus lifted from 'Physical', then the circle would have been completed and everything would have been perfect. Other than that, it was GOLDFRAPP's best ever live set. Despite all the flirtations with folk and film-noir, Ms Goldfrapp is actually a purveyor of some guilty pleasures.
---
'Head First' is released by Mute Records/EMI music
---
Text by Chi Ming Lai
Photos by Richard Price
16th November 2010