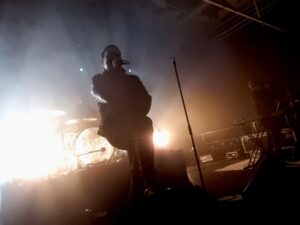 An electric line-up was gathered at Cologne's Essigfabrik covering various mutations of synthesizer driven music as part of APOPTYGMA BERZERK's 2019 European tour.
Also featuring THE INVINCIBLE SPIRIT + VILE ELECTRODES, when APOPTYGMA BERZERK mainman Stephan Groth spoke to ELECTRICITYCLUB.CO.UK earlier in the year, he explained: "It's very important to have a whole evening that makes sense and which will tell a story."
That story began with British South Coast duo VILE ELECTRODES. New favourite artists of Stephan Groth's, Anais Neon and Martin Swan have rarely ventured out live in the last two years, but the opportunity to reach a new audience familiar with the darker vein of electronics was not to be missed.
Using a portable Eurorack set-up which was still quite hefty in comparison to other live acts and almost obscuring the diminutive Swan, there was also a tiny Yamaha Reface and compact Arturia MicroBrute included in the Viles armoury.
As well as familiar tunes such as a reworking of 'Empire of Wolves' and 'Proximity', there was also 'Red Bead' and 'Incision' from the epic if bleak second album 'In The Shadows Of Monuments'
.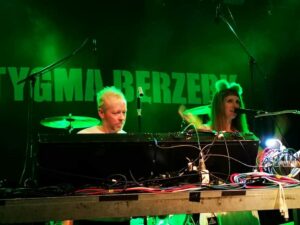 Meanwhile, there was new material in the shape of two modular derived songs 'We Are A Prism' and 'The Kill The Cure'.
It hinted that for VILE ELECTRODES at least, their future is perhaps not yet so bright that they've got to wear shades.
Closing with the arpeggio-laden 'Re-Emerge', its frantic synthesized throb warmed up the steadily building throng at Essigfabrik.
In the vein of DAF and DIE KRUPPS but with a tighter electronic backbone, EBM veterans THE INVINCIBLE SPIRIT produced the sort of alternative club music that would have been popular at The Jolly Joker in Braunschweig and the like. The project of Thomas Lüdke, the debut album 'Current News'
became a cult favourite after its release in 1987 on ZYX Records with tracks like 'Make A Device' and 'Push!'
Accompanied by Anja Vorel on synths, the towering presence of Lüdke loomed over the audience as they became captivated by the energetic body of 'Irregular Times'. But the powertrain entered a new gear with the magnificent of 'Hate You', the lead single from the 2015 comeback album 'Anyway'
.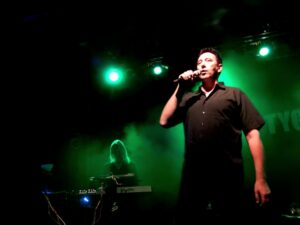 Such frenzy could only be followed by the Teutonic tension of 'Push!', a mighty statement that other acts now try desperately attempt to imitate, but who inevitably fall at the first fence.
A great new number 'Coming Home' kept up the pace and the action, but there was the surprising inclusion of JOY DIVISION's 'Atmosphere' as an uptempo cover to end, which worked well in the former factory complex that forms Essigfabrik.
As the crowd squeezed up to the barrier in anticipation of APOPTYGMA BERZERK, what was noticeable that save three or four goth boys of varying ages, the entire front row was female. First on stage was cheerleading keyboardist Jonas Groth, while sticksman Ted Skogman quietly followed over to the drum stool.
As the electronic pulse of 'Weight Of The World' began and the younger Groth vocodered "pleased to meet you", guitarist Audun 'Angel' Stengel joined his bandmates before wearing a leather jacket with "YAZOO" emblazoned on the back, Stephan Groth ran to greet his excited fanbase. The industrial pop of 'Unicorn' continued the adrenaline rush and prompted chorus singalongs, before moving towards the anthemic rock overtones of 'In This Together'.
Over the years, Stephan Groth has straddled EBM, synthpop, futurepop, alternative rock and more recently instrumentals with APOPTYGMA BERZERK, and the upcoming EP 'Nein Danke!'
sees a return to the synthpop format.
From it, the excellent 'Atom & Eve' with its mechanised rhythms saw drummer Ted Skogman leave his kit to assist on backing vocals. As the evening continued and other drum machine led tracks were performed.
For another terrific 'Nein Danke!' number called 'A Battle For The Crown' and material from Groth's FAIRLIGHT CHILDREN synth side-project, Skogman simply walked off the stage as the songs did not need the interference of live drums. It begs the question as to why Christian Eigner can't voluntarily disappear for half of DEPECHE MODE's concert set for the sake of authentic art?
With smoke machines on overdrive and huge blocks of flashing lights from across the spectrum set to stun, this was a dense display of visuals that worked well in extremes. Presenting all aspects of the APOP catalogue, the 1997 vintage 'Love Never Dies' revisited Groth's grandiose futurepop adventures while from the same '7'
album, 'Deep Red' kept the body strong with Angel adding power via his chunky flanged guitar, mutating into metal when necessary.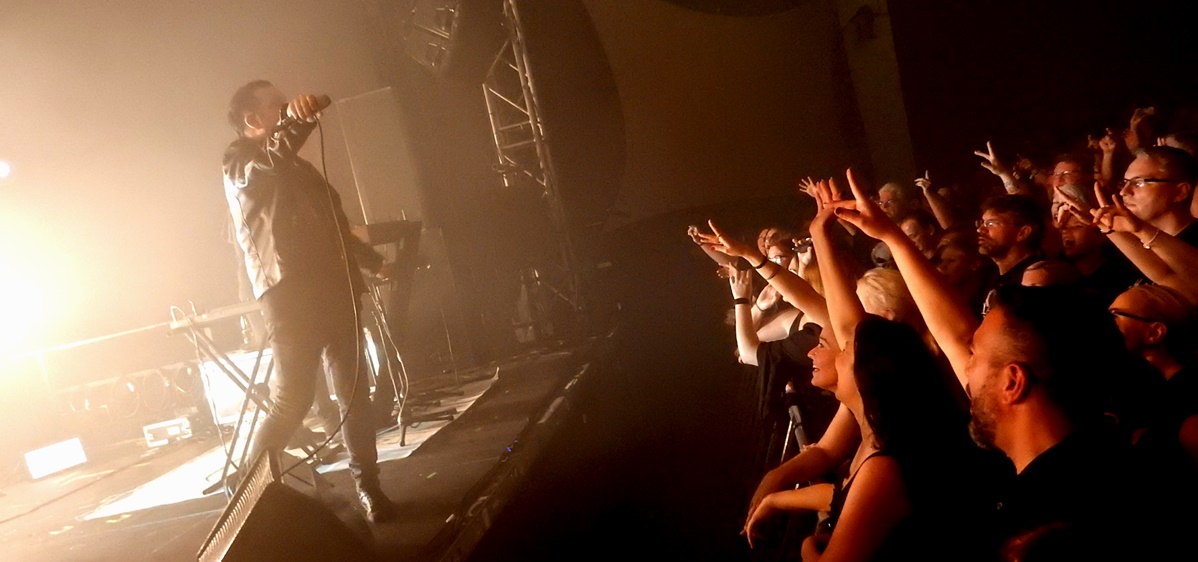 'Stitch' from debut album 'Soli Deo Gloria'
took the form of respite as Groth performed totally alone in a moody whispered Numan-esque manner, before 'Dead Air Einz' saw the band return for some steadfast Schaffel.
No stranger to the cover versions, Groth's choices have been eclectic to say the least, ranging from KIM WILDE to THE CURE and METALLICA with OMD, PETER SCHILLING and KRAFTWERK caught some place in between. APOPTYGMA BERZERK's cover of THE HOUSE OF LOVE's 'Shine On' was a German hit in 2006 so when its familiar riff revealed itself, the crowd indulged in a spot of goth dancing.
Aesthetically akin to THE KILLERS, the energetic 'Asleep or Awake' which followed most definitely kept them all awake. Off 'Welcome To Earth'
, the gothic rave of 'Kathy's Song' with its call-and-response interplay between the Groth brothers maximised audience involvement, even during Kathy Macintosh's Mac OS voice centrepiece.
One thing about Stephen Groth is that he is humble gentleman who is free of ego, so it was a touching moment for him to leave brother Jonas on stage to perform 'Nearest'; an update of 'Near' from '7', this has been the younger Groth's lead party piece for the last two years at APOP shows and is due for inclusion on the Nein Danke!' EP.
Opting for the OK MINUS remix, the dark vibrant electro of 'Eclipse' maintained the smiles and rave friendly atmosphere. However, best of all was the superb JEAN-MICHEL JARRE meets SIMPLE MINDS trance rock fusion of 'Until The End Of The World' from 2002's 'Harmonizer'
to complete the main set; prompting a massed hands in the air moment, Stephan Groth even threw in a few Jim Kerr mannerisms during this slice of euphoric dystopia!
The appreciative crowd didn't have to wait long for an encore, and they were rewarded with a long one, beginning with an extended 'Starsign' and an electro-rock cover of METALLICA's 'Fade to Black'. Onto the home straight, it was now time to party like it was 1993 with two final songs from 'Soli Deo Gloria'
.
Styled around the sweaty new SUBSTAAT treatment, 'Bitch' provided some aggressive enthralment while Stephan Groth ended the night by paying tribute to the influence of THE INVINCIBLE SPIRIT on APOP and asked Thomas Lüdke to join him onstage for a redux duet of 'Backdraft'.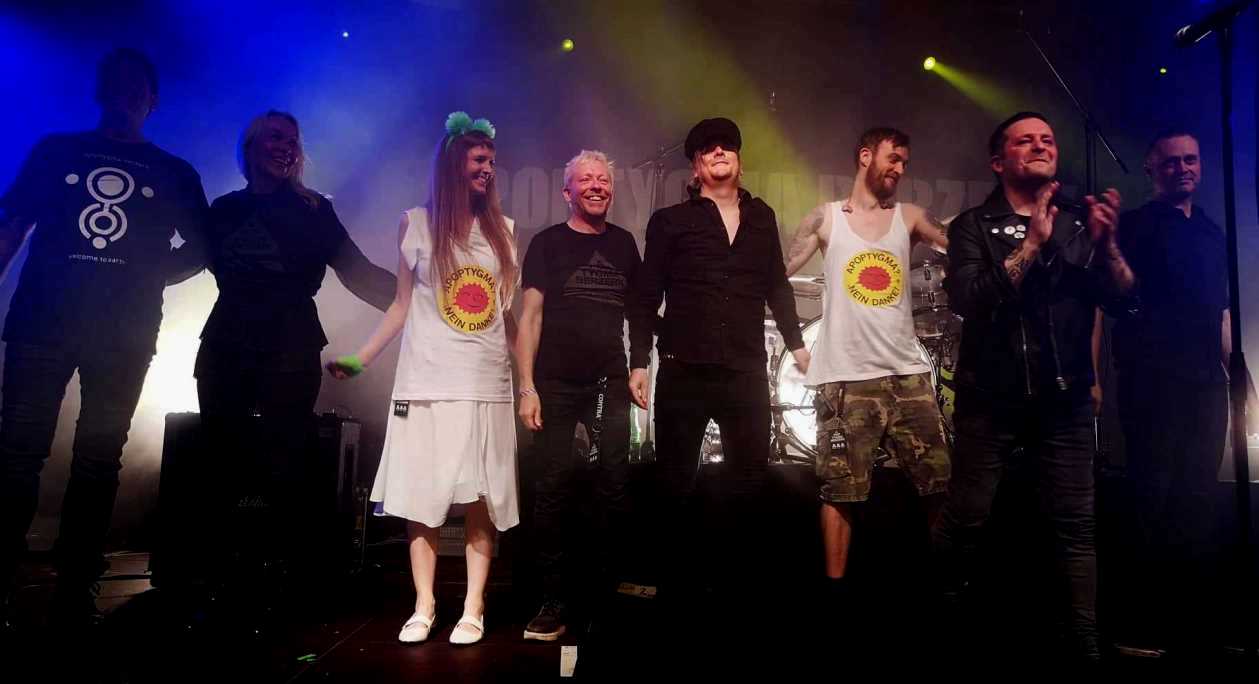 Generous in spirit, as Stephen Groth took the curtain call with his band, he beckoned VILE ELECTRODES to join the ensemble on stage to accept the roaring approval of those all gathered at Essigfabrik.
Those hoping for a rendition of 'Burning Heretic' would have been slightly disappointed but overall, it was an exhilarating live presentation with superb sound quality providing a fine balance of power and clarity for all three acts.
Small in stature but big in stage presence, as Stephen Groth once said: "Take the red pill and join our ranks, the truth has its rewards!"
---
ELECTRICITYCLUB.CO.UK gives its special thanks to Per Aksel Lundgreen
APOPTYGMA BERZERK + VILE ELECTRODES play Oslo Parkteatret on Saturday 24th August 2019
https://www.facebook.com/ApoptygmaBerzerk/
https://www.the-invincible-spirit.de/
https://www.facebook.com/InvincibleSpiritOriginal/
http://www.vileelectrodes.com/
https://www.facebook.com/vileelectrodes/
---
Text by Chi Ming Lai
Photos by Grit Cheraka and Chi Ming Lai
22nd August 2019