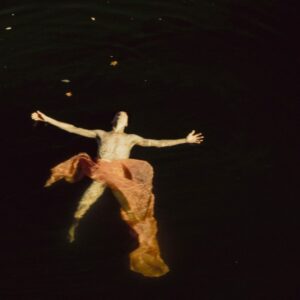 Since releasing 'Joyland', TR/ST's second album in 2014, mainman Robert Alfons has relocated from Toronto to work in southern Ontario and Los Angeles.
An ambitious two volume work, 'The Destroyer' sees Alfons reunite with debut long player collaborator Maya Postepski, who co-wrote and co-produced six of this project's songs. "My first two records were put out so close to one another that I think of them as one" said Alfons on the reasoning for the new two part work, "Sonically, it teeters between warmth, melody and exhilaration on one hand, and isolating, industrial hardness on the other."
With rumbles of sub-bass and Alfon's deep grouchy baritone, the metronomic 'Colossal' offers the mysterious TR/ST that people know and love, as does 'Unbleached' but with doses of cosmic arpeggiation. But in 'Gone', Alfons springs a surprise with possibly the most TR/ST accessible song yet. Neon-lit and extremely melodic, it could be mistaken for COLDPLAY going synthwave but don't let that be a deterrent; 'Gone' is glorious.
With a slight touch of muscular aggression, 'Bicep' provides some dynamic weirdness with a few industrialised textures thrown in for good measure during which Alfons' noted "Eeyore gone Goth" vocal style takes centre stage.
The dramatic 'Grouch' sends up Alfons' public persona, the combination of spacey vibes, hypnotic percussive pulses and neo-Wagnerian overtones providing a wonderfully usual dancefloor template. It's a wonderful slice of gothic disco that makes the most out of Alfons' vocal stylings.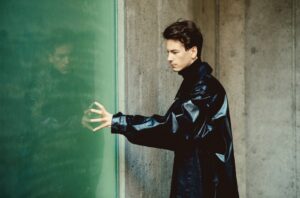 The stuttering rhythms of 'Poorly Coward' with its swirling dubstep dressing develop on the vibe while more steadfast and atmospheric, 'Control Me' exploits an emotive widescreen side to TR/ST not heard before.
Closing proceedings with a decisively moody tone, 'Wake With' is one of those rare things, a TR/ST love song and perhaps a signal to the more personal compositions slated for Part 2 of 'The Destroyer'.
So with the second volume promising to reveal a more mellow intimate side of TR/ST, 'The Destroyer-1' presents an initial collection of enjoyable industrial pop alongside more dreamy backdrops and a sincere if weird emotional centre.
---
'The Destroyer – 1'
is released on 19th April 2019 by Grouch / House Arrest in vinyl LP and digital formats
TR/ST 2019 Tour Dates:
Amsterdam Bitterzoet (15th April), Copenhagen Vega (17th April), Berlin Urban Spree (19th April), St Petersburg MOD (20th April), Moscow Pluton 21st April), Toronto Phoenix Concert Theatre (26th April), Montreal Corona Theatre (27th April), Boston Brighton Music Hall (1st May), Brooklyn Elsewhere (2nd – 3rd May), Philadelphia Underground Arts (4th May), Washington DC Street Music Hall (5th May), Detroit El Club (9th May), Chicago Lincoln Hall (10th May) , Minneapolis Fine Line Music Cafe (11th May), Portland Wonder Ballroom (14th May), Seattle Neumos (15th May), San Francisco Great American Music Hall (17th May), Los Angeles Fonda Theatre (18th May)
https://www.facebook.com/dressedforspace/
---
Text by Chi Ming Lai
Photo by Eliot Hazel Lee
13th April 2019