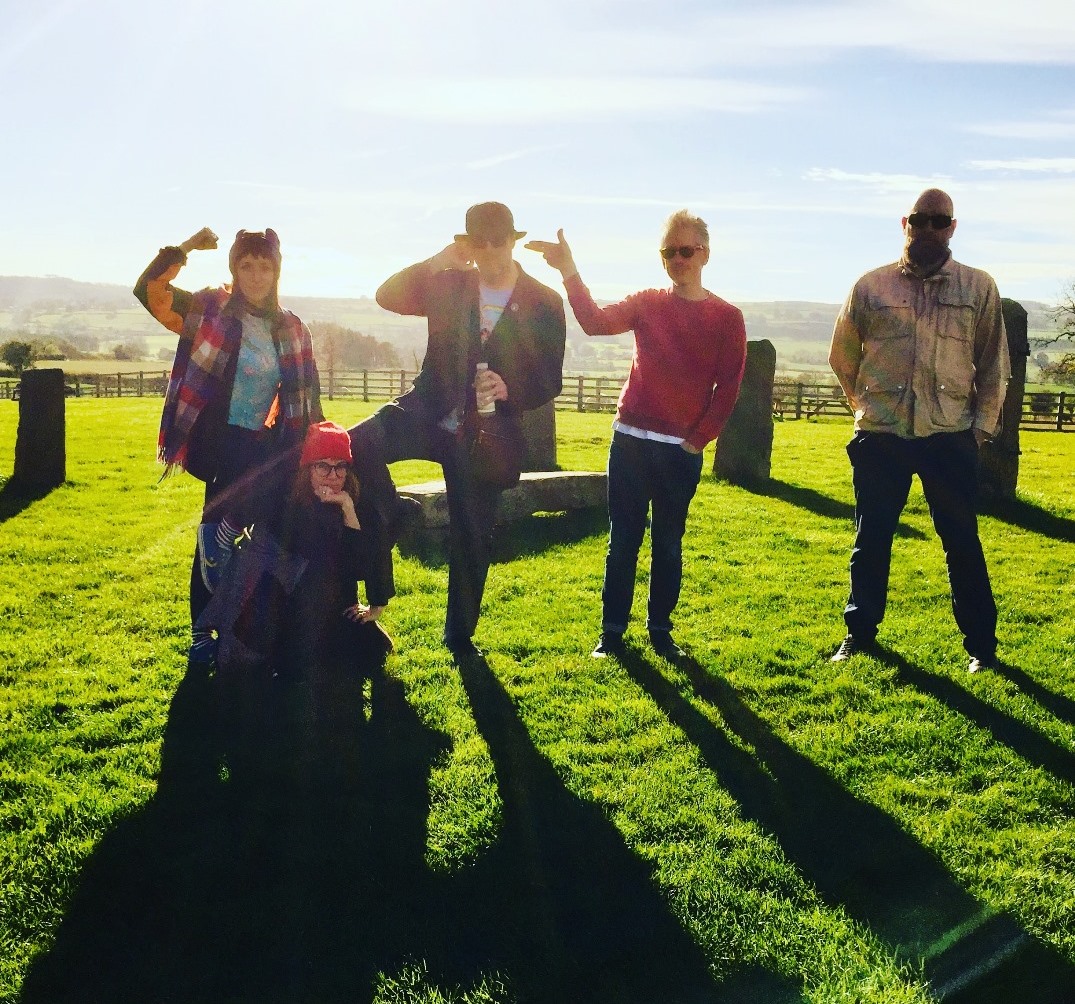 With their vibrant and accessible self-titled debut album, INTERNATIONAL TEACHERS OF POP have struck a chord with their brand of intelligent musical escapism.
Comprising the core trio of Leonore Wheatley, Adrian Flanagan and Dean Honer, INTERNATIONAL TEACHERS OF POP come from the gritty eccentric Northern English lineage that gave the world acts like THE HUMAN LEAGUE, HEAVEN 17, SOFT CELL, PET SHOP BOYS, PULP and DUBSTAR.
With luscious vintage synth sounds, witty observant lyrics and above all, catchy danceable tunes like on 'On Repeat', 'After Dark', 'The Ballad Of Remedy Nilsson', 'Time For The Seasons' and 'Age Of The Train', INTERNATIONAL TEACHERS OF POP are just the tonic for these unsettled times.
Just before boarding the tour bus to Europe, Adrian Flanagan outlined the curriculum that INTERNATIONAL TEACHERS OF POP would be following…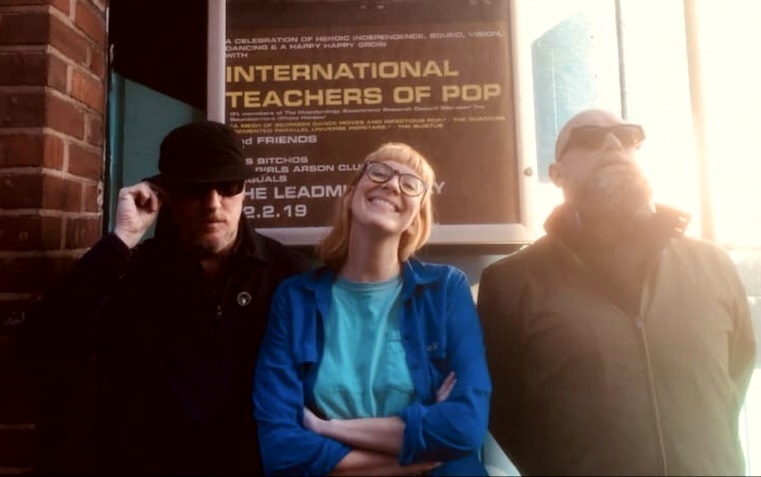 You've all had a number of projects and vehicles like THE MOONLANDINGZ, ECCENTRONIC RESEARCH COUNCIL, THE CHANTEUSE & THE CRIPPLED CLAW, THE SOUNDCARRIERS, ALL SEEING I, I MONSTER etc but INTERNATIONAL TEACHERS OF POP seems to have steadily gained significant traction among music fans, why do you think this has happened?
Your question seems to suggest that all of a sudden we are now doing something that is deemed popular? *laughs*
THE MOONLANDINGZ are quite a popular group right across Europe, before that project went on sabbatical we were headlining pretty big 700 – 1400 capacity venues, our singles were regularly a-listed – all our tours sold out, all on our own terms!
The ALL SEEING I had three or four Top 20 singles in the proper charts in the days when people actually bought records, ASI had been on 'Top of the Pops' several times, they practically put themselves in the firing line of paedophile disk jockeys for the love of music, that's success!!
The rest of our projects cater for our more pioneering and musically adventurous sides of our personalities – but to answer your incredibly rude question *laughs*
I guess we live in pretty miserable times, the news is miserable, the political climate is completely off its tits – and 'mankind' itself is being treated – on the whole – like a piece of sh*t!! We are all desperate to have a good time, to have a laugh, escape velocity and dance to some fun music – ITOP are that kind of night out… embrace it before you're hit by a driverless bus!!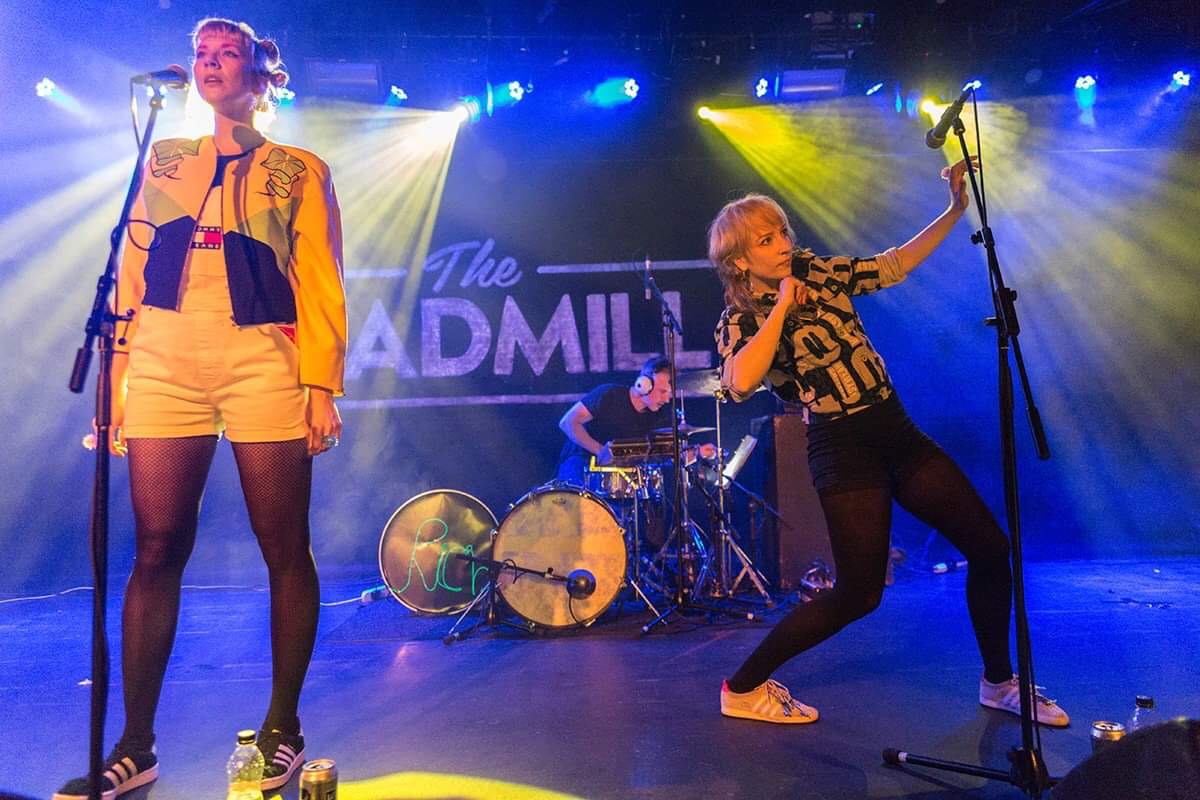 Given that Sheffield bands were notable for their manifestos, do INTERNATIONAL TEACHERS OF POP have one, all be it unwritten?
1: Always wear incredible socks
2: Smile at the neon and the mirrorball
3: Cows not goats
4: Fear Vegan Wind
5: Embrace your accountant
6: Use psychic powers to taunt poundshop Chris Brain's
7: Instigate culture in exchange for commerce
8: Women of the world take over by Ivor cutler
9: Death to all jugglers, unicyclists and the stench of 'tops off' whining middle-class minstrels
10: Lee Scratch Perry for President
When NEW ORDER performed at a televised Glastonbury in 2016, there were comments on Twitter that they looked like the teachers band playing the sixth form disco… INTERNATIONAL TEACHERS OF POP seem to have very much embraced going out and doing gigs?
NEW ORDER can do or look however they want – a great band… people on Twitter need to watch their finger prints – their psychic data is diminishing by the second!
You now have a fourth member in Katie Mason and there's even dance routines?
We have five members in the live group – Richy Westley plays drums, electronic pads and controls the sequencers; he plays in THE MOONLANDINGZ too.
Katie is our secret weapon. Whilst Leonore is singing Katie is in the audience picking the crowds pockets – bumping up our cash for performance fee. But yes – we've now got Katie singing on the next album – along with Leonore. The new material is sounding pretty exciting actually, we've definitely stepped it up!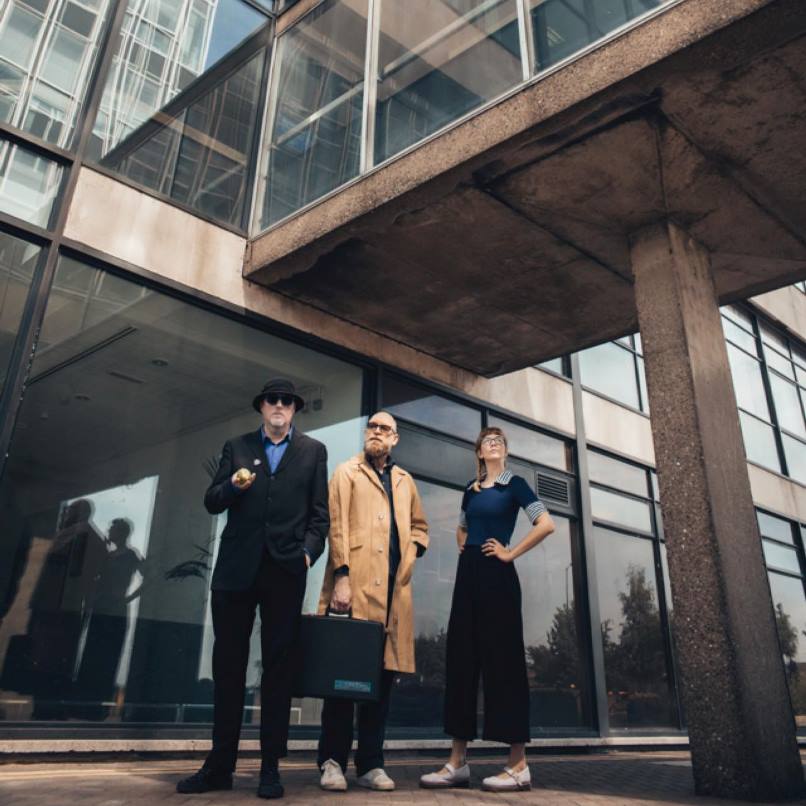 Given Dean's background and the band's location, it's hard not to imagine INTERNATIONAL TEACHERS OF POP as being how THE HUMAN LEAGUE might have mutated had they carried on making records?
THE HUMAN LEAGUE were the sound of the future – a lot of it still sounds very fresh and very modern to me, I don't see us as anything more than an extension of the rich family tree that is 'eccentric Northern electronic pop'. THE HUMAN LEAGUE are also good friends of ours – Philip Oakey has been really good to Dean and I over the years, borrowing us gear and synths.
When we did 'The Culture Show' on BBC2 with ECCENTRONIC RESEARCH COUNCIL a few years back, Philip loaned us THE HUMAN LEAGUE's old tape machine for our filmed performance – even recently with ITOP – the keytars used in the 'After Dark' video were given to us by The League.
Whenever The League are playing in town, we go to their shows and Philip comes to ours. He was at the ITOP show in Sheffield a few weeks back, actually he said he thought it was "very lovely"! – THL are undoubtedly an influence but there are many nods to many of the music pioneers and legends – we teach the classics!!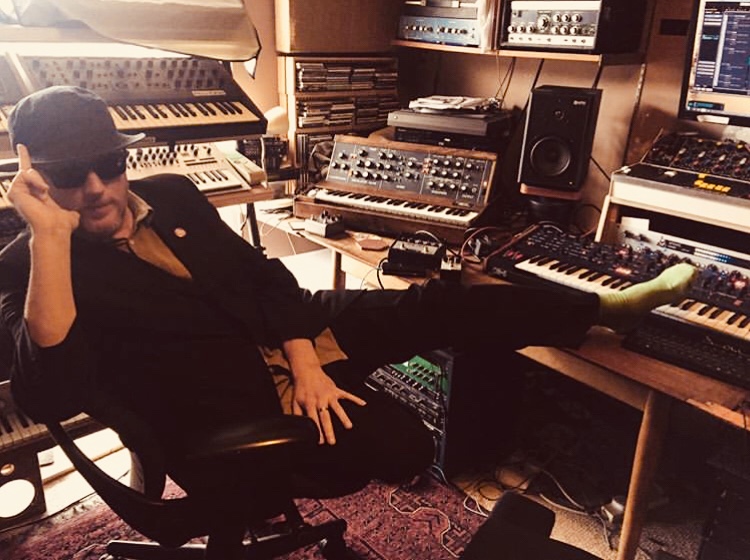 How is the synth collection looking these days?
Dean's synth collection is pretty much covering four walls now – floor to ceiling – my little home studio is a lot more modest, nay pathetic!
For anyone of a certain generation, the phrase 'Age Of The Train' has all sorts of connotations, some sinister… what was behind the inspiration of your song?
It's mainly about the uselessness of Northern Rail… rail travel in this country is so expensive and so unreliable that it's rendered itself as being known simply as a not very funny joke. I thought holding a 1980s mirror up to their faces using their own advertisement campaign – with a slight nod to Mucky Jackson was a work of undoubted genius and subversive pop finesse. By the way – I'm not suggesting Northern Rail mess with kids, however – they are doing EVERYONE up the arse on a daily basis!!
So what do INTERNATIONAL TEACHERS OF POP get up to 'After Dark'?
Tending to our broken and torn bum holes!!
'The Ballad Of Remedy Nilsson' is about cats, or is it a metaphor??
Yes – it's about a Pussy… a very unruly one!!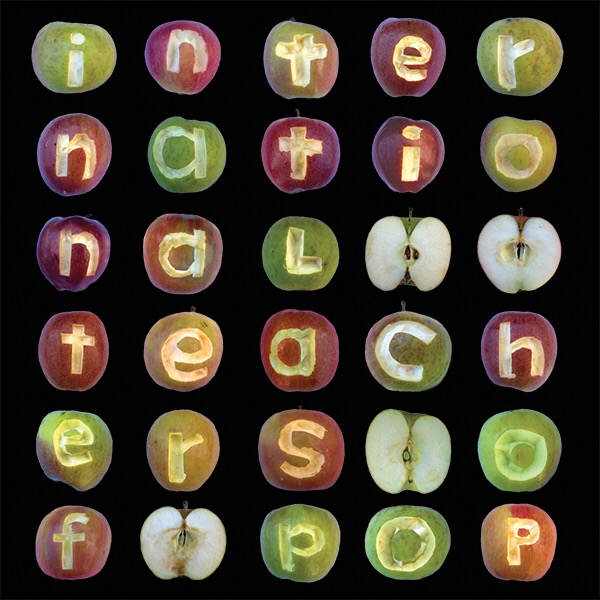 'On Repeat' appears to be one of those real-life observations that makes for great Northern English pop?
I agree.
The spacey synth theme of 'Intastellar' sounds familiar, can you shed any light as to where it may have come from?
It came from Sheffield on the back of an army of dying cockroaches!!
'Time Of The Seasons' has something of a gloriously spacey quality…
Thanks!!
Your Remoaner mix of PINK FLOYD's 'Another Brick In The Wall' in Deutsch makes a bold musical and political statement?
I hope that statement is "I hate PINK FLOYD but love KRAFTWERK" and / or – "I hate you but love the EU"…
It is funny how some British electronic music will happily singalong to KRAFTWERK 'Europe Endless' and ULTRAVOX 'New Europeans' yet be staunchly pro-Brexit, it's rather like when the BNP leader Nick Griffin declared his favourite food was curry…
I'm so bored of halfwits, honestly – they are everywhere – in every walk of life, religion, race and culture – and they all look the same … and WHY? Because I'm their Dad!! *laughs*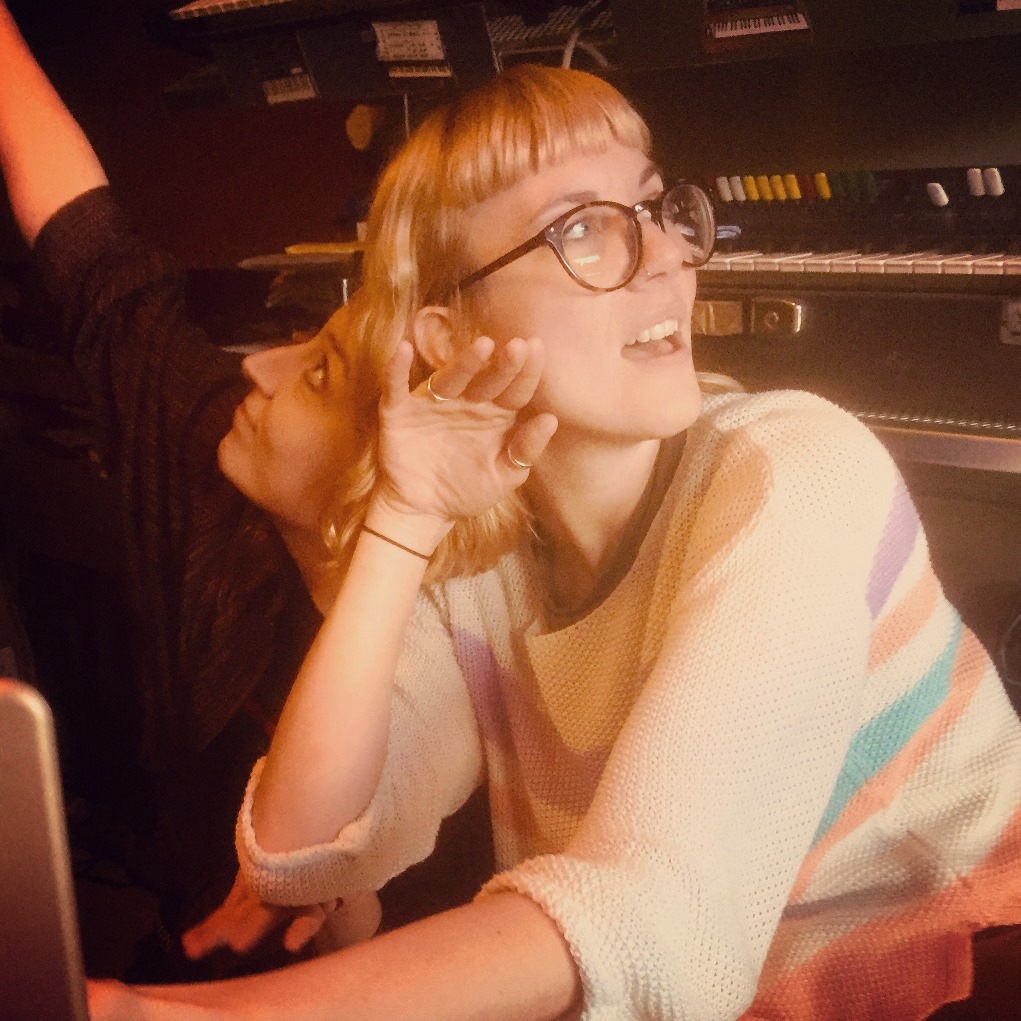 What the world need now is some cool escapism, how about INTERNATIONAL TEACHERS OF POP and CONFIDENCE MAN do a double bill together??
I'm pals with CONFIDENCE MAN and I really don't think the world is ready for so much fun… we are like two sides of the same coin… we are the cerebral 'heads' side and they are the 'tails' side … with their bits hanging out!! *laughs*
So what's next for INTERNATIONAL TEACHERS OF POP?
Just writing / recording the second album (seven tracks in now), off to Europe this week doing shows, then finishing the album in May, with a few festivals over the summer… during any downtime, Dean and I will be working on another few album projects and Leonore is tapping away at new music with THE SOUNDCARRIERS too – but mainly – and with much passion – I'll be self flagellating for Jesus!
---
ELECTRICITYCLUB.CO.UK gives its warmest thanks to Adrian Flanagan
'International Teachers Of Pop'
is released by Desolate Spools in CD, vinyl LP and digital formats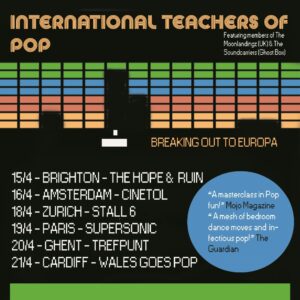 INTERNATIONAL TEACHERS OF POP 2019 live dates include:
Brighton The Hope & Ruin (15th April), Amsterdam Cinetol (16th April), Zürich Stall 6 (18th April), Paris Supersonic Club (19th April), Ghent Trefpunt (20th April), Cardiff Wales Goes Pop Festival (21st April), Long Division Festival (1st June)
https://www.facebook.com/internationalteachersofpop/
https://twitter.com/teachersofpop
https://www.instagram.com/international_teachersofpop/
---
Text and Interview by Chi Ming Lai
Photos courtesy of Adrian Flanagan
15th April 2019