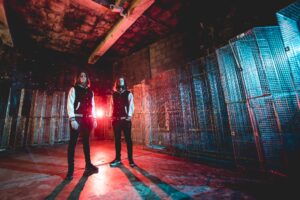 Hailing from sunny Peterborough, LEBROCK describe themselves as "a retro cinematic experience".
Shaun Phillips and Michael Medows pride themselves on their rockier edge to achieve their take on the synthwave sound.
The duo first came to wider attention with their debut independent release 'Action & Romance'
in 2017.
They have been touring their recently remastered second release 'Real Thing'
with DANCE WITH THE DEAD. Playing the next Outland live presentation prior to the Easter weekend with DANA JEAN PHOENIX and KALAX, the duo talked about all things LEBROCK.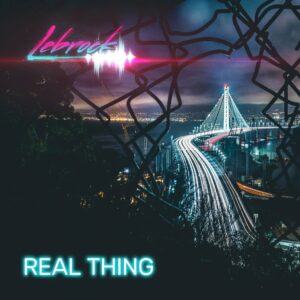 With two albums under your belt, LEBROCK have truly established yourselves within the synthwave scene?
We think LEBROCK have managed to build up a decent following within the scene, but there's still a long way to go for us before we can say we're truly "established".
If you look at the likes of the big hitters like THE MIDNIGHT, GUNSHIP, DANCE WITH THE DEAD etc and what those guys are doing, then you realise there's still a lot of work to be done.
What attracted you to adopting this sound with your more rock oriented backgrounds?
The mixture of the retro aesthetic and nostalgic feel of the music was something that appealed to both of us. We were both 80s kids so always liked the idea of bringing elements of that sound back into the music we were doing.
You stress that your take on the retro magic is different than the others, however…
This is probably due to our tracks having more of a "band" style or feel than maybe some of the other artists in the genre. A little more lose and rough around the edges and not so polished. The vocals are also very distinctive with their "rocky" sound which helps set us apart from a crowd a little.
LEBROCK pride themselves on the fact that real instruments are used and you're the "real" musicians.
We don't think we've ever claimed to be "real musicians", in fact, the only "real" instruments used in our songs are guitars, everything else you hear is programmed, much like anything else you would hear in the scene.
Aren't you afraid that other artists from the genre could take that as a suggestion that they aren't "real musicians"?
Not at all, as we said previously, we've never claimed to be "real" musicians so don't see why any other artist would have that opinion. Our music doesn't contain anything more organic than any other artist within the scene.
Does it mean you aren't synth and keyboard fans?
We're huge synth and keyboard fans. These elements can be heard in every single track we've written and are the backbone of our music and writing.
You're like the rockier version of GUNSHIP, would you agree?
To a degree, maybe. We both utilise vocals in our music more than a lot of other artists and GUNSHIP like to mix a lot of hybrid stuff together, especially cinematic style elements and guitars which we sometimes dabble with in some of our tunes.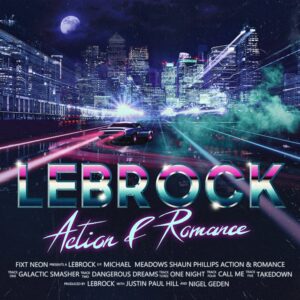 How do you feel about how the Synthwave form is developing, or not?
Its popularity has obviously exploded recently which we think is great for everyone involved.
Whether it will go super mainstream or not remains to be seen, but we'd be happy for it to do so. We think for it to succeed new artists need to adapt the sound and help it move forward, grow and evolve.
The 80s are a great reference point, but getting bogged down too much in relying on it could hinder its evolution.
Sitting comfortably alongside KAVINSKY, CARPENTER BRUT, KALAX or PERTURBATOR, are you proud of your achievements to date?
Yes, when we first started LEBROCK, it was just a bit of an experiment, it was never meant to be a full time project. Both of us had been in numerous bands before and just decided to try and write a few retro style tracks based on our new love of this scene.
If it wasn't for NewRetroWave picking up 'Call Me' and helping us gather the support we have now things maybe a lot different. Fast forward a couple of years and we've released 2 EPs, signed a record deal with FIXT Music's new label FIXT Neon, collaborated with some of our favourite artists and just completed a full European tour. It's pretty crazy.
The synth revival hit more than expected with the likes of 'Drive' and 'Stranger Things'…
'Drive' kicked the whole thing into a new gear for sure and when 'Stranger Things' came out, it certainly seemed to push the retro scene into people's living rooms who perhaps wouldn't have been interested in exploring it before. This in turn helped people discover the music and that's always a positive for a growing scene like this one.
And the girls are doing it too, Canada's MECHA MAIKO had a superb debut last year, featuring the amazing DANA JEAN PHOENIX…
It's great to see the girls doing their thing within the scene and producing great music. Dana has been around since the beginning so is definitely a female pioneer within the scene. Aside from that, the female voice is brilliantly suited to synthwave / popwave and there's a good selection of tracks out there that showcase that perfectly.
Across both your albums, you have a number of instrumental tracks, would you class those as more "cinematic" pieces?
They're more just straight up synthwave tracks than cinematic pieces. I think there's probably more cinematic elements in some of our vocal tracks, 'Juice' for example has a whole cinematic sequence which starts around half way through.
You're touring extensively this year, are you showcasing any fresh material?
Yes, we will be showcasing a new track at our upcoming shows.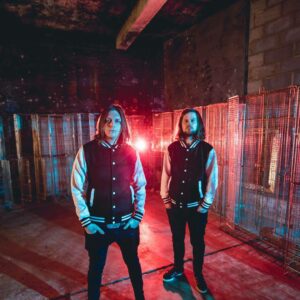 You're going to be performing in London again in April, opening for DANA JEAN PHOENIX, what can people who have not seen you live before expect?
Energy. We like to try and bring a little something extra to our live shows. Having two members definitely helps that. A lot of artists are going it alone, so it's a struggle to sometimes get out from behind a laptop or keyboard / DJ equipment and really go for it.
Being a duo it allows us to step in front of all the equipment a bit more and try and give the audience a performance.
---
ELECTRICITYCLUB.CO.UK gives its sincerest thanks to LEBROCK
Additional thanks to Alicia Lovewell at FiXT and Stuart McLaren at Outland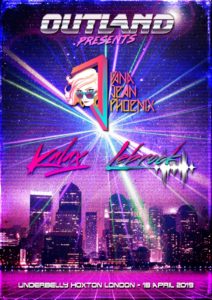 'Action & Romance'
+ 'Real Thing' have been remastered by FiXT Neon and available digitally direct from https://lebrock.bandcamp.com/
LEBROCK appear at Zigfrid von Underbelly of Hoxton in London on Thursday 18th April 2019. Presented by Outland, the event also features DANA JEAN PHOENIX + KALAX – tickets available from https://www.wegottickets.com/event/462089
https://www.facebook.com/ListentoLeBrock/
https://www.instagram.com/listentolebrock/
https://fixtstore.com/collections/lebrock
---
Text and Interview by Monika Izabela Trigwell
12th April 2019