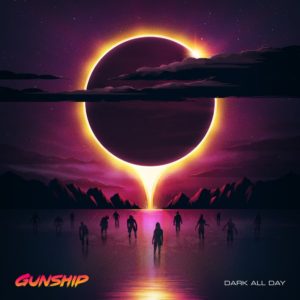 A trio consisting of Dan Haigh, Alex Westaway and Alex Gingell, GUNSHIP found their niche audience with the lovers of vintage gaming, flicks and sounds of the golden synth era and all things neon.
Their first 'Gunship'
album, alongside the now famous animated quasi films made by the trio, created a stir enough for the band to collaborate with none other than JOHN CARPENTER.
'Dark All Day'
is their second offering to wow audiences who favour the rockier take on synth, and the eponymous single certainly hits the spot.
With the punchy rhythm, sexy sax, courtesy of the one and only Tim Capello and enticing Dolores O'Riordan-esque vocal of the super sassy Lauren Henson aka Indiana, this truly ecstatic combination raises the bar and then some, accompanied by a clever video that mixes anime with real life red rain dancing.
'Woken Furies' introduces the electrifying atmosphere like an arcade gaming parlour meeting vintage SOUNDGARDEN… no wonder it feels like 'Black Hole Sun' when it's dark all day!
The teenage dream fades as 'When You Grow Up, Your Heart Dies'; a perfectly candied MECHA MAIKO style number. The sounds of DANA JEAN PHOENIX reverberate all over this one, making it a very retro track, leading into the heavier synth of 'The Drone Racing League', complete with stunning arpeggios that make it 'Stranger Things' worthy. 'Rise The Midnight Girl' brings an alternative feel with a more grungy sounding vocal, the sublime use of percussion and clever sequences. Feeling edgy, introverted and unguarded, preparing for 'Trasher' with its droning, mantric, truly trashy sound, incorporating a true likeness to AZZIDO DA BASS' 'Doom's Night'.
From one explicit track to another, this time joined by the fabulous Kat Von D, who took her singing career to another level featuring on IAMX's last opus and dropping by to grace his live performances during the ever successful 'Alive In New Light'
2018 tour. This time Kat with her 'Black Blood Red Kiss' serenades in a GARY NUMAN stylee, over a super cool dark romance, which could be the best track on 'Dark All Day'. Wanting another twisted love story? She gives it here in bunches.
'Time After Time' brings back the memories of teenage nostalgia in a more than capable cover of Cindy Lauper's classic. Not a fan of covers? This may as well change your mind; the version is superb and quite ERASURE-esque at times too!
With DURAN DURAN amalgamated with TEARS FOR FEARS on 'Honour Among Thieves', this reverberates with the classic feel of the leg warmers era, and 'Symmetrical' freshens up the senses with a crisp vocal and some youthful musical delivery.
Stella Le Page, also known by the name of Beau Corbeau, features on the perfect synth ballad 'Art3mis & Perzival, while the kingdom of 'Cyber City' is reined with sheer power before 'The Gates Of Disorder' close.
What a follow-up to GUNSHIP's debut long player! These guys certainly know how to spice things up with the choice of vocalists and artists who have been invited to collaborate on this production. It's a grown-up, eclectic mix of good old synth and hard graft. Not as rocky as expected by the first single, and even more demure in places, it's simply stunning.
There's enough material here for two albums, and it can feel a little bit too long, with the listeners having the tendency to switch off at track 11, but there's never enough of a good thing, right?
---
'Dark All Day'
is released by Horsie In The Hedge in CD and digital formats
https://www.facebook.com/GUNSHIPMusic/
https://twitter.com/GUNSHIPMUSIC
https://www.instagram.com/gunshipmusic/
https://gunshipmusic.bandcamp.com
---
Text by Monika Izabela Trigwell
5th October 2018