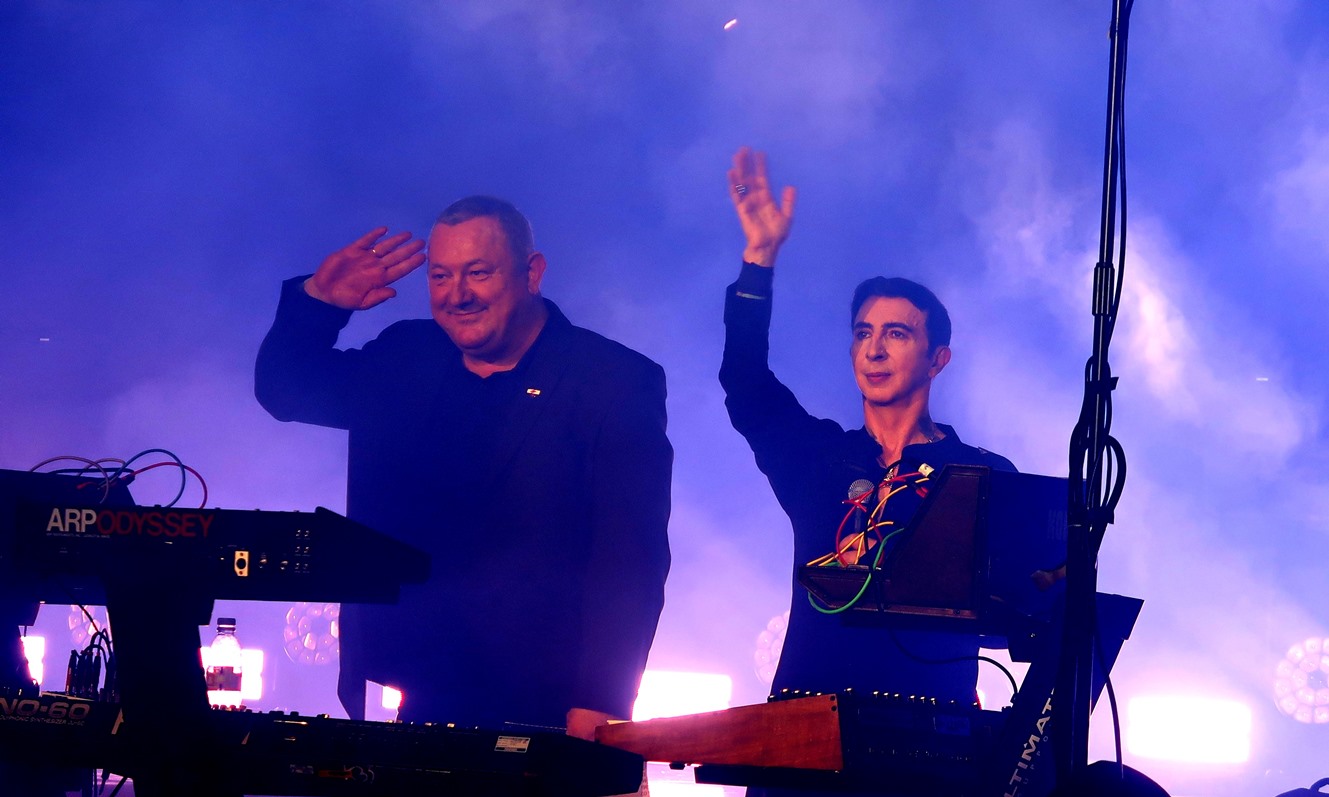 SOFT CELL's final concert really was a wild celebration and an explosion of feelings!
London's O2 Arena was where everyone wanted to be as luminaries such as Claudia Brücken, Rusty Egan, Jarvis Cocker, Mark Moore, Mark White, David Walliams and Andy Fletcher made the special trip, along with nearly 20,000 people from all parts of the globe.
It has been an unbelievable journey of ups and downs and ups for Marc Almond and Dave Ball, two former art students from Leeds Polytechnic who formed one of the most subversive pop acts of all time in SOFT CELL.
Despite projecting a sleazy life of vice, the pair notched up five Top 5 UK hit singles in the space of 13 months during 1981-82, a strike rate that THE HUMAN LEAGUE, DEPECHE MODE, OMD, JAPAN or ULTRAVOX never managed and of their contemporaries, only GARY NUMAN came close.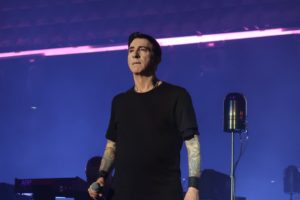 "You couldn't make a decent dance record if you tried" grumbled a disgruntled 'Some Bizzare Album' rival to Almond, despite making possibly only the third best track on the seminal collection, even after the big five of BLANCMANGE, B-MOVIE, THE THE, DEPECHE MODE and of course SOFT CELL were taken out of the equation. That one-time rival was conspicuously absent tonight…
Three huge screens and a pink padded lighting rig formed the basis of a show celebrating 40 years of SOFT CELL.
Beginning with the hypnotic proto-house of 'Memorabilia', this cult favourite immediately got the crowd up on their feet. Ball was buzzing away on a Korg MS20 in his engine room full of vintage synths. As he added some analogue grit and glitter over the sparking and dynamic backing tracks, Almond led an en masse chant of "OLÉ".
Keeping up the tempo, 'Monoculture' followed, its 2002 statement on the blandness of popular culture still relevant today with a new series of 'X Factor' currently in progress.
And as Almond greeted the O2, he talked of how "Everyone's offended by everything these days" before introducing SOFT CELL's state of the world address 'Darker Times', complete with montages of US President Donald Trump.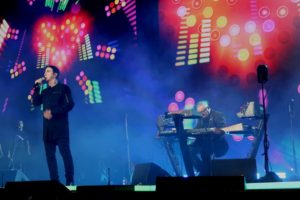 'Together Alone' completed a trilogy of songs from the 'Cruelty Without Beauty'
long player, but then came one of the big hitters. Assisted by brass from John Birchwood, the fabulously forlorn 'Torch' benefited from an impressive sound system while Almond was supreme, singing as if his life depended on it.
Continuing to put in as much effort in as possible, he showed why 'Forever The Same' should have been a single, a brilliant tune similarly assisted with a punchy brass hook. Throughout all this, Ball stared intently at his synths; he may not have smiled that much, but when he did, he beamed like a Cheshire Cat.
While live projections dominated the visuals, SOFT CELL did not forget their art school roots and there were a number of bespoke films to accompany the songs.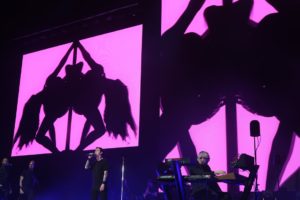 The sinister romp of 'Baby Doll' was naturally accompanied by moving images of adult entertainers while in its monochromatic presentation, the "depressing" ode to promiscuity 'Numbers' saw a hedonistic young man making out with mannequins.
'Insecure Me', the B-side of 'Torch' was a wonderful surprise and saw the return of Gary Barnacle on sax, but the euphoria of performing a number not played live since 1983 made Almond forget the words to 'Where the Heart Is'.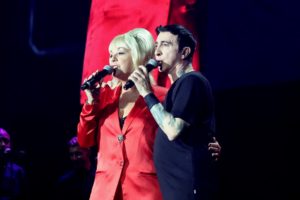 The brave inclusion of the 'Numbers' B-side 'Barriers' however was the first misstep of the evening, losing the attention of much of the audience; 'Facility Girls' might have been a better application of this ethos. But an emotive 'Loving You, Hating Me', a highlight from 'The Art Of Falling Apart'
album, snatched everything back on track.
Almond then announced a special guest and it was Mari Wilson, the Neasden Queen of Soul, best known for her Tony Mansfield produced hit 'Just What I Always Wanted'. Duetting on the electro cabaret of 'Last Chance', effectively the lyrical follow-up to 'Say Hello Wave Goodbye', she gave it her best Dusty with the pair's obvious affection for each other positively glowing for all to witness.
'Frustration' and 'Youth', two classics from 'Non-Stop Erotic Cabaret'
, got their well-deserved airing and were a reminder of the fabulously edgy pop that SOFT CELL were so good at.
The electro-punk of 'The Best Way To Kill' took three attempts to get right with Almond missing his cue twice but with so many songs to learn, this was always going to be a challenge for anyone. This endeared Almond to all in sundry but bizarrely, he then announced that he was missing a setlist too, although it wouldn't have been a SOFT CELL concert without some element of chaos.
However, that chaos led to 'Meet Murder My Angel' and 'Surrender To A Stranger' which was far too many songs together from the 'This Last Night…In Sodom'
album, an uncompromising listen at the best of times. 'Entertain Me' and Chips On My Shoulder' might have been more fitting as proceedings hit a mid-show lull.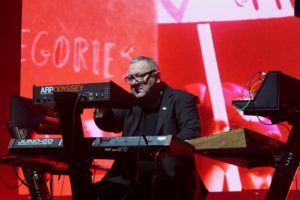 Ball was not free of mishap either, accidentally striking the odd key while moving from synth to synth, although this plus the occasional slippage in volume and tuning proved that his two Korg MS20s, Roland Juno 60, Sequential Circuits Prophet 5 and product placed Korg ARP Odyssey were actually plugged-in and working!
That must have all come as a total shock to DEPECHE MODE's Andy Fletcher watching from the wings.
Things livened up again with 'Somebody, Somewhere, Sometime' complete with rave friendly lasers and the backing vocal quartet of Billie Godfrey, Louise Marshall, Bryan Chambers and Simon King moving to the front of the stage while Almond was raised on a ramp, coming over like a frenzied evangelist addressing his captivated congregation.

With 19 songs done and at the point when THE HUMAN LEAGUE usually end their show, Almond and Ball took a comfort break as the seminal nu-disco instrumental '….So' played along to a terrific and amusing photo montage of magazine covers, press cuttings and tabloid headlines.
Waiting for Almond to rejoin him on stage, Ball couldn't help but enjoy the adulation and waved affectionately to the audience. When Almond returned, a brilliant 'Martin' blasted forth, sounding mighty in the vast confines of the O2; its claustrophobic atmosphere was enhanced further by the accompanying 'Profondo Rosso' visuals.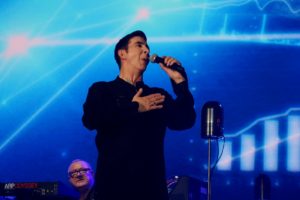 'Heat' saw SOFT CELL turn into RAMMSTEIN with huge blasts of flame throwers across the stage, while a stupendously powerful rendition 'The Art Of Falling Apart' couldn't have soundtracked a mental breakdown any better. This song is probably SOFT CELL in a nutshell and the album that it was named after got the most representation tonight.
As the long evening progressed, it was very clear that the brotherly bond between Ball and Almond had been rejuvenated personally and creatively, so it was fitting that the new single 'Northern Lights' had its place in the show.
A big surprise to everyone when it leaked on Napster during the summer, this catchy slice of soulful electronic pop was proof that SOFT CELL's musical chemistry is still functioning well after four decades.
Out with the new and in with the old, what remained was the final straight of hits for the ultimate in co-participative singalongs. A frenetic 'Soul Inside' assisted by live percussionist Pablo Cook saw Almond raise the energetics, while the cute Northern Soul staple 'What!' brought smiles and shimmies. 'Bedsitter', 'Tainted Love' and 'Where Did Our Love Go' brought the house down and were reminders as to why people fell in love with SOFT CELL in the first place; yes, they were delightfully odd and your father didn't like them but they had synths and they had tunes!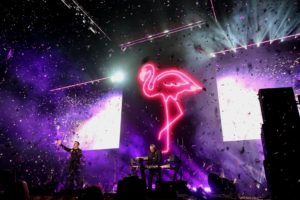 'Sex Dwarf' offered a memorable mutant moment with Almond cueing screams that erupted throughout the one-time Millennium Dome aided by some abstract brass and sax, but now this playtime was in a very big playroom!
An emotional and tearful 'Say Hello, Wave Goodbye' concluded a marvellous night and brought the house close to tears as a neon pink flamingo held court and glitter fell from the ceiling.
The two and an half hour show mostly passed by in a flash. Musically, the song arrangements and sounds remained true to how people remembered them, while any live percussion was both restrained and complimentary… DEPECHE MODE should take note, maybe Fletch will report back to Gahan and Gore to tell them how it should be done!
This might have been the final concert for SOFT CELL, but with 'Guilty ('Cos I Say You Are)' emerging as a B-side to 'Northern Lights', two new songs 'One Last Time' and 'Night & The City' appearing on the snowstorm keychain USB on sale at the merch stand and a four track EP on clear vinyl included with the upcoming coffee table book 'To Show You I've Been There…', could an album be on the way? Who knows?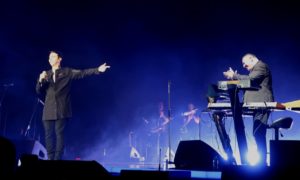 But whatever happens next, Marc Almond and Dave Ball gave the fans what they wanted with a glorious reunion and looked like they were really enjoying it too. To see the pair smiling at each other was a touching memory to leave the O2 with.
SOFT CELL totally deserve their time in the sun again. After all, PET SHOP BOYS, ERASURE, NINE INCH NAILS and FISCHERSPOONER wouldn't have had a career without their trailblazing subversion.
---
ELECTRICITYCLUB.CO.UK gives its sincerest thanks to Stuart Bennett at Deacon Communications, Debbie Ball at Create Spark and Chris Smith at Renegade Music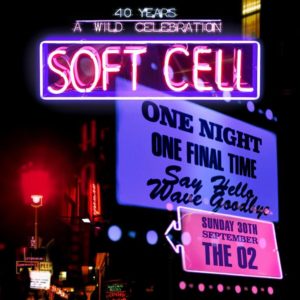 'Say Hello Wave Goodbye: The O2 London' will be released on 24th May 2019 as a live DVD + Blu-ray, pre-order from https://www.lexermusic.com/soft-cell
'Keychains & Snowstorms: The SOFT CELL Story'
is released as a 10 disc boxed set by Universal Music
'The Singles: Keychains & Snowstorms'
featuring 'Northern Lights' and 'Guilty ('Cos I Say You Are)' is also available as a single CD and download
https://www.facebook.com/softcellband/
https://twitter.com/softcellhq
https://www.instagram.com/softcellhq/
---
Text by Chi Ming Lai
Photos by Roger Kamp
3rd October 2018