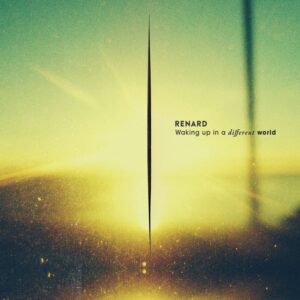 The tale of WOLFSHEIM will be known to any self-respecting lover of darker electronica, although relatively alien to English listeners, unless one had European connections or sought after more unusual sounds outside Britain in the last two decades of the 20th Century.
The Hamburg based duo with the superb voice of Peter Heppner and hit producing magician Markus Reinhardt released numerous gems such as 'Once In A Lifetime' or 'The Sparrows & The Nightingales', turning out superb albums, with 'Spectators'
or 'Casting Shadows'
to name just a couple.
But the good streak wasn't to last, with the group disbanding into a monumental hiatus, seeing Heppner going solo or helping on other artist's releases, with that ever haunting voice of his; Reinhardt stayed somewhat behind, only to return for what he calls "his reinvention".
"The end of WOLFSHEIM motivated me to reinvent myself. A process that was urgently needed. With RENARD, I'm more with myself. My album combines the sound and mood of the 80s with the stylistic devices of today."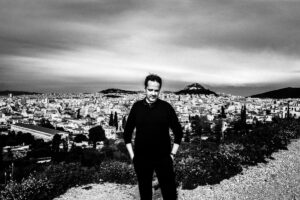 Any sound manipulator needs a vocalist to showcase the uniqueness of their work and RENARD doesn't settle on one. Why stick to the same voice when you are in a position to pick who you'd like to really bring variety and much needed diversity to your output?
'Waking Up In A Different World'
is a debut, but it's unlike any other debut, as in this case the debutant is not an inexperienced musician, promoting unknown vocalists.
So for the first single, Reinhardt chooses 'Travel In Time' with Pascal Finkenauer to take the reins of the vocals. A fellow German songwriter, guitarist and vocalist, Finkenauer's melancholic voice sounds mistakenly like Heppner's, bringing somewhat confusing connotations. In previous outings, Finkenauer can sound more or less like the original WOLFSHEIM boy, but one has to question the sense in this particular choice, especially with Reinhardt's pledge to be more like himself on this record.
Nevertheless, this is a magnificent song, with a great dose of sorrow and longing. One cannot reject the obvious WOLFSHEIM connotations in the arrangement; it's like the band have been resurrected for one tune. Well, if he can't use the WOLFSHEIM name, then…
Joseh features on 'Junkyards', where guitar leads the SUEDE-esque intro, blossoming into an easy listening piece where the voice doesn't sound like Heppner's, but more natural and free flowing.
Joseh also guests on 'The Meissen Figurine', which combines a coalescence of modern elements with vintage components over a moderately unobtrusive tune, while Marietta Fafouti finds herself 'Restless'. A prolific Greek composer, songwriter, and a well-known figure in her native land, Fafouti sings her soul away over a simplistic melody.
DUBSTAR's Sarah Blackwood wrote the melody and lyrics to 'Heresy', which is commensurate with her own band's output, both currently and back in the day. The song was written ten years ago and by Blackwood's own admission containing words very personal to her. As always, it is superbly simplistic, cleverly put together and sung with the heart; the heart which "will have a speaking part, the first time in ages".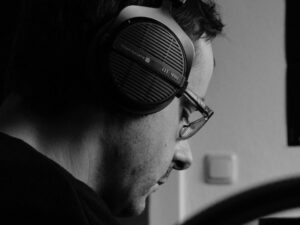 Marian Gold of ALPHAVILLE joins the party on 'Hotel'. With its NEW ORDER-like guitar presence, the song actually brings back the good old days when the German collective ruled with 'Big In Japan'. Gold returns on 'Damn Happy' where he's clearly "happy to be unhappy", sadly in a quite forgettable manner.
Interestingly enough, the production nods towards SUEDE again it its execution, although the song itself is missing the vital ingredient to make it worth replaying.
Thankfully, Eliza Hiscox of ROYALCHORD leads with the magnificent 'My Heart's Still Shaking' which is not just magic in its vocal delivery but also in the symbiosis of the instrumentation and her voice. The closing 'Intelligent Design' ushers in a heavy plucked bass synth, progressing gently over eight bars of pure joy with yodelled voices, sculpting the ending beautifully.
Although altogether the album is a rather mixed bag, RENARD really is 'Waking Up In A Different World', bringing this multi-faceted, emotion laden production into life in the current climate of uncertainty, fear and new reality. May he achieve similar success to Peter Heppner with his solo ventures.
---
'Waking Up In A Different World'
is released by Metropolis Records in CD, vinyl LP and digital formats on 9th October 2020, pre-order from https://renard.bandcamp.com/album/waking-up-in-a-different-world
http://www.renard-official.com/
https://www.facebook.com/Renard-1391654787606169
https://www.instagram.com/renard_official/
---
Text by Monika Izabela Trigwell
28th September 2020