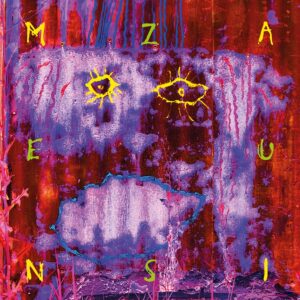 'The Secret Lives' is the overdue union of two German cult legends, Mani Neumeier and Zeus B Held.
The pair met in 1973 at a festival in Frankfurt; Mani Neumeier was there as the drummer and leader of kosmische trailblazers GURU GURU while Zeus B Held was a newcomer joining progressive rockers BIRTH CONTROL on keyboards. They each went on to establish notable careers.
Zeus B Held moved on to becoming a solo artist and producer, with his breakthrough coming from working with GINA X PERFORMANCE in 1979 when the single 'No GDM' became an underground club favourite.
As a result, he worked with the likes of FASHION, DEAD OR ALIVE, DIE KRUPPS, ALPHAVILLE, SIMPLE MINDS and TRANSVISION VAMP as well as John Foxx and Gary Numan. Later, Held moved into jazz and World Music while more recently, he formed DREAM CONTROL with Steve Schroyder, a former member of TANGERINE DREAM.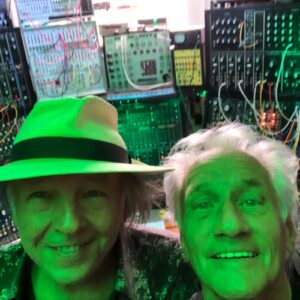 Mani Neumeier has maintained a 50 year career in GURU GURU with over 30 albums while working on various side-projects with his notable German contemporaries. He was the drummer on the second HARMONIA album 'Deluxe' while his popularity in Japan, which led to working with acts like psychedelic rock ACID MOTHERS TEMPLE, saw a figure of him being made for a Tokyo waxwork museum.
Up there with CAN's Jaki Liebezeit in technique, his drumming was so tight on 'Speed Display', a collaboration with Conny Plank and Dieter Moebius for the one-off long player 'Zero Set' in 1983, that observers cited the mad hyperactive collage of drums, bubbling electronics and treated robotic vocals as an example of proto-techno!
Spontaneous, colourful, lively and oddball, much of the recording of 'The Secret Lives' was done at the SynxsS-Studio in Offenbach with its distinguished proprietor Bernd-Michael Land contributing analogue sequencing from the vast array of modular equipment within his complex.
Tracks began with Neumeier tapping percussive moods on the Haken Continuum Fingerboard or using electronic drum pads while Held built chord structures and sequences before Neumeier overdubbed his acoustic drum kit at Freiburg KG Beat Studio. Opener 'Fox Nr. 7' is a good example of this approach with stark electronic keys offset by freeform percussion, punctuated with jabs of organ and a hallucinogenic monologue about foxes…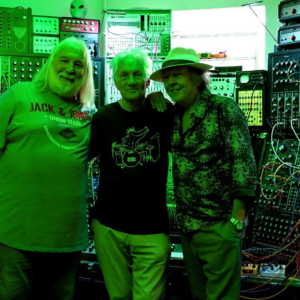 Meanwhile with a deep sequence of synth, 'Drei Tage Funk' sees Neumeier go on rhythmic bender augmented by Luigi Archetti on sustained guitar while Held does his Chick Corea impression. With chattering rimshot and syncopated keys, 'Pfeif Drau' takes an unusual cosmic ska influence…
There are more abstract adventures too with the collage of mind bending discordant noise forming 'The Secret Lives of Der Lurch' being more sound sculpture than song, while 'Ghost Ritual' is a gong experiment. Then 'Back 2 Nature' recalls CLUSTER in its Morgenspaziergang ambience although the klanky guitar dressing adds some menace to the journey.
'Volcano Dance' uses an improvised jazz approach with all manner of instruments hovering simultaneously… all that's missing is a Miles Davis trumpet. The self-explanatory 'Sex Mit Siri' though utilises passages of treated percussion with some amazing electronic sounds with one particularly whirring away via a Kaossilator like a dysfunctional Stylophone!
'Threesome Railway' is more spacey with drums used as much for colour as well as structure, but a vocoder is dug out for the moody PINK FLOYD inspired closer 'Wish I Was There' which also throws in some exotic tablas before some beautiful E-bow to end.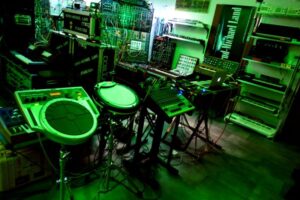 This is the sound of two veterans having rather a lot of fun. At times indulgent, occasionally quirky but with musicianship that cannot be faulted, 'The Secret Lives' won't be for everyone.
But if you are into the idea of a couple of German septuagenarians jamming with a bit of wild jazz thrown into a kosmische and electronic amalgam, then this might just be for you.
---
'The Secret Lives' is released by Bellerophon Records, available from https://bellerophonrecords.bandcamp.com/album/the-secret-lives
https://www.facebook.com/Mani.Neumeier1/
https://www.facebook.com/Zeus-B-Held-162448230492382
https://www.facebook.com/bellerophon.records
---
Text by Chi Ming Lai
26th September 2020