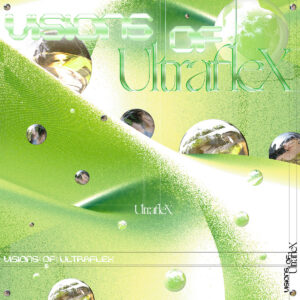 While the work of FARAO and SPECIAL-K can be more artful, considered and melancholic to most ears, the two ladies respectfully behind those projects, Kari Jahnsen and Katrín Helga Andrésdóttir, provide a bit of sunshine in these stranger times by having some cheeky fun as ULTRAFLEX.
Originally commissioned as a live concept, Jahnsen and Andrésdóttir have combined Olympic Nordic skiing, Soviet fitness videos and electronic disco to come up with a pop group that fashionista Lotta Volkova would surely have manufactured had she wanted to become a music Svengali.
Perhaps unusually for a band, the pair met when Andrésdóttir's father dated Jahnsen's mother. ULTRAFLEX have described their debut album as "an ode to exercise, loaded with sex metaphors badly disguised as sports descriptions". It is fair to say that the duo have an appetite for seduction.
It all begins with an electro-sexy declaration to 'Get Fit', but the girls state that "the message is for you to interpret, is it a critique on the societal pressure to be fit – or a motivational anthem, or perhaps both?"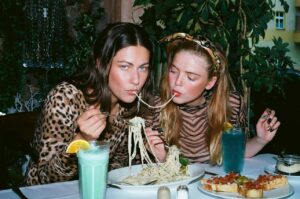 Asking listeners to "1-2-3-BREATHE!", 'Work Out Tonight' plays with some funky energetic synthbass and disco machine rhythms with lashings of cowbell before climaxing with a saucy dialogue between a man Jae Tyler and a woman as he accidental wanders into her dressing room…
Pitch shifting their vocals for effect and adding slinky sax from Tumi Árnason, the primarily instrumental 'Papaya' possesses a sun-kissed groove.
Meanwhile 'Never Forget My Baby' is more laid back, sitting on a hypnotic off-beat with a gorgeous dual vocal expressing desire as a vintage digital slapped bass solo occupies the middle eight. The digital slapped bass returns on 'Man U Sheets' which then get switched to a squelchier variant as the girls get all breathy and sweaty like a Nordic MARSHEAUX gone electro jazz funk with all the vibey trimmings.
Inspired by TV sports montages, 'Olympic Sweat' was ULTRAFLEX's calling card and remains as exquisite as when it premiered in the summer, a dreamy instrumental blend of PET SHOP BOYS, NEW ORDER and SIN COS TAN.
Coming over like Australian duo CONFIDENCE MAN's 'Try Your Luck', the self-explanatory 'Full of Lust' is all girly come-ons and amorous panting, playfully raising temperatures while Jahnsen and Andrésdóttir go all LISA LISA & CULT JAM in the catchy chorus. The very Japanese Citypop soundscape betrays the song's origins which ULTRAFLEX told ELECTRICITYCLUB.CO.UK "started when we made an electro version of our favourite Norwegian children's song 'Sure Sivert' by Maj Britt Andersen. With her permission, we were allowed to use the melody from the original song as a synth solo that now comes in at the end".
Closing with 'Secret Lover' by spinning off percussively into another funky synthbass backdrop recalling MANTRONIX, ULTRAFLEX said of their creative dynamic: "We are both workaholics who appreciate a good laugh and a lot of sarcasm. Kari is the beatmaker and synth master while Katrin delivers the poetic sass and visual excellence. Together we make the synthiverse and melodic framework. With our common goal being to have as much fun as possible, we've succeeded from day one. Yes, we both felt the need to stop being miserable and do something fun for a change."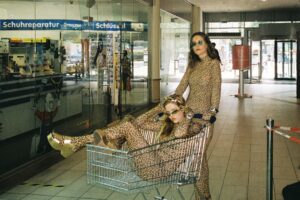 The debut ULTRAFLEX album is a wonderfully joyous listening experience which proves a lot of amusement can be had while still maintaining an artistic integrity.
Deliciously coy with naughty exercise double entendres, the partnership of Kari Jahnsen and Katrín Helga Andrésdóttir cannot help but draw smiles. It is just the tonic needed right now as a very strange and tense 2020 draws to a conclusion.
---
'Visions Of ULTRAFLEX' is released by Street Pulse Records on 30th October 2020 in vinyl LP, cassette and digital formats, available direct from https://ultraflexband.bandcamp.com/album/visions-of-ultraflex
https://www.facebook.com/ultraflexband
https://www.instagram.com/ultraflexband
https://soundcloud.com/ultraflexband
https://www.facebook.com/faraomusic/
https://www.instagram.com/faraomusic/
https://www.special-k-special-k.com/
https://www.facebook.com/specialkspecialkspecialk/
https://www.instagram.com/special_k_special_k/
---
Text by Chi Ming Lai
26th October 2020