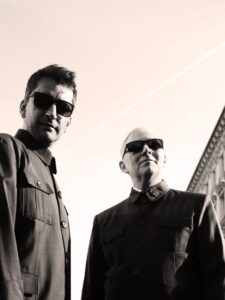 From 'Children of Nature', the excellent first album by Mark Reeder and Alanas Chosnau is 'Heavy Rainfall', a song seemingly having an environmental reference but actually reflecting on the world's increasingly disturbing political climate.
"Just a week or so before the US presidential election, we can expect some heavy rainfall" said Mark Reeder, "So, I'm releasing the soundtrack to go with it."
'Heavy Rainfall' is about hope and having strength in adversity. It is about the unfortunate re-emergence of totalitarian regimes and how they can easily creep upon you and change your life, in an instant.
Alanas Chosnau grew up in the former Soviet Union, so he knows how his life could have turned out if the Communist regime had not collapsed. He would never have been able to live his dream to be a singer. Mark Reeder has lived in the divided Berlin since 1978 and had first-hand experience with the mind-controlling East German authorities. He even discovered after the Iron Curtain finally was dismantled down that there was Stasi file on him!
One of the best songs of 2020, 'Heavy Rainfall' could be a grooving NEW ORDER disco number with Reeder's rhythm guitar syncopating off an exquisite range of electronic patterns while some spacey magic flies within the exquisite soundscape. Chosnau solemnly announces the storm warning, yet his message to hang on remains positive.
The video's imagery of hazard warning tape and destruction through consumption eerily strike home as the Lithuanian gives his impassioned delivery, but there is light at the end of the tunnel in the shape of solar panels.
Alanas Chosnau told ELECTRICITYCLUB.CO.UK that "'Heavy Rainfall' transmits the message of the unfortunate rise of totalitarian regimes and strengthened social and even digital control over people". Meanwhile, Mark Reeder added "'Heavy Rainfall' is a song about how our thoughts are manipulated, about how our attention is diverted by trivia. It's a warning, to be aware, but also the message is positive, that no matter how much heavy rainfall we get, we just have to wait and ride out the storm".
'Heavy Rainfall' comes from the hearts of two men who have witnessed things first hand. Released under the title of 'Storm Warning', the EP contains the Cats & Dogs Mix, Mark Reeder's sub-10 minute Dripping Wet Remix and the Extended Weather Front Mix.
---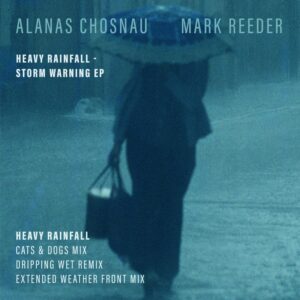 'Storm Warning' featuring three mixes of 'Heavy Rainfall' is released by MFS on the usual digital platforms including https://markreeder.bandcamp.com/
https://www.facebook.com/alanaschosnau/
https://www.instagram.com/alanaschosnau/
https://www.facebook.com/markreeder.mfs/
https://twitter.com/markreedermfs
https://www.instagram.com/markreeder.mfs/
---
Text by Chi Ming Lai
Photo by Martyn Goodacre
28th October 2020