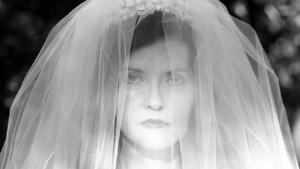 Traditional murder ballads being given synth makeovers are all the rage at the moment.
Irish synth songstress FEMMEPOP presented her stark rendition of 'Tom Dooley' just a few weeks ago. And now, Texan Bionic Bubblepunk duo HYPERBUBBLE head north to the 'Banks Of The Ohio', a song that originated from the 19th Century.
It tells the story of a guilty party inviting their lover for a walk during which their marriage proposal is rejected. Once they are alone, a murder is committed although much sorrow and regret later gets expressed. Perhaps surprisingly, one of the best known versions was by Olivia Newton-John and it was actually her biggest UK hit until her imperial run of singles from the movie 'Grease' in 1978.
'Banks Of The Ohio' has also been recorded by Dolly Parton, Joan Baez, Johnny Cash and Charley Pride while there have even been reinterpretations in Swedish and Czech. Updating this urban legend, HYPERBUBBLE have produced a wonderfully haunting synth cover with an eerily Gothic Theremin solo by front woman Jess DeCuir that is perfect for Halloween.
The accompanying self-directed video features zombies, graveyards and murder with our heroine playing a supernatural ghost bride while her hubby Jeff DeCuir is cast as a gravedigger. But she is searching for something! Who is in the grave??? It's a Roland SH-01 Gaia! Is this symbolism for the death of synthpop?
Although not including 'Banks Of The Ohio', HYPERBUBBLE recently released an album of covers called 'Love & Bionics'. Not content with having delivered a cosmic country covers album three years ago inspired by 'Switched On Nashville' called 'Western Ware', that put the "MOO" into Moog, Jess and Jeff DeCuir have always enjoyed adapting their style of Texan electro artpunk to a range of standards and obscurities emerging from many unexpected genres.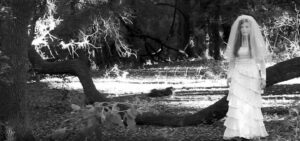 The most interesting electronic covers often come from outside their regular habitat, particularly from soul and country music.
The Halloween Country Goth Horror Synth of 'Banks Of The Ohio' is another example of HYPERBUBBLE's fun and quirky take on music.
---
'Banks Of The Ohio' comes from the soundtrack of the forthcoming full-length HYPERBUBBLE documentary film called 'Cowgirls & Synthesizers'
'Love & Bionics' is available now as a free download album from https://hyperbubble.bandcamp.com/album/love-and-bionics
https://www.facebook.com/hyperbubble
https://twitter.com/Hyperbubble
https://www.instagram.com/hyperbubbleofficial/
---
Text by Chi Ming Lai
30th October 2020