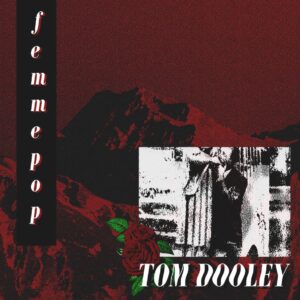 Behind FEMMEPOP is the Irish singer and musician Margaret O' Sullivan. She released her debut album 'From A Girl Who Never Sleeps' in 2014 while she followed it up with 'Dancing With Myself' in 2017.
But 2018 could be seen as the breakthrough year of FEMMEPOP; there were collaborations with Robert Parker and Hayley Stewart aka MECHA MAIKO while the 'CYM' EP which saw O'Sullivan develop her synth sound further for her best work yet.
2019's 'London' EP surprised as an instrumental affair, but for her new single, FEMMEPOP has returned to songs but with a folk twist.
Margaret O' Sullivan told ELECTRICITYCLUB.CO.UK: "I live alone so lockdown was really hard. I was thinking of old songs I used to hear as a child and I remembered a song my Aunt used to sing 'Tom Dooley'. I used to imitate my Aunt singing this song, as she used to sing it a lot. So I copied her and even at the age of 4 or 5, I loved the dark story within the lyrics."
'Tom Dooley' is a ballad about the 1866 murder of a woman named Laura Foster in Wilkes County. It was allegedly committed by Tom Dula ; a local poet named Thomas Land wrote a song about the tragedy, titled 'Tom Dooley' shortly after Dula (which was pronounced "Dooley") went to the gallows.
"I decided to do a cover and see what I would come up with" said O'Sullivan, "I was drawn to darkness of the song, the line 'met her on the mountain stabbed her with my knife' especially interested me as it's just so stark and poignant."
The recording of 'Tom Dooley' also saw a new side to FEMMEPOP. "Production wise, this song has the most tracks I have ever used on a song" said O'Sullivan remembered, "It contains 28 tracks. I used a lot of ideas for this, I wanted a rich sounding orchestral sound. There's viola, piano, guitar, and strings on there as well as about 4 different drum tracks and 5 vocal tracks. Getting the drums right was the hardest part. That took quite a while. There are 5 verses in the song and I wanted to bring in the drums at the right point."
One of the unexpected was the rhythmic climax: "I wanted to keep the softness of the ballad at the beginning then surprise people with the marching drums that come in and then slowly build to a crescendo at the end, along with the strings and piano. My vocals too emphasise this towards the end as I sing ' To die, to die, lay down, lay down.' This song means a lot to me as it reminds me of my childhood but I have brought it into the year 2020 and I don't think there is another version out there quite like this."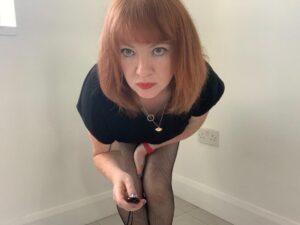 The video put FEMMEPOP into a forlorn setting with another eerie twist: "It was shot in Cork city in August, outside an old, closed down, mental institution called St Kevins. So there was a very dark and eerie feeling about the place. It was directed and shot by a very talented film maker called Zoe Kavanagh from Dublin who has won several awards for her horror based films. The video was shot in one day and had me climbing through brambles and bushes on a boiling day in a dress and fishnet stockings!"
With 'Tom Dooley', FEMMEPOP makes a statement on several artistic levels, capturing the human condition's challenges in coping with current world events.
---
'Tom Dooley' is released as a download single on 25th September 2020, available direct from https://femmepop.bandcamp.com/
https://www.facebook.com/Femmepop
https://www.instagram.com/femmepop/
---
Text by Chi Ming Lai with thanks to Margaret O' Sullivan
21st September 2020